FORTY WINKS
(director/writer: Will Parker; cinematographer: Josey Cuthrell-Tuttleman; editor: Bradford Coleman; music: Caleb Freundlich; cast: Justin Marcel McManus (Fabio Berker), Susan Sarandon (Connie Montoya), John Turturro (Milo), Carmen Ejojo (Nina), Lesley Addison Brown (Wesley), Danny Burstein (Mr. Monroe), David Cromer (Kieth), Ben Shenkman (Daryl Camacho), Dan Finnerty (Vernon Whitaker), Hart Bochner (Narrator); Runtime: 75; MPAA Rating: NR; producer:Will Parker; River Styx Productions/Plex TV; 2022-b/w)
"It's impressive someone so young can make on his own such a competent film."
Reviewed by Dennis Schwartz
The writer/director Will Parker, the son of actors Mary Louise Parker and Billy Crudup, was only 17 when he made his debut film, which was shot in seven days and on a shoestring budget.

It's about the miserable life of this fake hypnotherapist in NYC, with no degree, the grifter Fabio Berker (Justin Marcel McManus), who runs a small agency that serves desperate clients. He struggles to survive with clients he can't help, and since he sucks at being a hypnotist he resorts to other scams such as tarot cards and mind reading scams.

Knowing he's a fraud, he's visited by the mysterious Connie (Susan Sarandon), who blackmails him to become the world's first hypnotist hit man.

Most of the film has Fabio conversing with his clients, with his life no longer under his control. Problem is these meetings, though interesting,  just go on and nothing is resolved, as the film just suddenly ends leaving us in the dark with an inexplicable meaning.

But it's impressive someone so young can make on his own such a competent film and that he can get such big name stars such as Sarandon, Ejojo and Turturro to be in it.

What didn't work was the narration delivered by Hart Bochner, since the film required no narrator the narration part seemed awkward and its attempt at comic relief fell flat.

After a good run on the festival circuits, it now  can be viewed on Plex TV. It's worth a look.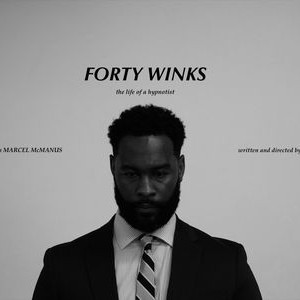 REVIEWED ON 9/1/2022 GRADE: B-