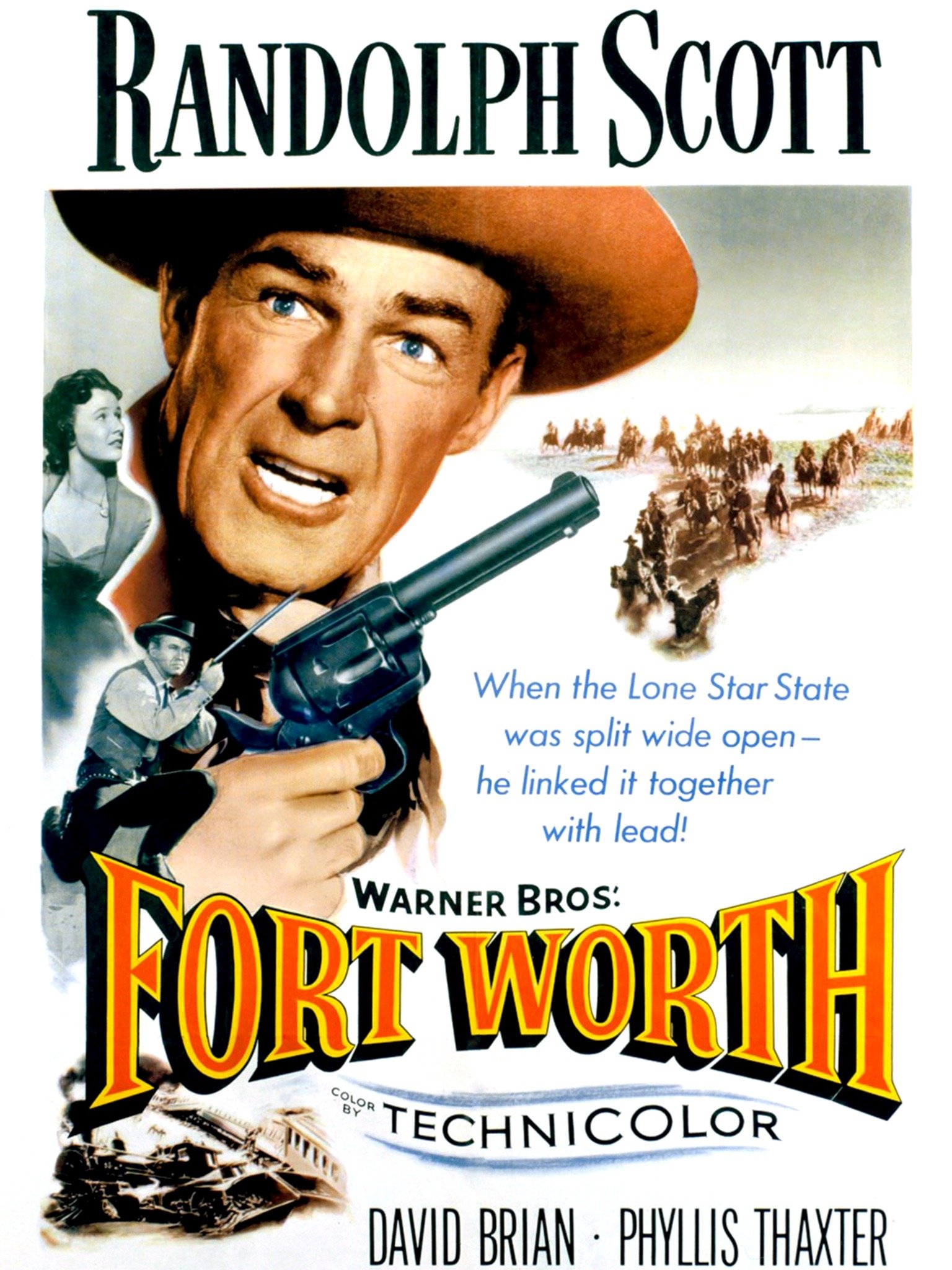 FORT WORTH
(director: Edward L. Marin; screenwriter: John Twist; cinematographer: Sid Hickox; editor: Clarence Kolster; music: David Buttolph; cast: Randolph Scott (Ned Britt), David Brian (Blair Lunsford), Phyllis Thaxter (Flora Talbot), Dick Jones (Luther Wicks), Ray Teal (Gabe Clevenger), Bob Steele (Shorty), Helena Carter (Amy Brooks), Emerson Treacy (Ben Garvin), Chubby Johnson (Sheriff), Walter Sande (Deputy Waller), Lawrence Tolan (Mort Springer), Paul Picerni (Joe Castro), Pat Mitchell (Toby Nickerson), Zon Murray (Happy Jack Harvey); Runtime: 80; MPAA Rating: NR; producer: Anthony Veiller; Warner Bros.; 1951)

"Routine B western."
Reviewed by Dennis Schwartz
Edward L. Marin ("Tall in the Saddle"/"Nocturne"/"Johnny Angel")lazily directs this routine B western that's formulaic and is written without distinction by John Twist.
Fort Worth gunfighter-turned-newspaperman Ned Britt (Randolph Scott) returns home from Kansas, after being away for 14 years, with crusading newspaper partner Ben Garvin (Emerson Treacy) and wide-eyed young printer Luther Wicks (Dick Jones) and sets up a newspaper to fight the lack of law and order in his hometown. The town is under siege from ruthless cattleman Gabe Clevenger (Ray Teal) and is run by oily self-made real estate developer tycoon Blair Lunsford (David Brian), Ned's former best pal who stayed home for the Civil War and got filthy rich selling meat to the army. He's now engaged to wealthy rancher Flora Talbot (Phyllis Thaxter). Ben discovers that Blair actually wants Fort Worth to be under siege, as he's anticipating the railroad coming to town and has bought up on the cheap all the properties of those fleeing while keeping an ineffective sheriff (Chubby Johnson) in office that he could have easily replaced if he wanted to.
Ben's knifed to death in the back by Clevenger henchman Castro (Paul Picerni ), as the venal cattleman wants the newspaper out of business since the newspaper heads want him arrested for starting a cattle stampede on the Texas Trail that killed a young boy (Pat Mitchell) on a wagon train headed by Ned. The killing of his partner is all it takes for Ned to deem that the pen is not mightier than the sword and gets deputized to put on his guns again and gun down Castro.
It's now up to Ned to bring Blair and Clevenger to justice (who maybe have always been joined together, though that is never made clear in this muddled western), save the town and stop nice girl Flora from marrying sleazebag Blair and marry him instead. You've seen it all before in countless westerns, as there's nothing new here.
Scott, as always, makes for a pleasant and believable hero.
REVIEWED ON 4/17/2011 GRADE: B-