FOOD AND COUNTRY
(director/writer: Laura Gabbert; cinematographers: Jerry Henry/Martha Radwan; editor: Philip Owens; music: Ryan Rumery; cast: Ruth Reichl, Alice Waters, Marcus Samuelsson, Lee Jones, Will Harris, Reem Assil, Steve Stratford, Minh Phan, Bren Smith, Brandon Jew, Saru Jayaraman, Angela Knuth, Bob Jones, Jr., Eric Deeble, Ricardo Salvador, Karen Washington, Nick Kokonas, Grant Achatz.; Runtime: 100; MPAA Rating: NR; producers: Laura Gabbert/Ruth Reichl/Paula P. Manzananedo/Caroline Libresco/Lisa Remington; Foothill Prods; 2023)
"It didn't do enough to fill me up."
Reviewed by Dennis Schwartz

The former food critic of the NY Times and the editor of Gourmet Magazine, the Hudson Valley, NY resident, Ruth Reichi, for a year deals with the country's broken food system in this practical foodie documentary directed by Laura Gabbert ("City of Gold"/"Sunset Story"). The director and food critic partner to explore the problems that the COVID-19 pandemic caused the independent farmers and restaurants. What they find is not something that will blow you away but will catch your attention.

As restaurants closed in record numbers during the time frame of 2020 and workers lost their jobs, it signaled a break-down in the food chain.

Reichi interviews those in the food industry who talk about their work in it, such as restaurateurs, suppliers, farmers, ranchers, and other industry leaders. Gabbert, on the other hand, focuses on interviewing influential people in the industry (some who get away with making anti-worker remarks with no response from the filmmaker) to get a unique perspective on the culinary trends of the times.

Reichl and Gabbert have gathered a diverse and engaging array of subjects with a rich variety of experiences, making this a diverting foodie film-a film for those more interested in eating good food than a delicious meal. But it didn't do enough to fill me up.

It played at the Sundance Film Festival.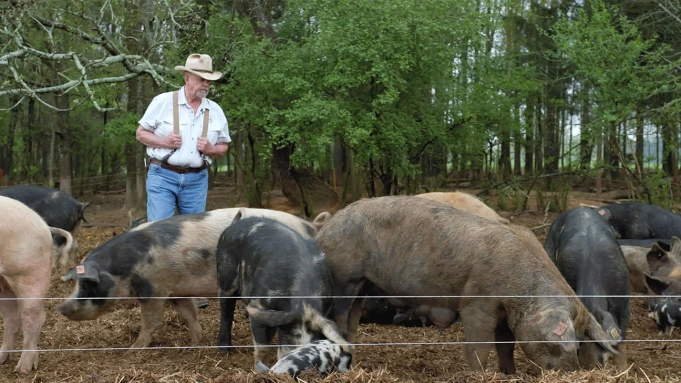 REVIEWED ON 6/29/2023  GRADE: B-

vox