ABSOLUTE BEGINNERS
(director: Julian Temple; screenwriters: novel by Colin MacInnes/Richard Burridge/Terry Johnson/Don MacPherson/ Michael Hamlyn; cinematographer: Oliver Stapleton; editors: Richard Bedford/Michael Bradsel/Gerry Hambling/Russell Lloyd; music: David Bowie/Ray Davies/Gil Evans; cast: David Bowie (Vendice Partners), James Fox (Henley of Mayfair),  Patsy Kensit (Crepe Suzette), Eddie O'Connell (Colin/Photographer/narrator), Eve Ferret (Big Jill), Ray Davies (Arthur, Colin's dad), Mandy Rice-Davies (Flora, Colin's mum), Tony Hippolyte (Mr. Cool), Steven Berkoff (The Fanatic), Anita Morris (Dido Lament, gossip columnist), Joe McKenna (Fabulous Hoplite), Sade (Athene Duncannon), Graham Fletcher Cook (Wizard), Lionel Blair (Harry Charms), Edward Tudor-Pole (Ed The Ted), Bruce Payne (Flikker), Alan Freeman (Call-Me-Cobber); Runtime: 107; MPAA Rating: PG-13; producers: Chris Brown/Stephen Woodley; MGM/Orion; 1986-UK)
"A lively but stinker of a film that features to no avail one of David Bowie's better songs called Absolute Beginnings."
Reviewed by Dennis Schwartz

A lively but stinker of a film that features to no avail one of David Bowie's better songs called Absolute Beginnings. Director Julian Temple ("The Great Rock 'N' Roll Swindle"/"My Life Story") fails in his attempt to turn the cult novel by Colin MacInnes about the birth of the teenage nation in Britain into a stylish radical film about pop culture that makes some sense. It's scripted by Richard Burridge, Terry Johnson, Don MacPherson and Michael Hamlyn.

It follows the trendy young photographer Colin (Eddie O'Connell) falling madly in love with the flirty and ambitious neighborhood fashion designer Crepe Suzette (Patsy Kensit). She dumps him to marry the sly wealthy homosexual 37-year-old Henley of Mayfair, the dressmaker of the Queen (James Fox).

Bowie has a small part as the adman Vendice Partners, who gets Eddie to sell out to him and do a rock video so he can convince Suzette he's willing to play the capitalist game to get her. 

The outrageous musical, with mostly bland songs and bland lead characters, is set in a riotous diverse London slum in 1958 (using a sound-stage to depict the crowded area), whose rebellious actions there signal great social change is on the way because the youths are restless.
In the third act it changes from its lighthearted mood to a somber one, as white power groups denounce Blacks (it picks up on the real-life Brit fascist Oswald Mosley's racial bigotry movement that brings about a race riot). This shift in tone just is too heavy for this vacuous film, that falls apart as it goes from being incoherent to really being incoherent.

The musical contributions are by David Bowie, Ray Davies (of the Kinks) and Gil Evans (for his jazz scores).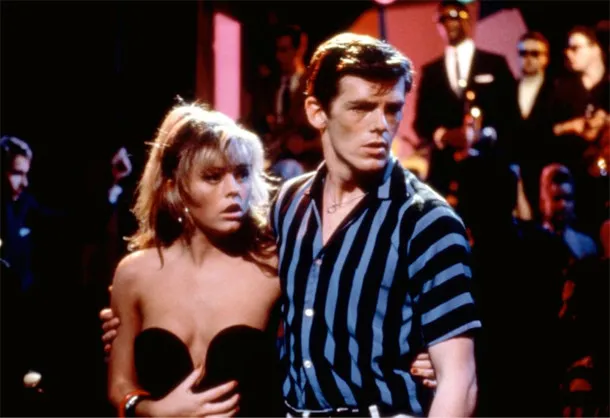 REVIEWED ON 7/24/2023  GRADE: C