FOE
(director/writer: Garth Davis; screenwriter: novel and screenplay by Iain Reed; cinematographer: Matyas Erdely; editor: Peter Sciberras; music: Agnes Obel, Park Jiha, Oliver Coates; cast: Saoirse Ronan (Henrietta), Paul Mescal (Junior), Aaron Pierre (Pierre Terrance), Tanith Martin (Outermore Nurse), Jeriya Benn (Child Voice), J.J. Pantano (Child Voice),Yesse Spence (Study Technician), Goran D. Kleu (smoking man by the tree); Runtime: 110; MPAA Rating: R; producers: Emile Sherman, Kerry Kohansky-Roberts, Iain Canning, Garth Davis; Amazon Studios; 2023-USA/UK/Australia)
"Dull futuristic sci-fi film."
Reviewed by Dennis Schwartz

Australian filmmaker Garth Davis ("Lion"/"Mary Magdalene") is writer/director of this dull futuristic sci-fi film. It deals with a robotic replacement for the hubby of a lonely couple, as he's chosen by his government to leave home to go into space to save the world. It's based on the novel by Iain Reed, who co-wrote the screenplay with Davis.

We learn from title cards that in the US Midwest, in 2065, the land's barren and the population's sparse because of the severe heat and drought (Victoria, Australia, stands in for the US Midwest). We also learn that technology is capable of producing copies of sentient humans, as the AI's are used to do the dirty work humans can't do.

The married couple Hen (Saoirse Ronan) and Junior (Paul Mescal) have been conscripted into an off-planet settlement program.

In the film's depressing first half, the film ruminates with the misery of the lonely couple as they must endure a severe climate and their loneliness while living in a battered 20th-century farmhouse. Junior works with chickens at an industrial farming tower, while Hen works in a diner.

For leisure Hen uses the basement to play the classics on her piano, while Junior's into drinking.

A suave government agent, Terrance (Aaron Pierre), one evening pops in on them in a self-driving polygon car to relay to Junior that he has randomly been selected to be drafted into a space experiment program for extra-terrestrial life. Junior will work in a government-funded space station.
 
A year later, Terrance returns to move in with the troubled couple to make sure they acknowledges in the weeks before Junior's  mission, that the best possible robot replacement for Junior will be made. The unhappy Junior reacts by stating "I don't want a robot living with my wife".

It reads more like a book than a film, as this is a story that is not cinematically exciting but as a book can be engrossing.

In the final act there's a comical twist that leaves us laughing at the end instead of taking this sad tale as serious as it was intended by the filmmaker.

But the lead Irish actors playing Americans gave great performances, even if the high-concept film was too dry to resonate as a lively sci-fi psychological thriller.

It played at the New York Film Festival.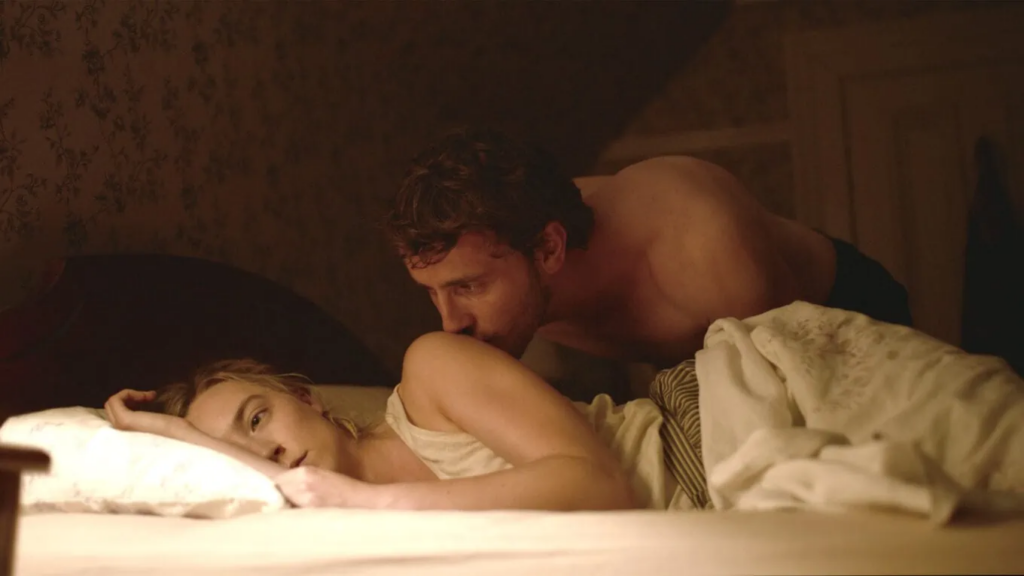 REVIEWED ON 10/2/2023  GRADE: C+