FLYING ACE, THE
(director/writer: Richard E. Norman; cinematographer: Richard E. Norman; editor: Richard E. Norman; cast: Laurence Criner (Captain William Stokes), Kathryn Boyd (Ruth Sawtelle), Boise De Legge (Blair Kimball), Harold Platts  (Finley Tucker),  George Colvin (Thomas Sawtelle), Lions Daniels (Constable Jed Spliins), Sam  Jordan (Dr. Maynard), Steve Reynolds (Steve 'Peg' Reynolds), R.L. Brown (Howard McAndrews); Runtime:  65; MPAA Rating: NR; producer: Richard E. Norman; Norman Studio/Kino Lorber; 1926-B/W-silent)
"This exciting film satisfies its Black audience."
Reviewed by Dennis Schwartz

It's a race film, movies made for blacks and shown in Black theaters in the South in the early days of film. It has an all Black-cast and was shot in Jacksonville, Florida, by Richard E. Norman, the white owner of a Florida movie studio that shoots these so-called race films because they make money (most race films were made by Blacks). This one was shot in six reels.

It's a well-produced mix of crime drama, an airplane thriller, slapstick comedy and romance, using similar story material white films used. Though not a great film, it compares favorably to other satisfying entertainment B-films made in Hollywood. It shows Blacks as both good and bad guys, and also as heroes, who can act in positive ways.

Today it serves as a curious watch, reminding America of its racist past and its segregation policy in the South. It was a time when Blacks had to make their own movies to get into pictures or play roles in Hollywood where they were stereotyped.

The story has a former railroad police detective in civilian life, who served his country during the war as a decorated pilot, Captain Bill Stokes (Laurence Criner), return home to Mayport, Florida, after the war, where he gets his old job back from his former boss (R.L.Brown). His first case back is to recover $25,000 stolen from his rural hometown train station. Stokes partners with his one-legged mechanic Peg (Steve 'Peg' Reynolds), who in the climax will chase down two gang members, the crooked constable (Lions Daniels) and the corrupt dentist (Sam Jordan), who are in a car while he's riding a bicycle and uses a shotgun he hides in his wooden leg to capture them.

The robbery takes place after the bootlegger pilot Tucker (Harold Platts) comes to the station to propose to Ruth Sawtelle (Kathryn Boyd), after giving a plane ride to the pretty daughter of the elderly stationmaster (George Colvin). But is again rejected. Later that day Tucker and his gang chloroform the paymaster (Boise De Legge) and the stationmaster and steal the satchel with the money the paymaster was holding while they're unconscious.

When Tucker is caught by S tokes he escapes and kidnaps Ruth, taking her away in his plane. Stokes rescues Ruth in his plane and forces Tucker to crash-land. He also gets the girl after Peg sings a love song, and after taking care of business over the arrests plans to come back and see Ruth.

That's the way they made action pics back then, and this exciting film satisfies its Black audience. Never mind Negroes were not allowed to be pilots during the war.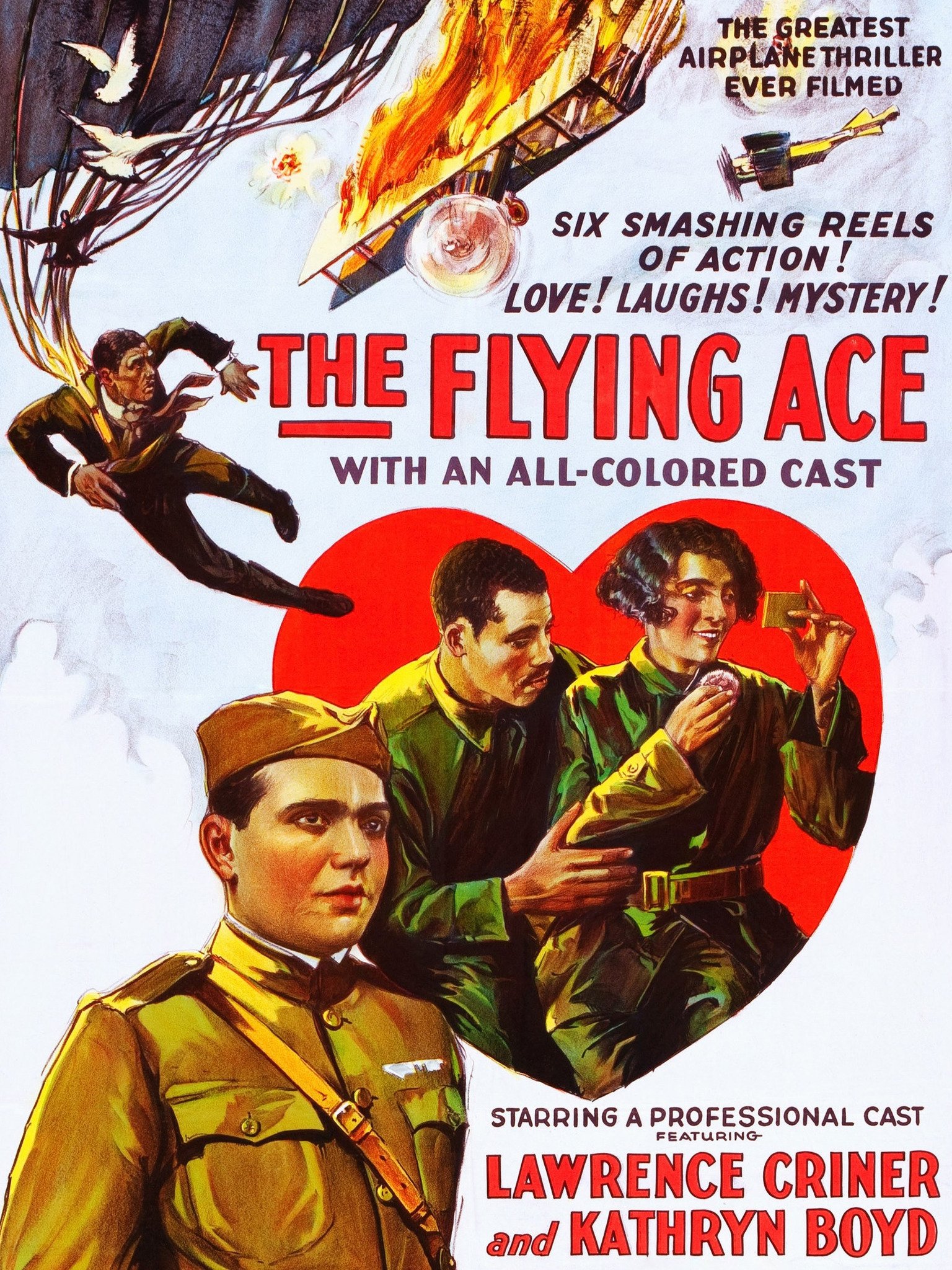 REVIEWED ON 7/9/2022 GRADE: B-