FLAG DAY
(director: Sean Penn; screenwriters: Jez Butterworth, John-Henry Butterworth/story "Flim-Flam Man: The True Story of My Father's Counterfeit Life" by Jennifer Vogel; cinematographer: Danny Moder; editors: Michelle Tessoro/ Valdís Óskarsdóttir; music: Joseph Viterelli /Nicholas Viterelli; cast: Sean Penn(Jonathan Vogel), Dylan Penn (Jennifer Vogel), Bailey Noble (Debbie), Katheryn Winnick (Patty Vogel),  Josh Brolin (Uncle Buck), Norbert Leo (Butz), Dale Dickey (Grandma Margaret), Eddie Marsan (Mr. Emmanuelle), Mitchell Nguyen-McCormick (U.S. Marshall Chief), Tom Anniko (Police Clerk), Regina King (U.S. Marshall Blake), Addison Tymec (Jennifer at 6), Hopper Jack Penn (Nick Vogel), Cole Flynn (Nick at 4), Jadyn Rylee (Jennifer at 9-11), Beckam Crawford (Nick at 9-11); Runtime: 108; MPAA Rating: R; producers; William Horberg, Jon Kilik, Fernando Sulichin: United Artists Releasing; 2021)
"An intimate but heavy-handed family drama about family dysfunction in America's heartland."
Reviewed by Dennis Schwartz
 
An intimate but heavy-handed family drama about family dysfunction in America's heartland, directed and starring Sean Penn ("The Indian Runner"/"Into The Wild"). In this misfire, the director, too old for the role,  co-stars with his real daughter Dylan Penn, as they play a father-daughter role in the film based on Jennifer Vogel's 2005 memoir "Flim-Flam Man: The True Story of My Father's Counterfeit Life." The dull screenplay is by the Brit writer brothers, Jez Butterworth and John-Henry Butterworth.

The year is 1992 and the counterfeiter John Vogel (Sean Penn) is being hunted by the authorities. When a law enforcement agent (Regina King) tells John's daughter Jennifer (Dylan Penn, Sean's daughter) about her father's crimes, there are flashbacks to 1975. At that time the youngster Jennifer lived happily with her mother (Katheryn Winnick) and younger brother Nick, and was aware her father, a lover of Chopin's piano music, was a hustler who often left the family and had a girlfriend (Bailey Noble).

In the 1980s, when Jennifer was a teenager, dad robs a bank and goes to prison. Soon the young adult, Jennifer (played as a teen and adult by Dylan Penn),  gets a journalism degree from the university of Minnesota, and goes onto a career as an investigative journalist.

You would think the title refers to that American holiday celebrating the creation of the American flag, but it instead offers some inexplicable nasty comments to not trust men, meaning John, for some unexplained reason, who were born on the actual Flag Day holiday. The dialogue surrounding that explanation was unintentionally funny and is what I enjoyed most about this pathetic "vanity" period piece–a film that can only do hokum well and despite its director's aim to keep it as a drama about the love between a huckster father and his sweet daughter, it shakes out as an unintended high camp venture in the art of schmaltz.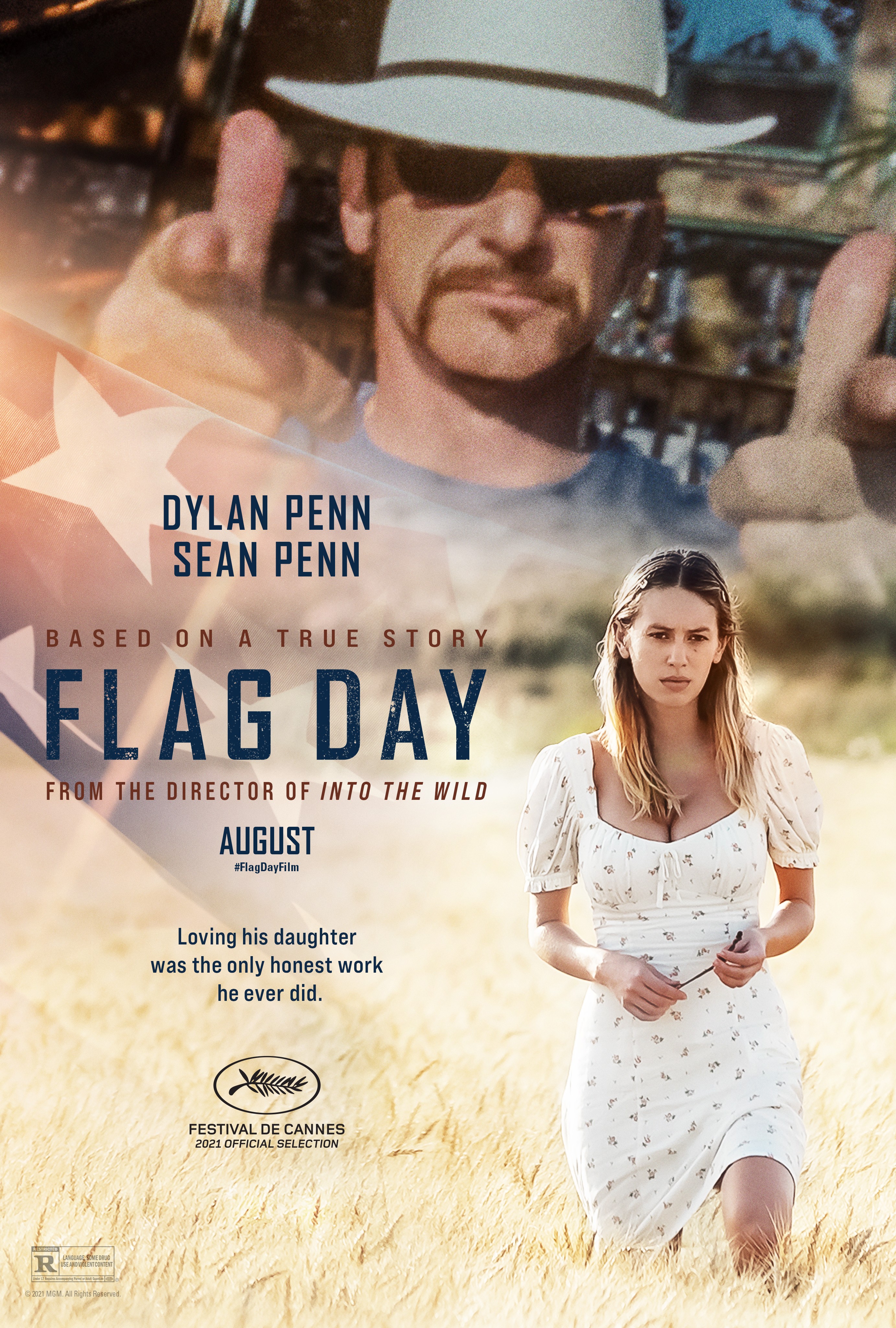 REVIEWED ON 8/21/2021 GRADE: C-