FIVE EASY PIECES
(director/writer: Bob Rafelson; screenwriters: Adrien Joyce/story by Joyce & Rafelson; cinematographer: Laszo Kovacs; editors: Gerald Shephard/Christopher Holmes; music: Chopin/Tammy Wynette; cast: Jack Nicholson (Robert Dupea), Karen Black (Rayette), Susan Anspach (Catherine Van Oost), Lois Smith (Partita Dupea), Helena Kallianiotes (Palm Apodaca), Marlena MacGuire (Twinky), Ralph Waite (Carl Fidelio Dupea), William Challee (Nicholas Dupea), Toni Basil (Terry Grouse), Fannie Flagg (Stoney), Richard Stahl (Recoding Engineer), Sally Struthers (Betty), Billy 'Green' Bush (Elton), Irene Daily (Samia Glavia), John P. Ryan (Spicer), Lorna Thayer (Waitress); Runtime: 98; MPAA Rating: R; producers: Richard Wechsler, Bob Rafelson; Columbia/Criterion Collection; 1970)


"A moody study on alienation, class status and dropping-out."

Reviewed by Dennis Schwartz

"Five Easy Pieces" refers to a book of piano lessons for beginners.

It was made for under $900,000, in forty-one days, as a free-style new type of movie.
 
A moody study on alienation, class status and dropping-out. Bob Rafelson ("The King of Marvin Gardens"/"Black Widow") does a nice job directing and co-writing with Adrian Joyce an engaging cerebral story they co-wrote. Though dated, it still holds up rather well today as an angry youth film on rebellion and trying to find one's identity. Jack Nicholson, after his Easy Rider success, goes Method Acting heavy to deliver arguably his best ever film performance in this provocative off-beat road movie.

The former classical concert pianist Bobby Dupea (Jack Nicholson) comes from an upper-class cultured bourgeois family, who leaves home as a disgruntled drifter working in an oil rig in a field in Southern California. He is living in a trailer park with the attractive but not too bright diner waitress Rayette (Karen Black), who identifies with Tammy Wynette and who he verbally abuses and freely cheats on (making him no working-class hero but a male chauvinist pig).

The cad makes the rounds of bars, goes with Rayette on bowling dates with another working-class couple and is on the prowl for pick-ups.

While stuck in a traffic jam on the freeway Bobby hops aboard a flatbed truck carrying a piano and plays Chopin as the truck exits and his redneck co-worker Elton (Billy 'Green' Bush) goes to work without his bud.

The emotionally empty Bobby brings the pregnant Rayette to visit his family in Puget Sound but makes her stay in a motel, as he attempts to reconcile with his estranged family.

At home, Bobby confronts his family: which includes his dependent neurotic sister (Lois Smith), his sprained-necked brother (Ralph Waite), the protégé who sees through him (Susan Anspach) and his ailing paralyzed maestro father (William Challee).

After the visit, the lost soul wanders off alone to nowhere in particular.

The art film is brilliantly photographed by Laszo Kovacs, capturing its cheap motels, vacuous cities and its gas stations.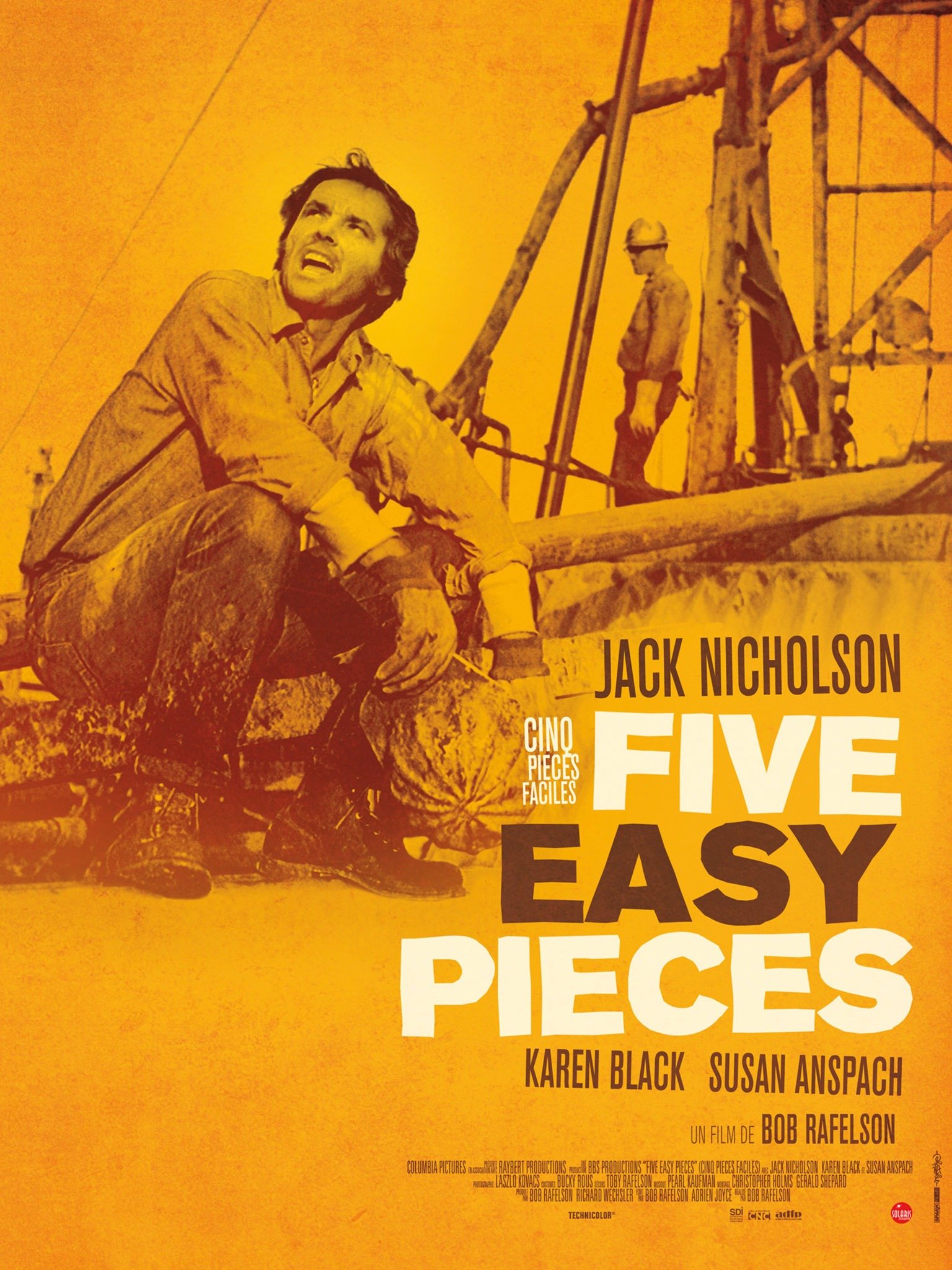 REVIEWED ON 6/22/2022 GRADE: B+