FIRESTARTER
(director: Keith Thomas; screenwriters: Scott Teems/based on the novel of the same name by Stephen King; cinematographer: Karim Hussein; editor: Timothy Alverson; music: Cody & John Carpenter/Daniel A. Davies; cast: Zac Efron (Andy McGee), Ryan Kiera Armstrong (Charlie McGee), Lanette Ware (Principal Lewis), Kurtwood Smith (Dr. Joseph Wanless), Vas Saranga (Agent Jules), Gloria Reuben (Captain Hollister), Sydney Lemmon (Vicky McGee), Michael Greyeyes (Rainbird), John Beasley (Irv Manders); Runtime: 110; MPAA Rating: R; producers; Jason Blum/Akiva Goldsman: Universal Pictures; 2022)
"A tiresome and unnecessary dated remake."
Reviewed by Dennis Schwartz

Keith Thomas("The Vigil") directs this hollow horror pic that blends together a sci-fi and adventure story. It's based on the 1980 novel of the same name by Stephen King and is a retread of the dismal 1984 film that starred Drew Barrymore as a 10-year-old learning to deal with her superpower (there was an even worse 2002 TV-movie sequel). It's lamely written by Scott Teems.The novel is about an angry girl with the superpower to engage in pyrokinesis.

The student couple Andy (Zac Efron) and Vicky (Sydney Lemmon) are locked into a shadowy government agency experimental testing program while in college. We fast forward to see them with their 11-year-old daughter Charlie (Ryan Kiera Armstrong) living off the grid without any phones or wifi. They are consumed by hiding their identities and powers. Vicky possesses a form of telekinesis that's untrained, Andy has some psychic abilities (he can twich his neck and thereby fuck with another's mind), but Charlie is the one who possesses pyrokinesis. Charlie can turn objects and people into fire when her emotions become extreme.

Things unravel after an accident and the family cover is blown.

The paranoid family flees to evade capture from another superpower test subject gone rogue, Rainbird (Michael Greyeyes), and the hostile military agent, Captain Hollister (Gloria Reubens), who hired him.

Firestarter is a tiresome and unnecessary dated remake, even if competently made. It's a dull and pointless film. Another film based on a King story that fares poorly on celluloid.

It's best feature is its cool electronic score, conceived by Daniel Davies, Cody Carpenter and his father, John Carpenter (Yes, the director).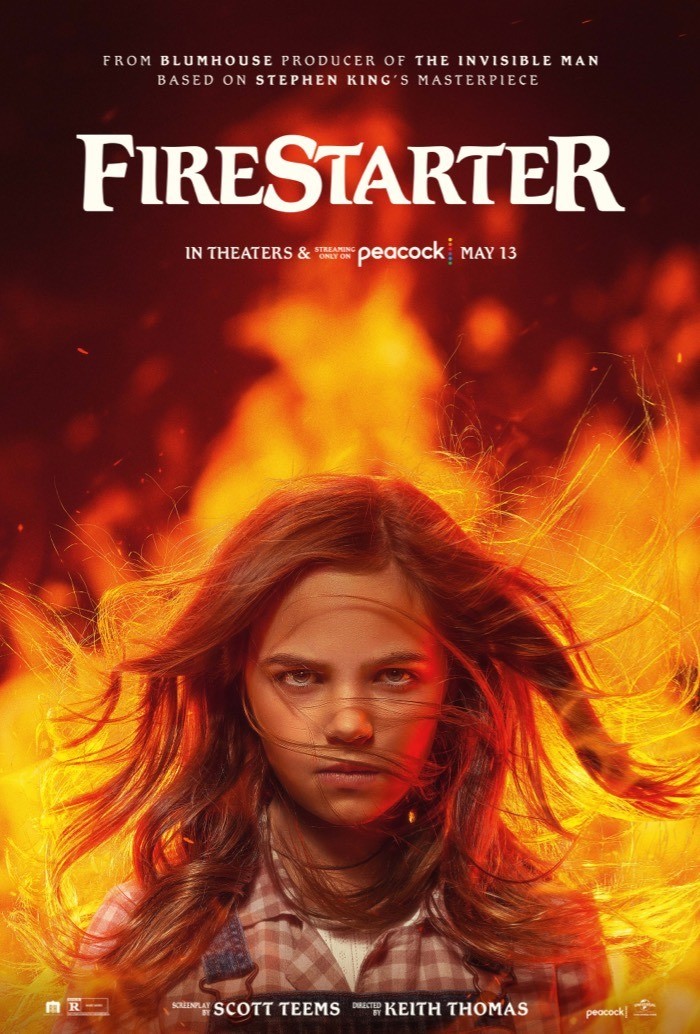 REVIEWED ON 5/15/2022 GRADE: C