FIREBRAND  (UGARAK)
(director: Karim Ainouz; screenwriters: Jessica Ashworth/Henrietta Ashworth/Rosanne Flynn/based on the novel 'The Queen's Gambit,' by Elizabeth Freemantle; cinematographer: Helene Louvart; editor: Heike Parplies; music: Dlckon Hinchliffe; cast: Jude Law (Henry VIII), Alicia Vikander (Catherine Parr), Simon Russell Beale (Bishop Stephen Gardiner), Patrick Buckley (Prince Edward), Eddie Marsan (Eddie Seymour), Sam Riley (Tom Seymour), Junia Rees (Princess Elizabeth), Amr Waked (Dr. Mulay Al-Farabi), Mina Andala (Jalida), Ruby Bentall (Cat), Erin Doherty (Anne Askew), Bryony Hannah (Ellen), Patsy Foran (Princess Mary); Runtime: 120; MPAA Rating: NR; producers: Gabrielle Tana/Carolyn Marks Blackwood; Magnolia Mae Films; 2023-USA/UK)
"Tells of the king's tumultuous relationship with his last wife, after executing the previous five wives."
Reviewed by Dennis Schwartz

The Tudor court drama is vigorously directed by the Brazilian-Algerian art-house filmmaker Karim Ainouz ("Mariner of the Mountains"/"Central Airport THF") as an impressionable historical drama supporting a revisionist view of history, in his English-language debut. It's scripted by Jessica Ashworth, Henrietta Ashworth and Rosanne Flynn. It's based on the 2013 novel 'The Queen's Gambit,' by Elizabeth Freemantle, and tells of the king's tumultuous relationship with his last wife, after executing the previous five wives.

Catherine Parr (Alicia Vikander, Swedish actress) was the sixth wife of the notorious 16th century brooding, bloated, cantankerous, bullying and unwell English King Henry VIII (Jude Law), suffering from unsightly maggot-infested legs. She was the sole surviving wife of the misogynist's killing rage by smartly knowing how to deal with the volatile king by using her feminine guile. This film tells how she survives such a monster during the period of religious reformation (as the Protestants wanted the church to use English instead of Latin). During this period, the king tries to decide if he remains a Catholic or becomes a Protestant.

It should be pointed out that all the king's marriages have been arranged as political alliances to ease things with his country's enemies.

Catherine is a Protestant, made out to be a religious radical, whose friendship with the Protestant heretic and the film's firebrand, Anne Askew (Erin Doherty), marks her as someone disliked by the Catholic leaders, such as the reactionary bishop Stephen Gardiner (Simon Russell Beale). He would gladly burn her at the stake, if he could.

Vikander offers a measured performance in contrast to Law's flashy scene-stealing one. Eddie Marsan has a nice part as a Protestant agitator, while Sam Riley is good in the role of Catherine's old flame.

It played at the Cannes Film Festival.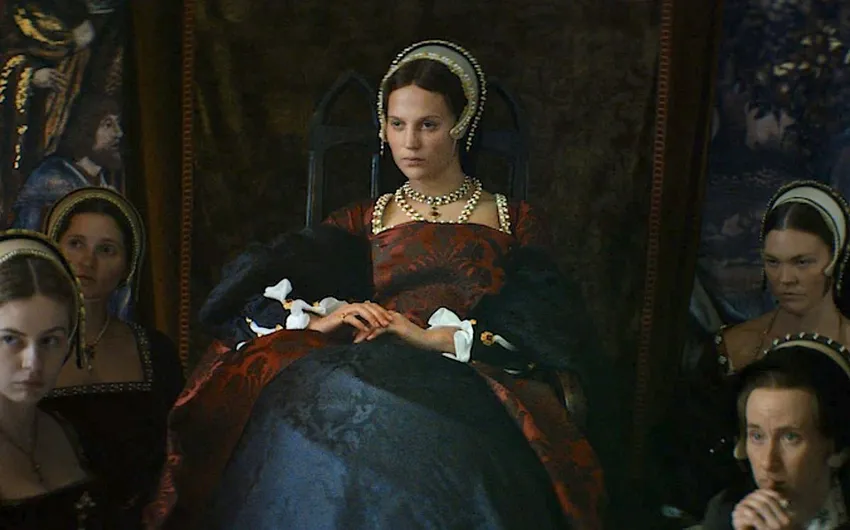 REVIEWED ON 6/3/2023  GRADE: B-