FIGHT, THE
(director/writer: Elyse Steinberg, Josh Kriegman, Eli Despres; cinematographer: Sean McGing; editors: Eli Despres, Greg Finton, Kim Roberts; music: Juan Luqui; cast: Brigitte Amiri, Joshua Block, Lee Gelernt, Dale Ho, Chase Strangio; Runtime: 97; MPAA Rating: PG-13; producers: Elyse Steinberg, Maya Seidler, Josh Kriegman, Eli Despres, Peggy Drexler, Kerry Washington; Magnolia Pictures; 2020)
"It's a solid film if you care to see the inner workings of the ACLU."
Reviewed by Dennis Schwartz

A lively and compelling documentary about the ACLU (American Civil Liberties Union), an advocate group of lawyers fighting for the rights of the American people. The non-partisan group was founded in 1920.  The documentary, sympathetic to the ACLU, is co-directed by Eli B. Despres, Josh Kriegman, and Elyse Steinberg ("Weiner"). It's a no-frills documentary using as an example the following four cases–a proposed citizenship question in the US census, discrimination against transgender individuals in the military, the abortion rights of illegal immigrants, and the separation of families at the US-Mexico border. The lawyers handling these cases are Brigitte Amiri, Dale Ho, Chase Strangio, and Joshua Block. The ACLU filed 147 cases during the Trump administration, these are only four.

Taking on four cases is a bit much, but the filmmakers make it as watchable as possible. But if it was me, I would have confined it to just one case for clarity.

The documentary painstakingly details the inner workings of building a case: how potential clients qualify, what arguments are made in their behalf, and how lawyers get prepared for their court dates. The ACLU's top lawyer, Lee Gelernt, organizes these meetings for the team of lawyers in their Brooklyn office. We are also reminded they sometimes take the cases of bad people, such as the one over the violence caused at Charlottesville in 2017 by white supremacists.

It's a solid film if you care to see the inner workings of the ACLU, without any nonsense thrown in. It's also a reminder of how much hate there in today's divisive country.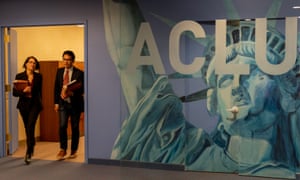 REVIEWED ON 8/18/2020 GRADE: B+