FATHER OF THE BRIDE
(director: Gary Alazraki; screenwriters: Matt Lopez/novel by Edward Streeter; cinematographer: Igor Jadue-Lillo; editor: Jon Poll; music: Terence Blanchard; cast: Andy Garcia (Billy), Gloria Estefan (Ingrid Herrara), Chloe Fineman (Natalie Vance),  Adria Arjona (Sofia Herrara), Isabela Merced (Cora Herrara), Pedro Damian (Hernan Castillo), Diego Boneta (Adan Castillo); Runtime: 118; MPAA Rating: PG-13; producers: Dede Gardner, Jeremy Kleiner, Paul Perez; HBO MAX; 2022)
"Could have used a few more laughs and not have been played so safely."
Reviewed by Dennis Schwartz

A remake of the family drama Spencer Tracy hit from 1950 (there was also a funny Steve Martin one in 1991). Both were likable sitcoms based on the 1949 novel by Edward Streeter. Both cover Wasp families. This one comes with a Latino update and a diverse wedding, and is set in Florida. Under the direction of Mexican filmmaker Gary Alazraki ("We are the Nobles") and the script by Matt Lopez, the film deals with both crude and pleasant moments, as it comes together as an enjoyable family drama that was slickly made in high-gloss. Its central theme is about the carrying on of the bride's father, Billy (Andy Garcia), a Cuban exile living in Miami, who has to face losing a daughter and is uptight about that. It is also about the Cuban and Mexican cultures blending together for the wedding.

The central theme of the father in angst is well-captured in all three films, but with the Andy Garcia character dealing also with some new issues (like a Mexican relative wanting to introduce Mexican culture into a wedding dad wants to be only Cuban influenced).

Billy, a successful architect, and his ex-wife Ingrid Herrara (Gloria Estefan), must come together for the wedding of their lawyer daughter Sofia (Adria Arjona) in just four weeks after they announce their surprising divorce. The groom is the Mexican Adan (Diego Boneta). After the wedding the couple will quit their jobs in a New York law firm to work together at a non-profit agency in Mexico.

In the traditional wedding, the Gen Z clueless hipster Natalie Vance (Chloe Fineman, SNL actress) is a wedding planner hired through social media. While the brides' sister Cora (Isabela Merced), possibly gay as coyly hinted at, is an aspiring clothing designer who will create the wedding garb.

The ceremony is filled with wacky guests, awkward situations and highlights how Billy reacts with his ex and losing his daughter in marriage.

It's by now a familiar story, touching on parental fears and the tension given off by wedding ceremonies. Nothing is controversial, and it should please a wide-audience.  Though competently filmed, it could have used a few more laughs and not have been played so safely.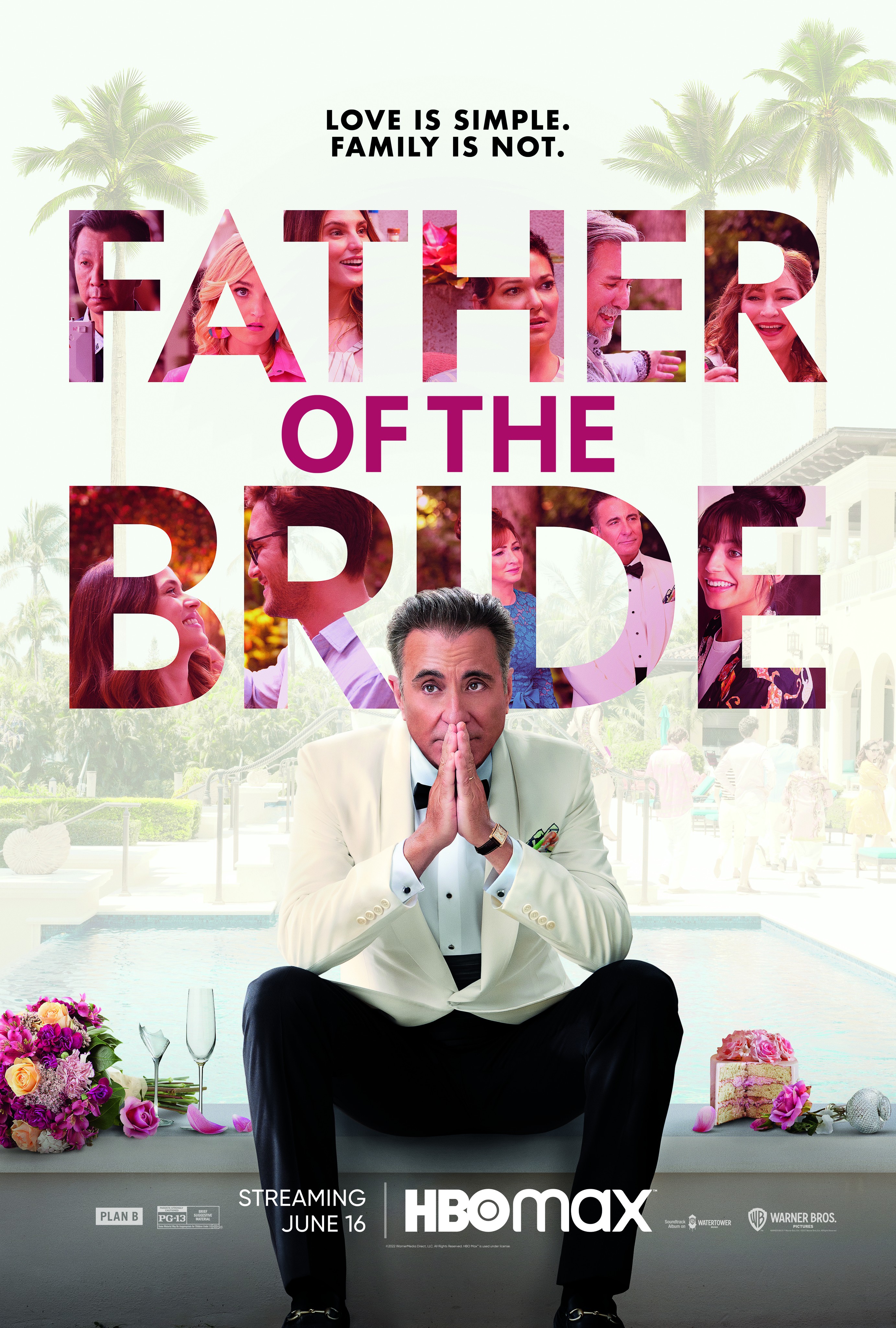 REVIEWED ON 7/25/2022 GRADE: B-