FAIR PLAY
(director/writer: Chloe Domont; cinematographer: Menno Mens; editor: Franklin Peterson; music: Brian McOmber; cast: Phoebe Dynevor (Emily), Alden Ehrenreich (Luke), Eddie Marsan (Campbell), Sebastian de Souza (Rory), Geraldine Somerville (Emily's mother), Brandon Bassir (Dax), Patrick Fischler (Robert Bynes), Sia Alipour (Arjun), Rich Sommer (Paul); Runtime: 113; MPAA Rating: NR; producers: Leopold Hughes/Ben LeClair/Allan Mandelbaum/Tim White/Trevor White; Netflix; 2023)
"Phoebe Dynevor's intense performance gives the film its groove."
Reviewed by Dennis Schwartz

An erotic mystery thriller, with terrific vitriolic dialogue, is successfully executed. It's filmed in Serbia by first-time feature film filmmaker Chloe Domont, and set in the competitive world of a New York investment firm where the featured lovers both work in the same office.

Emily (Phoebe Dynevor) and Luke (Alden Ehrenreich) have a secret romantic relationship (not wanting to openly break their company's rule against workplace romances). But things dampen when Emily, a Harvard grad, is promoted by the big boss Campbell (Eddie Marsan) over him, as the insecure Luke can't handle it and fears people are laughing behind his back at him. Emily, meanwhile, loves him the same as before and vows to help him get a promotion. But she learns his bosses give his work ethic a low rating and refuse to promote him.

It results in a disconnect for their relationship, as she grows tired of his toxic attitude and of his weakness.

The observant film examines their relationship, how the corporate world is a corrupting one and to what point should one party support another.

The film chooses to tell how they begin to argue because of her promotion and how the confused male chooses to falsely believe she was promoted because she fucked her bosses. It points out how much male toxicity is in the American workplace and how ugly the workplace environment can become if not held in check.

Phoebe Dynevor's intense performance gives the film its groove.

It played at the Sundance Film Festival.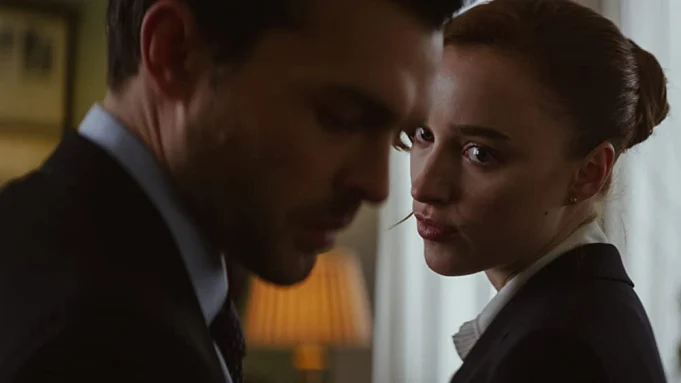 REVIEWED ON 2/7/2023 GRADE B