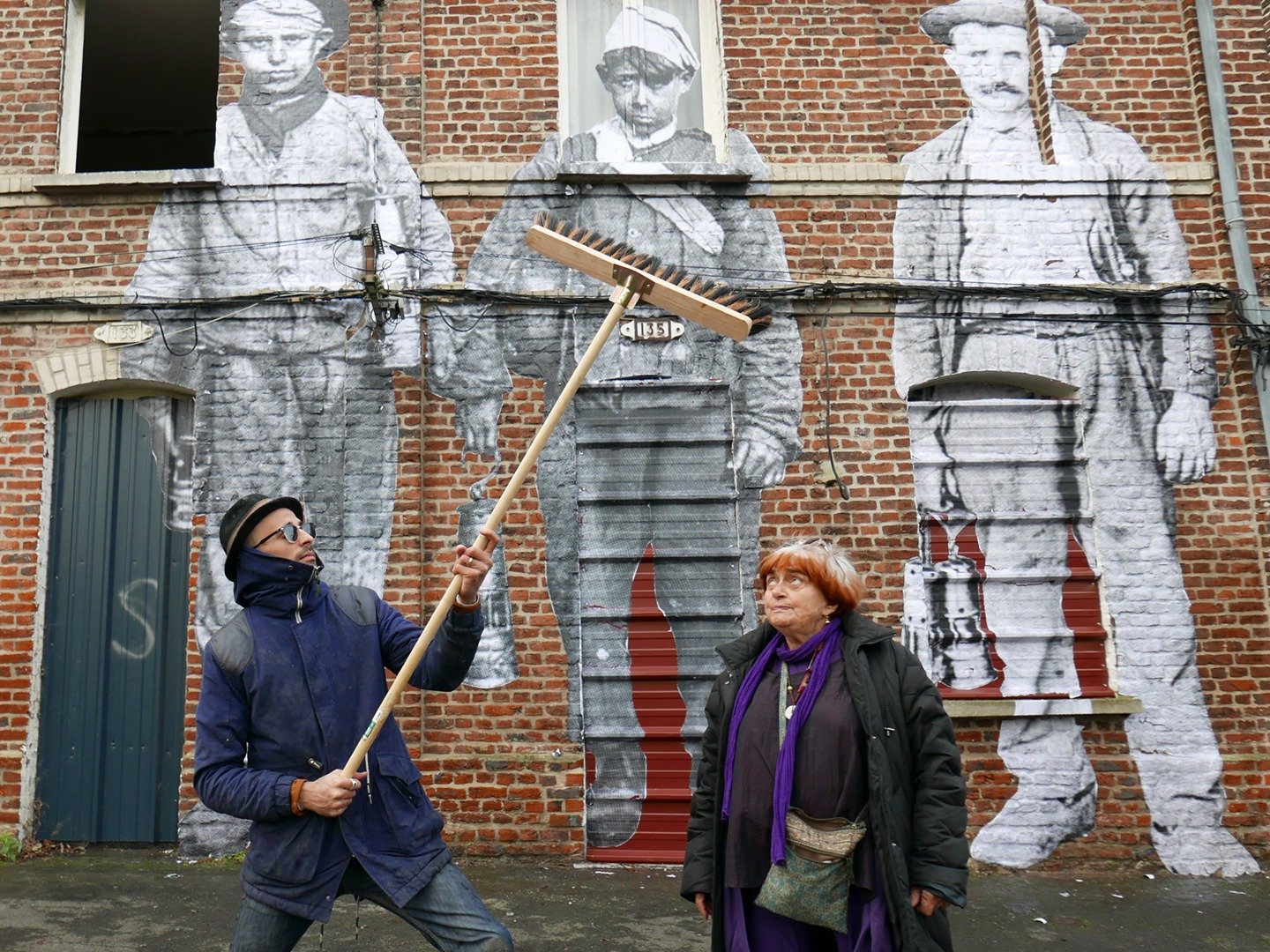 FACES PLACES (VISAGES, VILLAGES)
(directors/writers: Agnes Varda/JR; cinematographers: Romain Le Bonniec, Claire Duguet, Nicolas Guicheteau, Valentin Vignet Editor: Maxime Pozzi Garcia; music: Matthieu Chedid; cast: AgnesVarda, JR ; Runtime: 89; MPAA Rating: PG; producer: Rosalie Varda/Charles S. Cohen; Cohen Media Group; 2017-France-in French with English subtitles)
"It's an exhilarating road film that is both poignant and lighthearted."
Reviewed by Dennis Schwartz
Highly enjoyable personal documentary that's s co-written and co-directed by the 88-year-old legendary New Wave filmmaker Agnes Varda ("The Gleaners & I "/"Vagabound") and the 33-year-old street artist-professional photographer and muralist- JR. The two kindred spirits met in 2015 and decided to work together on a personal film to glorify the folks of the French countryside (like farmers, miners and restaurant workers) by driving around in his van that contains a camera that can produce large prints to be plastered as posters on the walls of interesting buildings they encounter in their travels.
The bouncy pork-pie hat wearing and sunglasses wearing JR and the spry filmmaker recognize the faces plastered on the walls "so they don't fall into the hole of memory." Both artists respect the image as a force for imagination and take us on an incredible journey to small villages, farms, factories, the docks of Le Havre and to the beach at Normandy to get various people to pose for the wall poster. In one loopy scene they recreate the running-through-the-Louvre scene in Jean-Luc Godard's "Band of Outsiders".
The film ends with a disappointing visit to the Swiss home of the eccentric French filmmaker Jean-Luc Godard. It's an exhilarating road film that is both poignant and lighthearted.
REVIEWED ON 3/13/2018 GRADE: A-   https://dennisschwartzreviews.com/