FACES OF DEATH
(director/writer: John Alan Schwartz; cinematographer: Michael Golden; editors: Ivon Simone, Lauri Crushman, James Roy, Hank Simon; music: Gene Kauer Sloter; cast: Michael Carr (Dr. Francis B. Gross), Mary Ellen Brighton (self-suicide victim), Sam Berkowitz (victim), John Alan Schwartz (Leader of a flesh-eating cult), Thomas Noguchi (Chief Medical Examiner Coroner of Los Angeles), Vern Stierman (Narrator); Runtime: 105; MPAA Rating: NR; producers: Rosilyn T. Scott; Gorgon Video; 1978-in English and some German)
"Has no redeeming value as entertainment or any educational value."
Reviewed by Dennis Schwartz

A controversial exploitation mondo horror film that's revolting. It attracts those with a morbid curiosity for the bizarre to view real people dying. It's a follow up to the 1970 Mondo films that died out in the late '70s but had another run in them with this 'shockumentary'.  Astonishingly the low budget amateurish pic hit it big at the box office (it grossed $35 million), out-grossing most films of its time period (it even had a bigger gross at the box office than Star Wars).

John Alan Schwartz ("Faces of Death 2″/"Faces of Death 4") writes and directs, and films it as a pseudo-documentary.

The weirdo pathologist Dr. Francis B. Gross (Michael Carr) collects film footage of people dying. It includes a park worker falling into a lake and eaten by an alligator. A devil-worshipping cult, whose leader (John Alan Schwartz) promotes flesh eaters. There are fatal accidents, tribal sacrificial rituals of death and shots at a slaughter house. Also footage of a criminal executed in an electric chair, an autopsy in an L.A. coroner's office, mummified bodies, a beheading and cannibalism. There are many other death scenes. Some scenes are real, others are faked like those of humans dining on monkey's brains.

The film has no redeeming value as entertainment or any educational value.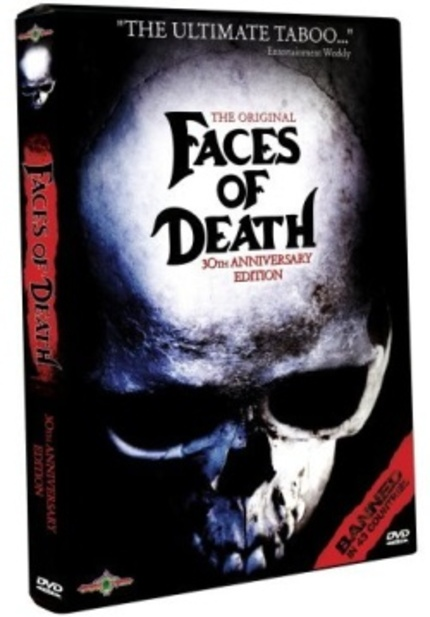 REVIEWED ON 9/19/2023  GRADE: D