EX-LIBRIS: NEW YORK PUBLIC LIBRARY
(director/writer/editor/producer: Frederick Wiseman; cinematographer: John Davey; Runtime: 197; MPAA Rating: NR; Zipporah Films; 2017)
"Like all Wiseman's films, this one is to be valued."
Reviewed by Dennis Schwartz

The 44th documentary, since 1967, by the octogenarian Frederick Wiseman ("National Gallery"/"in Jackson Heights"), the Boston-based documentarian, pays homage to New York's public libraries as an institution dedicated to bringing knowledge to the people.
It's an overlong obsessive film at 197 minute–its main fault in an otherwise engrossing film. The film spends a lot of time at its massive main library on Fifth Avenue and 42nd Street and its ornate marble halls, but also visits many of the 92 branches in Manhattan, the Bronx, and Staten Island. (Brooklyn and Queens have their own separate library networks). We see such things as the regular library staffers doing their routine jobs, such as finding books for patrons; free lectures in all fields taking place; recruitment for such things as the army; community meetings; book club meetings; and the giant conveyor belt where staffers route an endless stream of returned books into plastic crates to be trucked back to their original branches.

The library system was Andrew Carnegie's 19th-century vision of giving Americans access to a library within their reach and is still valued and going strong despite the Internets far reach in modern times in the new information age. So many of us owe so much to the library system, including me. As a youngster it's where I took out my first book and read adventure stories on the sea written by the likes of Conrad and Melville, that touched my imagination and took me to places I would always dream of going to.

Like all Wiseman's films, this one is to be valued.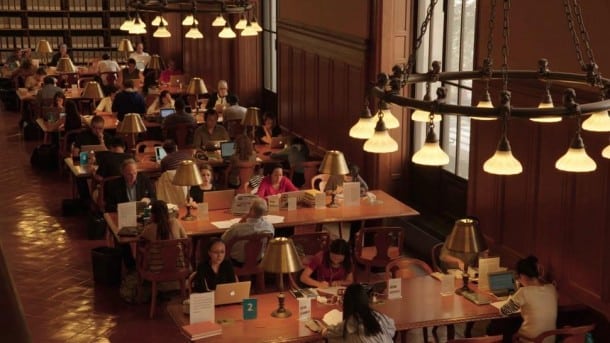 REVIEWED ON 12/8/2017 GRADE: B