EVIL DEAD RISE
(director/writer: Lee Cronin; cinematographer: Dave Garbett; editor: Bryan Shaw; music: Stephen McKeon; cast: Mirabai Pease (Teresa), Lily Sullivan (Beth), Richard Crouchley (Caleb), Anna-Maree Thomas (Jessica), Noah Paul (Bruce), Alyssa Sutherland (Ellie), Nell Fisher (Kassie), Jayden Daniels (Gabriel), Gabrielle Echols (Bridget), Morgan Davies (Danny); Runtime: 97; MPAA Rating: R; producer: Rob Tapert; Warner Bros.; 2023)
"The scares are just not there."
Reviewed by Dennis Schwartz

Irish filmmaker Lee Cronin ("The Hole in the Ground"/"Ghost Train") directs and writes the fifth film in the Evil Dead bloody horror franchise. The latest Cronin version follows the Sam Raimi "Evil Dead" in 1983, that was banned in England as a "nasty video" until the ban was lifted in the early 90s. If the new one, a mindless bloody venture, wishes to value its success on scares, the scares are just not there.

The single mom Beth (Lily Sullivan) lives in a Los Angeles apartment with her three children Danny (Morgan Davies), Bridget (Gabrielle Echols) and Kassie (Nell Fisher). She is a tattoo artist and rock concert technician. Trouble brews when her estranged sister Ellie (Alyssa Sutherland) surprisingly comes from out-of-town to move in with her. Danny comes upon Ellie's Book of the Dead and mistakenly an evil spirit is released that possesses Ellie.

With logic thrown out the window, the dark film is disturbing as there's one terrifying scene after another, with no let up. It's a film for those horror fans who crave bloody action scenes and could care less if its story makes sense or not.


Alyssa Sutherland's outrageous performance carries the lean and mean highly entertaining film, as others give fine performances . It astounds with a wickedly memorable nasty eyeball scene and there are plenty of laughs to be had in all its silliness.

It's not my kind of horror pic and is not for the faint of heart, but it gets across its basic horror pic tropes in a rather smooth way and should work for those movie junkies wishing to kill some time with a film not to be taken seriously but be taken as a guilty pleasure treat.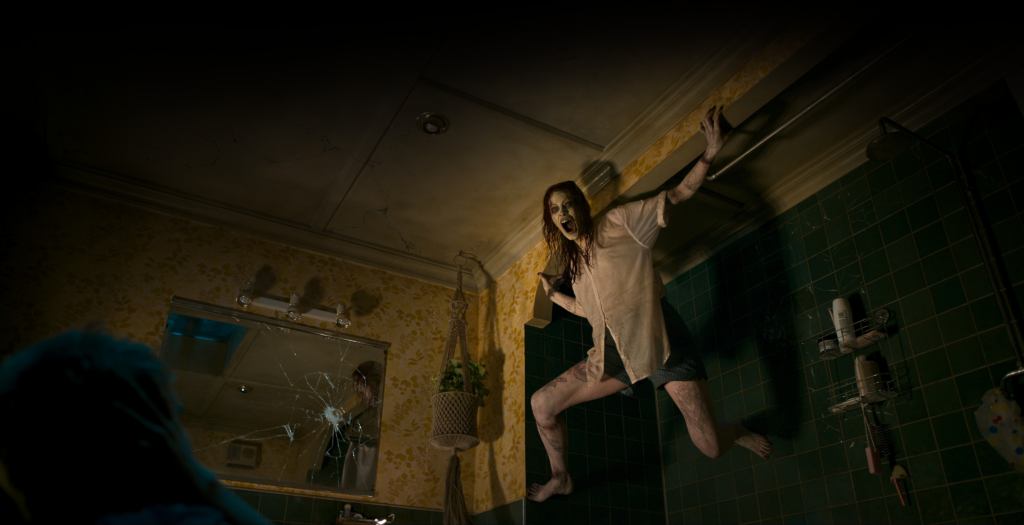 It played at the SXSW Film Festival.




 

REVIEWED ON 4/21/2023  GRADE: B-