ESTATE, THE
(director/writer: Dean Craig; cinematographer: Darin Moran; editor: Annette Davey; music: Will Bates; cast:  Toni Collette (Macey), Anna Faris (Savanna), David Duchovny (Dick), Rosemarie Dewitt (Beatrice), Ron Livingston (James-Beatrice's husband), Keyla Monterroso Mejia (Ellen), Patricia French (Diane), Kathleen Turner (Aunt Hilda); Runtime:  91; MPAA Rating: R; producers: Alison Benson/Sarah Gabriel/Marc Goldberg/Sarah Jessica Parker; Signature Entertainment; 2022)
"Never feels anything but strained and awkward."
Reviewed by Dennis Schwartz
Brit director-writer Dean Craig ("The Honeymoon"/"Love. Wedding, Repeat"), helms this remake of Death at a Funeral (2007, 2010), a crude comedy that Craig served the original as screenwriter. In this one he also directs. It's set in the States instead of England, and is unfunny, boorish and flat as a "dysfunctional family" drama/comedy/farce– a black comedy, whose poor script and one-dimensional characters throws off the talented cast from their game, causing them to give wooden performances.

On the verge of a business collapse in their cafe and the refusal of the bank to give them a loan, leaves the business partner sisters Macie (Toni Collette) and Savanna (Anna Faris) facing financial ruin. It also means Macie will no longer be able to support her boyfriend, who bolts for Alaska where he has a paying job.

The only news that might seem good, is the sisters learn their wealthy curmudgeon Aunt Hilda (Kathleen Turner) is dying from cancer, and they look at that as an opportunity to convince her to include them in her will.

Arriving at their Aunt's house, they find their shameless cousins, Beatrice (Rosemarie DeWitt) and Richard (David Duchovny), have the same plan.

The film is kept alive by the caustic wit tossed around, as it has a field day dissecting the greedy family members who show no feelings for their dying relative. However the pic never feels anything but strained and awkward. It's watchable merely to observe its all-star cast be so limited in such a sluggish pic.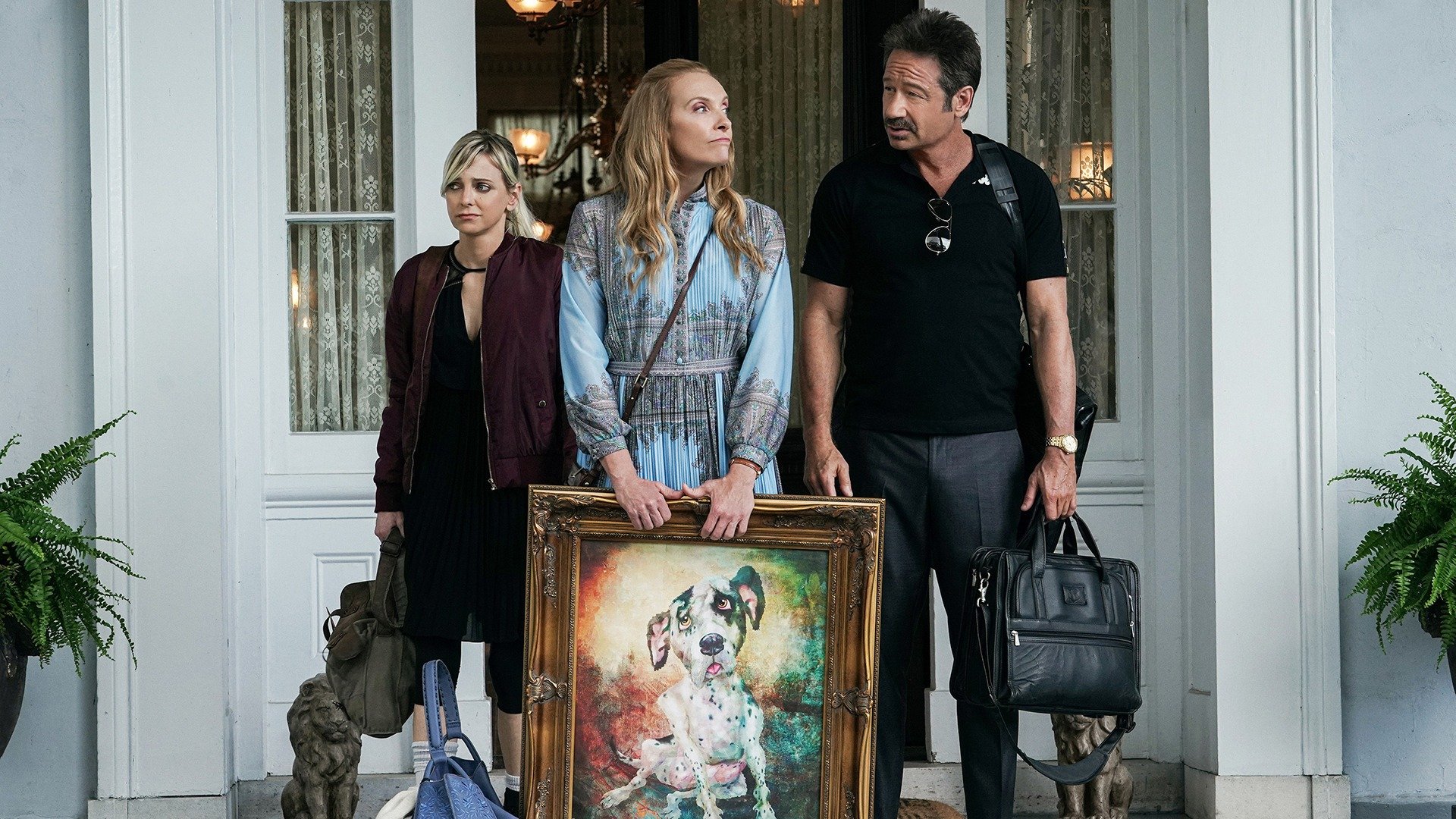 REVIEWED ON 12/4/2022 GRADE: C