EO
(director/writer: Jerzy Skolimowski; screenwriter: Ewa Piaskowska; cinematographer: Michal Dymek; editor: Agnieszka Glinska; music: Pawel Mykietyn; cast: Isabelle Huppert (The Countess), Sandra Drzymalska (Kasandra), Lorenzo Zurzolo (Vito), Tomasz Organek (Dude), Agata Sasinowska (Kaja), Mateusz Kosciukiewigz (Mateo), Lolita Chammah (Dora), Anna Rokita (Dorota); Runtime: 88; MPAA Rating: NR; producers: Jerzy Skolimowski/Eileen Tasca/Ewa Piaskowska; Janus Films; 2022-Poland-in Polish, Italian, French, English, Spanish, with English subtitles)
"The film anthropomorphizes EO as a pure innocent so we can see things from his POV."
Reviewed by Dennis Schwartz

The esteemed Polish filmmaker Jerzy Skolimowski ("Walkover"/"Barrier") was born in 1938. His last film was in 2015, titled "11 Minutes." He co-writes the experimental EO film with his regular collaborator, his wife, Ewa Piaskowska, as an updated version of the 1966 Robert Bresson masterpiece French film Au Hasard Balthazar and as an homage to the master filmmaker. The Balthazar film showcased the hardship on the gentle well-traveled donkey Balthazar, who suffers because his owners use him as a tool to profit from his free labor while for the most part disregarding his real needs. Bresson's film rejected sentimentality on-screen and told of the adorable titular donkey pitied by the viewer for his ill or neglectful treatment from his human owners, and how his original girl owner immediately died after naming him.

EO takes us on a spirited animal adventure in Poland and Italy, as the animal goes to different owners after released as a circus performing animal for the act of Kasandra (Sandra Drzymalska), who simply adores him and treats him well but must release him due to new laws protecting animal rights and the foolish protests of do-gooders to release all animal performers (but their release doesn't ensure them a better life, in fact it mostly makes their life worse as they are most likely less cared for in their next stop).

Like the Bresson film, Jerzy's film is based on a passage from Dostoevsky's The Idiot, that brilliantly tells about suffering being the most apparent thing about living in the world for both animals and people.
 
The EO movie, a difficult one to make, took two years to complete.

Jerzy's film is a minimalist dialogue film, using stark imagery and a moody score by the Polish composer Pawel Mykietyn to convey its alarming message how we have become so disconnected in nature from other species that we have caused a genocide against animals by our cruelty, as the film anthropomorphizes EO as a pure innocent so we can see things from his POV.
 

The film's most vivid, entertaining and engaging scene for me has Isabelle Huppert as the matriarchal French Countess greeting her visiting son (Lorenzo Zurzolo), a failed priest, with disdain, as he shows up at her doorsteps with EO asking for financial help.
 
It played at the Cannes Film Festival (Competition).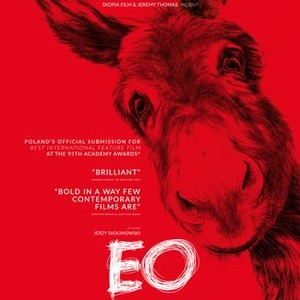 REVIEWED ON 11/21/2022 GRADE: A