ENYS MEN
(director/writer: Mark Jenkin; cinematographer: Mark Jenkin; editor: Mark Jenkin; music: Mark Jenkin; cast: Mary Woodvine (The Volunteer), Edward Rowe (The Boatman), Flo Crowe (The Girl), John Woodvine (The Preacher), Joe Gray (The Miner), Loveday Twomlow (The Baby); Runtime: 91; MPAA Rating: NR; producers: Denzil Monk; Neon; 2022-UK)
"It's a valued film for those who respect experimental cinema."
Reviewed by Dennis Schwartz

An unnerving psychological drama written and directed by Mark Jenkin ("Bait"/"The Midnight Drives") with an affinity for morbidity and folk horror. It's a follow-up to the 2019 Bait.
A strange woman known only as The Volunteer (Mary Woodvine) goes nuts on the deserted isle of Enys Men (pronounced Ennis Main, on the Cornish coast that's known as "Stone Island"). The woman has come here in the spring of 1973 to observe the wildflowers.

The film has similarities to The Wicker Man (1973).

At night she reads an environmental tract from the 1970s called A Blueprint for Survival, which contributes to her impending ruin. Any company she has comes by way of the deliveryman called the "Boatman" (Edward Rowe).

The narrative is told in an evocative avant-garde style.

Jenkins, as director and cinematographer, crafts an involving folk horror flick, one that I took a fancy to because it was so weird and different. It warns us that too much isolation can be damaging to our self-preservation.

It's a valued film for those who respect experimental cinema.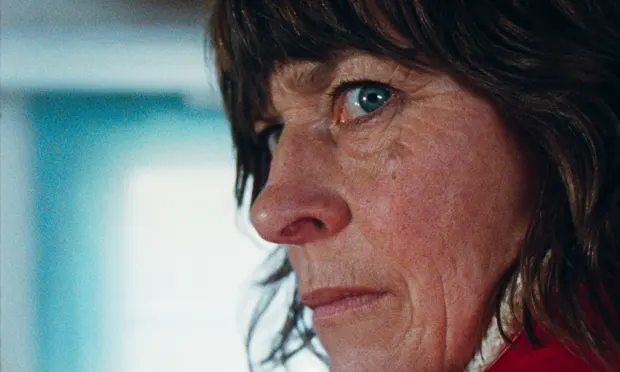 REVIEWED ON 7/12/2023  GRADE: B