ENOLA HOLMES (TV)
(director: Harry Bradbeer; screenwriters: Jack Thorne/"The Case of the Missing Marquess: An Enola Holmes Mystery" by Nancy Springer; cinematographer: Giles Nuttgens; editor: Adam Bosman; music: Daniel Pemberton; cast:  Helena Bonham Carter (Eudoria Holmes), Henry Cavill (Sherlock Holmes), Susan Wokoma (Edith), Adeel Akhtar (Lestrade), Sam Claflin (Mycroft Holmes), Millie Bobby Brown (Enola Holmes), Louis Partridge (Lord Tewkesbury), Hattie Morahan (Lady Tewkesbury), Burn Gorman (Linthorn); Runtime: 123; MPAA Rating: PG-13; producers: Mary Parent, Alex Garcia, Ali Mendes, Millie Bobby Brown, Paige Brown; Netflix; 2020-UK)
" It gives us a new unauthorized Holmes sleuth to ponder."
Brit TV director Harry Bradbeer ("Fleabag") ably films the YA novel, "The Case of the Missing Marquess: An Enola Holmes Mystery" by Nancy Springer, the first of her six book series. It's scripted by Jack Thorne.

In 1884, in England, Enola Holmes (Millie Bobby Brown), on the morning of her 16th birthday, finds that her suffragist widow mother Eudoria (Helena Bonham Carter) has vanished from their country home. She is then cared for by her older brothers in London-the famous sleuth, the oldest brother Sherlock (Henry Cavill), and her sullen other brother Mycroft (Sam Claflin). They aim to send her to a finishing school. But the free-spirited Enola (backwards her name spells-Alone) has other plans, such as to find mom and escape from being raised by her brothers. She thereby dresses as a a boy and runs free in London to begin her search in Victorian England for mom. There she meets the young Lord Tewkesbury (Louis Partridge), also on the run from being stifled. The two soulmates form a tender bond.

Enola (trained in the martial arts and blowing things up) outsmarts her famous brother as she uncovers a conspiracy that could change the outcome of history, and also aids her runaway friend.

It gives us a new unauthorized Holmes sleuth to ponder, which never seemed kosher but is what it is. Some will like the new spin on the Holmes tales just because it's entertaining. Also Millie Bobby Brown gives a refreshing performance, one that certainly makes it watchable.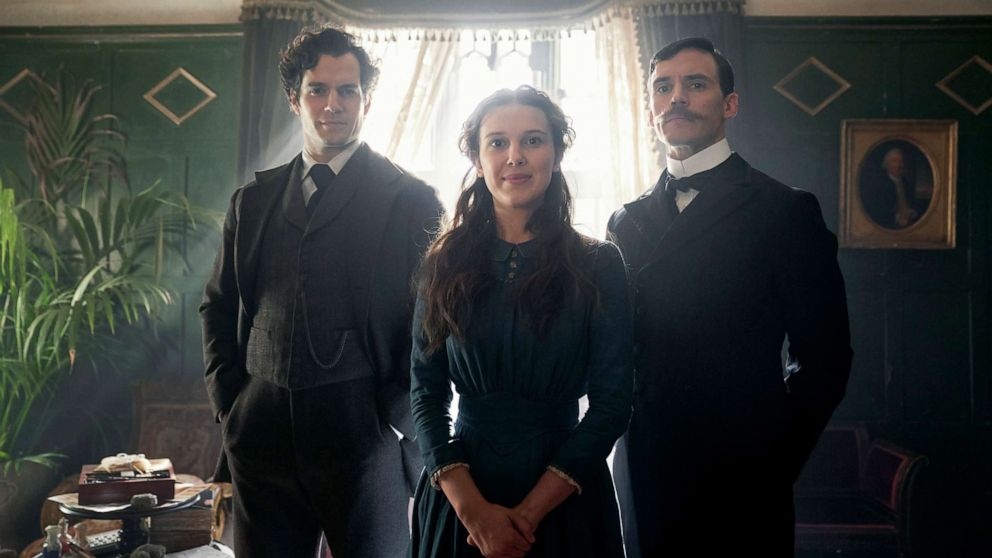 REVIEWED ON 10/11/2020 GRADE: B-