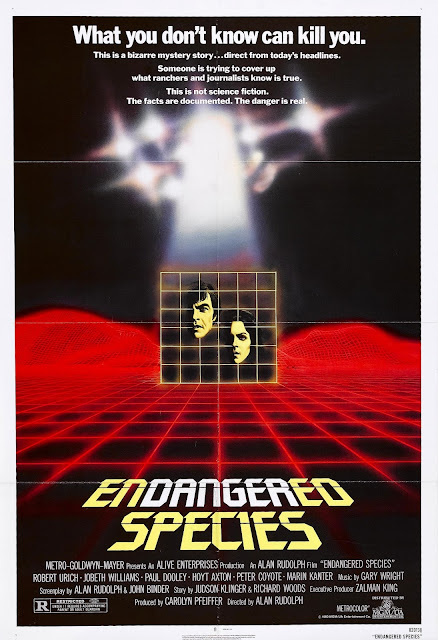 ENDANGERED SPECIES
(director/writer: Alan Rudolph; screenwriter: Joel Binder/story by Judson Klinger & Richard Clayton Woods; cinematographer: Paul Lohmann ; editor: Tom Walls ; music: Gary Wright ; cast: Robert Urich (Ruben Castle), JoBeth Williams (Harriet Purdue), Marin Kanter (MacKenzie Castle), Paul Dooley (Joe Hiatt), Hoyt Axton (Ben Morgan), Peter Coyote (Steele), Dan Hedaya (Peck), Harry Carey Jr. (Dr. Emmer), John Considine (Burnside), Heather Menzies (Susan); Runtime: 97; MPAA Rating: R; producer: Carolyn Pfeiffer; Warner Home Video (MGM/UA); 1982)
"Offers a warning for the public to be alert to the dangers of chemical warfare."
Reviewed by Dennis Schwartz
It's based on the true story by Judson Klinger and Richard Clayton Woods, but is fictionalized for the film. Alan Rudolph("The Secret Lives of Dentists"/"Trixie"/"Roadie") directs it as a well-constructed strange conspiracy thriller, that offers a warning for the public to be alert to the dangers of chemical warfare. I liked the film and would have liked it better if the ending wasn't so confusing. The film, unfortunately, was not seen by many. The uneven screenplay is by Rudolph and Joel Binder. It takes on questions over cattle mutilations, which in the 1970s some thought could be due to either UFOs or Satanists. In this film the culprits are the CIA, who conduct secret germ warfare experiments. Though in reality the mutations are still a mystery.
Recovering alcoholic Ruben Castle (Robert Urich) quits his city police detective job to move with his daughter (Marin Kanter) to the peaceful rural community of Buffalo, Colorado, where he has a political activist friend there in the newspaper business (Paul Dooley). Surprisingly Ruben learns that the local cattle are regularly being disfigured and the usual predators like wolves are ruled out. The new sheriff, Harriet Purdue (JoBeth Williams), reluctantly seeks help from the seasoned city detective, and they investigate together the rash of cattle organ removals. In the process they calm the fears of the local ranchers who suspect this is the work of aliens.
Predictably a romance blossoms between the truth searchers after a rocky beginning. As for the investigation, it eventually leads them to a seemingly unused but secured by surveillance cameras NORAD base, where they bust into the locked facility and uncover that nerve gas experiments are illegally being conducted.
REVIEWED ON 3/6/2015 GRADE: B-
© ALL RIGHTS RESERVED DENNIS SCHWARTZ