EILEEN
(director/writer: William Oldroyd; screenwriters: Luke Goebel/Ottessa Moshfegh/based on the first novel by Moshfegh; cinematographer: Ari Wegner; editor: Nick Emerson; music: Richard Reed Parry; cast: Thomasin McKenzie (Eileen Dunlop), Peter Von Berg (Dr. Frye), Ann Hathaway (Dr. Rebecca St. John), Shea Whigham (Jim Dunlop), Sam Nivola (Lee Polk), Marin Ireland (Mrs. Polk), Siobhan Fallon Hogan (Mrs. Murray), Tonye Patano (Mrs. Stevens), Peter McRobbie (Warden), Owen Teague (Randy); Runtime: 96; MPAA Rating: NR; producers: William Oldroyd/Stephanie Azpiazu/Anthony Bregman/Peter Cron/Luke Goebel/Ottessa Moshfegh/Bavand Karim; Neon/Film4/Likely Story; 2023)
"It's the kind of drama that holds your interest."
Reviewed by Dennis Schwartz

It's set in the snowy winter of 1964 in Massachusetts and is based on the 2015 first novel by Ottessa Moshfegh, entitled Eileen. Brit director William Oldroyd ("Lady Macbeth") gets into the thriller's psycho-dynamics and co-writes it with Luke Goebel (the husband of Moshfegh) and with the author herself, of the award-winning novel the film is based on.

It's the kind of drama that holds your interest.

The bored, mousy and miserable 24-year-old Eileen Dunlop (Thomasin McKenzie, the New Zealand actress, does a good Boston accent) is a secretary in the office at a juvenile detention center for boys in an angry blue-collar small town just outside Boston. At work, she often day-dreams of making it with the prison guard (Owen Teague). She lives with her alcoholic and emotionally abusive ex-police captain widowed father, Jim (Shea Whigham), whom she cares for at night.

Her new colleague is the worldly, impressive and articulate criminal psychologist from the big city, the glamorous Dr. Rebecca St. John (Ann Hathaway), whom Eileen befriends while her department acts sexist toward her.

The possible queer relationship between the women opposites that is hinted at only remains ambiguous, as the film instead takes a darker and more twisted noir turn (which I will not spoil).

In that part, which worked well, Marin Ireland, as Mrs. Polk, plays a desperate and bitter mother trying to hide a dark secret, calling her son "a filthy, nasty boy." She delivers a powerful monologue when confronted by Eileen and Rebecca on the case of her son Leo Polk (Sam Nivsola), serving time at the facility for murdering his police officer father by stabbing him repeatedly in his bed.

It played at the Sundance Film Festival.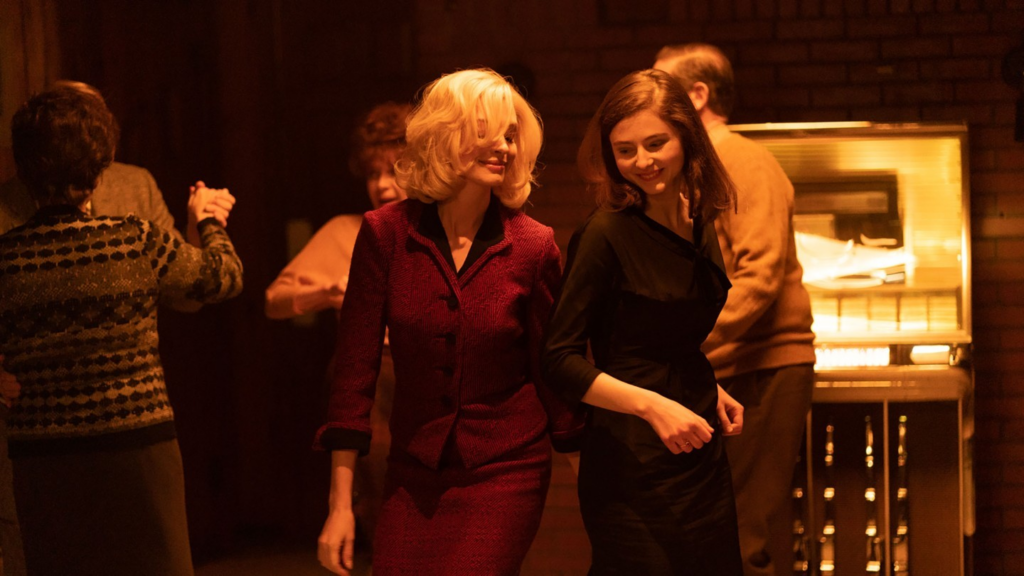 REVIEWED ON 6/27/2023  GRADE: B+