DOSE, THE (LA DOSIS)
(director/writer: Martín Kraut; cinematographer: Gustavo Biazzi; editor: Eliane Katz; music: Juan Tobal; cast: Carlos Portaluppi (Marcos), Ignacio Rogers (Gabriel), Lorena Vega (Noelin), Arturo Bonín (Kristoff), Pablo Cano (Enfermero Lucas); Runtime: 93; MPAA Rating: NR; producers: Martín Kraut, Pablo Chernov; Alina Film/A Samuel Goldwyn Films release; 2020-Argentina-in Spanish with English subtitles)
"The debut feature film by Martín Kraut is a curious one set in an ICU ward of an Argentine regional hospital."
Reviewed by Dennis Schwartz

The debut feature film by Martín Kraut is a curious one. It's set in an ICU ward of an Argentine regional hospital, where a dedicated but depressed loner nurse, Marcos (Carlos Portaluppi), working for twenty years in the same rundown regional hospital, is wrapped up in his job and is respected by the staff at work but not popular with them. Marcos's kindness to patients is extended to unscheduled visits at night where he applies a lethal overdose to patients who seem doomed. Some might refer to him as a twisted 'angel of mercy."
The new smiling nurse on the ward, Gabriel (Ignacio Rogers), on his first assignment, is eager to be good at his job, and is the total opposite of Marcos. He's young, slim and handsome and is sociable with the staff. To the amazement of Carlos he has a rival, as Gabriel is also killing his patients but not  as a mercy killing but for his own pleasure. It seems both men are aware that the other is also a killer. Since Gabriel is so friendly, no one suspects him as a killer. He thrives with the competition, while the glum Marcos becomes unhinged.
Though the male nurses seem to connect through their shared homo desires. So far so good, but by the time of the third act, when the killer nurses openly confront each other and nothing but a slight shock occurs, it had me wondering what was going on as there were no twists. The only real shocker seems to be the indifferent attitude by the hospital administrators to a serial killer operating in their hospital.

What the strange hospital film with a vibrant black humor accomplished, was reinforce my fears of not only getting operated on but in trusting the hospital to care for me while I'm a patient. I wish the unsettling film had something more to say than show how freaky it is for a hospital to have two killers at the same time, but it was well-crafted and mildly entertaining.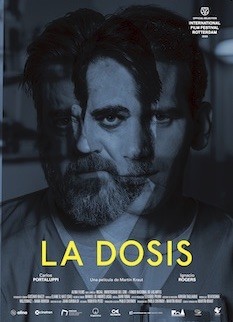 REVIEWED ON 6/17/2021  GRADE: B-