DON'T WORRY DARLING
(director/writer: Olivia Wilde; screenwriter: Katie Silberman/Carey Van Dyke/Shane Van Dyke; cinematographer: Matthew Libatique; editor: Affonso Gonçalves; music: John Powell; cast: Florence Pugh (Alice Chambers), Harry Styles (Jack Chambers), Chris Pine (Frank), Gemma Chan (Shelley), Kiki Lane (Margaret), Ari'el Stachel (Ted), Nick Kroll (Dean), Olivia Wilde (Bunny); Runtime: 122; MPAA Rating: R; producers: Roy Lee/Katie Silberman/Olivia Wilde/Miri Yoon; Warner Bros.; 2022)
"The more the film goes on, the less interesting and the more predictable and unoriginal it becomes."
Reviewed by Dennis Schwartz

The actress turned filmmaker Olivia Wilde ("Booksmart") directs and co-writes the screenplay with Katie Silberman, Carey Van Dyke and Shane Van Dyke. It's unconvincing as a mind-bending dystopian thriller. The title indicates what a loyal wife might tell her husband when he's upset, as the mockingly paternalistic film is told from a woman's POV.

The film had its share of off screen controversies that dominated social media: from Shia LaBeouf either quitting or getting fired (most likely) and replaced by the pop star Harry Styles (as the ten year younger Harry is dating Olivia), the hip-hop spat between Olivia and star Florence Pugh and the Twitter tweet causing an uproar whether star Harry Styles spit on Chris Pine at the Venice Film Festival.

It's set in a 1950 suburban housing development with state-of-the-art homes for its wealthy professional residents. It's located in the Southern California desert to serve as the idyllic place for its satire on conformity and patriarchy. The community features a ritzy country club, fancy retail stores and that all men residents work for the company called Victory Project, doing top secret work, as the company's name is also the town's name.

Though the families are anxious about things such as recurring small earthquakes, they either ignore them or get relief by taking Valium.

Enjoying life in luxury and living the American Dream are the rising star in the company, the handsome Jack Chambers (Harry Styles), and his attractive home-body wife Alice (Florence Pugh). Alice's best friend is the witty party hostess Bunny (Olivia Wilde), married to the ambitious Dean (Nick Kroll). The sexy Chambers couple are into each other and always touching, seduced by living the good life. They keep active by attending countless cock-tail parties with their peers. The company boss is the smart guy Frank (Chris Pine) and he acts in tune with his icy wife Shelley (Gemma Chan). The pair act creepy as if cult leaders, as they run the secret company in secret and are scary in an occult evil way..

When Alice's close friend Margaret (Kiki Lane) starts acting weird and tells others there's something sinister below the surface, Alice gets curious and starts questioning things about her life. When her doubts about living such a perfect life reach the boss, he reacts coldly as Alice questions the rigid enforcement of outdated gender roles and that women are forced into homemaking and raising children roles.

The more the film goes on, the less interesting and the more predictable and unoriginal it becomes. It in many ways resembles a 1950s family sitcom, but with a modern-day snarky tone and an Orwellian flavoring.

The sneaky good performance by Florence Pugh should be its calling card.

It played at the Venice film festival in competition.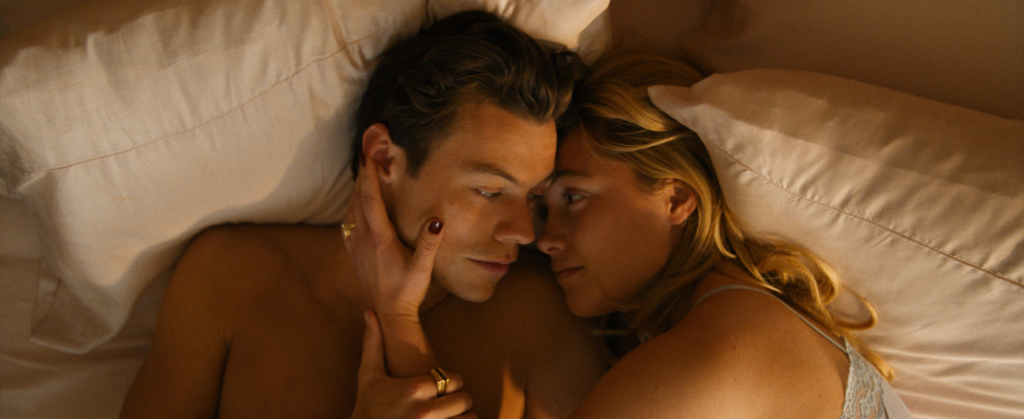 REVIEWED ON 9/14/2022  GRADE: C+