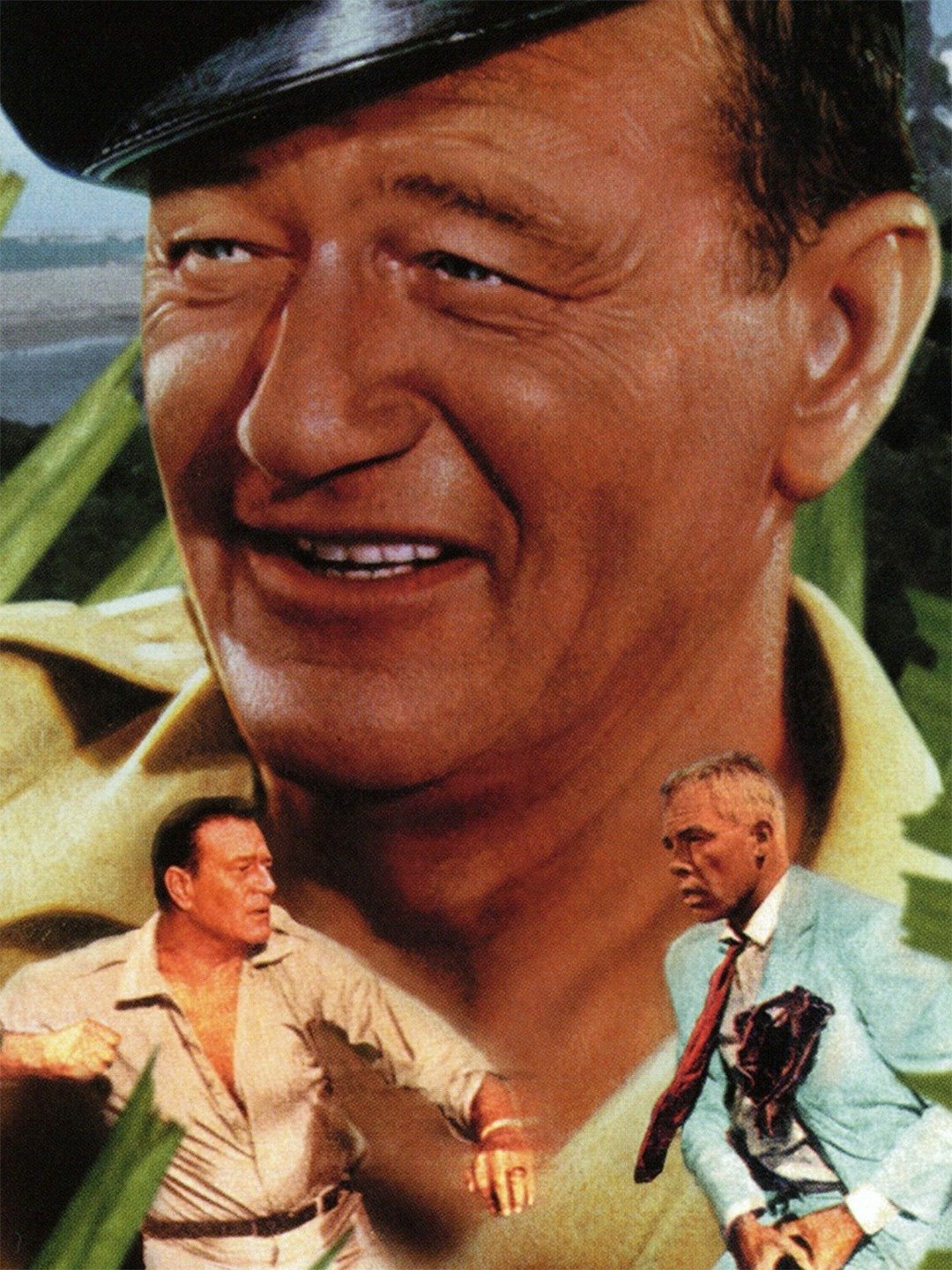 DONOVAN'S REEF
(director: John Ford; screenwriters: short story by Edmund Beloin/James Edward Grant/Frank S. Nugent; cinematographer: William H. Clothier; editor: Otho Lovering; music: Cyril Mockridge; cast: John Wayne (Michael Patrick 'Guns' Donovan), Lee Marvin (Thomas Aloysius 'Boats' Gilhooley), Elizabeth Allen (Amelia Sarah Dedham), Jack Warden (Dr. William Dedham), Cesar Romero (Marquis Andre de Lage), Dick Foran (Australian Navy Officer), Dorothy Lamour (Miss Lafleur), Mike Mazurki (Sgt. Menkowicz), Jacqueline Malouf (Lelani Dedham), Tim Stafford (Luki Dedham), Cheryline Lee (Sally Dedham), Marcel Dalio (Father Cluzeot); Runtime: 109; MPAA Rating: NR; producer: John Ford; Paramount; 1963)
"A so-called fun film aimed at those who find it a hoot when someone gets hit over the head with a beer bottle."
Reviewed by Dennis Schwartz
John Wayne's last film with an ill John Ford as director is an attempt at a pleasing slapstick comedy and a lighthearted 'opposites attract' romance story. Ford also in desperation tries to give it some heft by saying something fresh about racism for that time period. Unfortunately this is a substandard Ford film that fails to get much humor out of its dumb formulaic combative comedy or make its uninspired romantic story even remotely interesting or penetrate too deeply about semi-feudal social conditions on an idyllic South Pacific island as Ford by rote makes his usual points about how civilization is not all that good when it's unchecked. The film has the usual Ford barroom brawls and annoying sentimentality over such things as his corny ideas on religion, patriotism, male bonding and male chauvinism. Ford's attempt at political correctness looks as misplaced as the film's fight scenes, as everything moves along at a bland TV sitcom speed and ends up as a so-called fun film aimed at those who find it a hoot when someone gets hit over the head with a beer bottle. It also never overcomes its racial stereotyping, even as it means well to say something positive about the Polynesian culture and ridicule immature Western macho behavior.
Three ex-Navy men, Micheal 'Guns' Donovan (John Wayne), Thomas Aloysius 'Boats' Gilhooley (Lee Marvin), and the well-bred Doc William Dedham (Jack Warden), find themselves during World War II stranded on a beautiful South Pacific island, a fictional place called Haleakaloa (filmed on Kauai, Hawaii), where they fight the Japanese and after the war decide to remain here. The roughhouse Guns owns a bar called Donovan's Reef, which doesn't allow females. The low-brow semi-moronic Boats, either always hangs out at the bar or works there as a bartender. There's a running gag that these two are always brawling but can't remember why. They also share a birthday, which brings them together on that day to celebrate by having a fight. Dedham is the local doctor who built a hospital on the island and married the native Princess Manulani and had three half-breed children with her. Doc is now widowed for the second time.
The plot line revolves around Doc's stuffy Boston daughter Amelia Sarah Dedham (Elizabeth Allen), from his first wife, who has never seen her father, learning that her dad has inherited the family's valuable shipping company stock that she desperately wants, and her reaction to him when they meet. Her lawyer says there's a clause in the will that states anyone who acts in an immoral way according to Boston standards would forfeit his inheritance. So Amelia travels from Boston to meet dad and plans to get the goods on him, but dad is on another island handling a medical emergency. Guns aims to help out by housing Doc's children and pretending to be their father so as not to upset Amelia, whom is prejudged to be a prude. The oldest kid Lelani gets angry that they're not accepted because of the color of their skin. But after some days of tropical living Amelia swallows the island rum and falls for the adorable kids and falls hard for Guns, and even likes him more when she learns the truth and reunites with her estranged dad. Why dad never saw her is explained away as a matter of priorities, the island had kids that needed dad's attention more than did his wealthy daughter. With an explanation like that for abandonment, the film quickly has everything fall into place before we can think how lame is that excuse. The beautiful Amelia turns out to be a swell kid, who is not a racist and proves to be a down to earth gal once she loses her Boston snobbishness and gives up her nefarious plans to steal dad's inheritance–which it conveniently turns out he doesn't want, anyway. It ends on an unconvincing note as a love-fest fantasy with Amelia and Guns kissing in public and peace returning to the happy-go-lucky island folks as they continue frolicking on the beach as natives are expected to do while the white folks go back to running the island.
REVIEWED ON 1/5/2006 GRADE: C