DIVINITY
(director/writer: Eddie Alcazar; cinematographer: Danny Hiele; editors: Steve Forner, Kevin Greutert, Todd Crites; music: DJ Muggs, Dean Hurley; cast: Stephen Dorff (Jaxxon Pierce), Moises Arias (Star), Jason Genao (Star), Karrueche Tran (Nikita), Michael O'Hearn (Rip Pierce), Emily Willis (Lynx), Scott Bakula (Sterling Pierce), Bella Thorne (Ziva); Runtime: 88; MPAA Rating: NR; producers: Eddie Alcazar, Javier Lovato, Raphael Gindre, Johnny Starke; A Utopia, Sumerian release; in B/W – 2023)
"Holds your attention because of its weirdness."
Reviewed by Dennis Schwartz

An absurd, lo-fi, retro futuristic, dystopian, aesthetic oddity that's deemed an experimental sci-fi film. It's directed and written by Eddie Alcazar ("The Vandal"/"Perfect"). It was supposedly filmed without a script, using storyboards instead, and was shot in a striking black-and-white. It makes it a point to whack capitalism over corporate greed and Big Pharma over  its lack of ethics

It shows how far people will go to extremes if they are given a chance to live forever. Steven Soderbergh is the executive director of this mind-blowing weird film, a cult film ready-made for a midnight audience.

It creatively uses the technique of mixing stop-motion and live-action (which is an Alcazar creation known as "Meta-scope).
 
The selfish but renown scientist Jaxxon Pierce (Stephen Dorff) creates the immortality drug called Divinity, a drug his father Sterling (Scott Bakula) worked on his whole life without completing the formula before he died. But he passed on the scientific details of his experimental serum to his son, who gets credit for finishing it a few years later and manufacturing the product to be sold to the public for a tremendous profit. It's a drug most of those in the futuristic world have taken despite its side-effect of sterility, as it possibly allows people to live forever and be physically perfect but places the growth of the world's future population at risk.
   
One day, two bickering strangers, twins named Star (Moises Arias) and (Jason Genao), descend from the sky, and hold Jaxxon hostage and force him to take his drug while confronting him about a secret they know about the past.

Though Divinity wanders all over the map, never stopping long enough to make a cogent point, it nevertheless holds your attention because of its weirdness.

The film's acting honors go to Bakula (seen in flashback), who becomes the story's main focus. There are also valuable contributions from the supporting cast — Bella Thorne (as a women's rights activist) and porn star Emily Willis (fittingly in some sex scenes), who both give divine performances that stand-out from the others.

Its surreal visuals are amazing, and are what sold me about the film.

I think if you loved David Lynch's Eraserhead, a strange film about nightmares, you will probably also like this dream-like fantasy film.

It played at the Sundance Film Festival.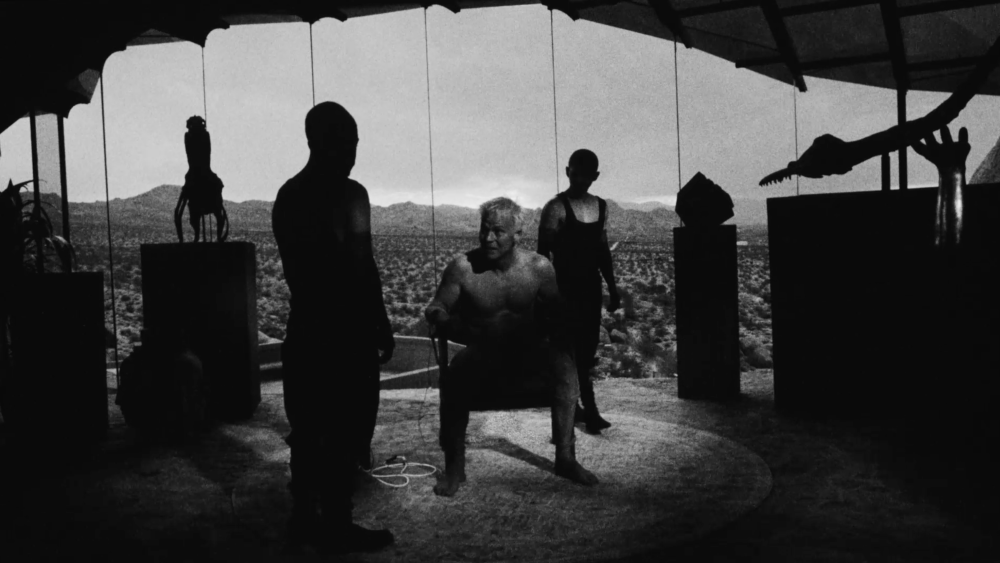 REVIEWED ON 10/24/2023  GRADE: B