DEVIL'S BRIGADE, THE
(director: Andrew V. McLaglen; screenwriters: William Roberts/George Walton/based on the novel by Robert H. Adleman; cinematographer: William H. Clothier; editor: William Cartwright; music: Alex North; cast:  William Holden (Lt. Col. Robert T. Frederick), Cliff Robertson (Major Alan Crown), Vince Edwards (Major Cliff Bricker), Andrew Prine (Private Theodore Ransom), Jeremy Slate (Sgt. Major Patrick O'Neill), Claude Akins (Pvt. Rockwell Rockman), Richard Jaeckel (Private Omar Greco), Michael Rennie (Lt. Gen. Mark Clark), Jeremy Slate (Sgt. Patrick O'Neill), Carroll O'Connor (Major General Hunter), Dana Andrews (General Walter Naylor), Patric Knowles (Lord Louis Mountbatten), Richard Dawson (Private Hugh McDonald), Luke Askew (Pvt. Hubert Hixon); Runtime: 130; MPAA Rating: NR; producer: David L. Wolper; MGM; 1968)
"Only the stuntmen excel in this star-studded but inane war film filled with tiresome cliches."
Reviewed by Dennis Schwartz

The passage of time has not been kind to this glorified true war story film from a different era that now is passe. Only the stuntmen excel in this star-studded but inane war film filled with tiresome cliches and overused stereotyped characters. It shares the same plot as the acclaimed The Dirty Dozen (1967) but is less pleasing. Middling filmmaker Andrew V. McLaglen ("The Shadow Riders"/"The Wild Geese") keeps it grounded in mediocre scenes that are predictable. He directs as if he believes the Army can make a man out of you and war can be a good thing if it brings opposites together. Writers William Roberts and George Walton base it on the novel by Robert H. Adleman and don't help with their limp script.

The American Lt. Col. Frederick (William Holden) at the onset of World War II in 1943 is ordered by the brass despite no battle experience to command the first special forces unit that combines American thugs/misfits under the command of the hustler American Major Bricker (Vince Edwards) with a crack professional unit of Canadians under the command of career soldier Major Crown (Cliff Robertson). It's the job of the Colonel to merge them into one unit during training and fight a covert war in Italy, even after told the fight would be in Norway. That the Colonel does it in an unconventional way doesn't prevent it from being such a tedious and conventional pic.

The unit unites after repeated scenes of fighting during training at Fort Harrison between the Canadians and Americans, including a bar fight over girls. This brawl forces them to band together to stave off lumberjacks, and supposedly brings them together forever.

In Italy, the special unit must capture a strategic hilltop from which Nazi artillery prevents the Allied advance.

Of the stars, Robertson gives the best performance because he takes this nonsense the most serious and seems to be the most credible soldier. There's a large cast of characters who are mostly forgettable. Of the supporting cast, Claude Akins playing a bigoted tough guy American private with an attitude against authority stands out from the other stereotyped characters. For cameos, Michael Rennie, Dana Andrews, and Carroll O'Connor all have brief appearances as American Generals. None makes much of an impression.

It's a sluggish film that grows increasingly irksome as its mediocrity never abates, even in its action war scenes.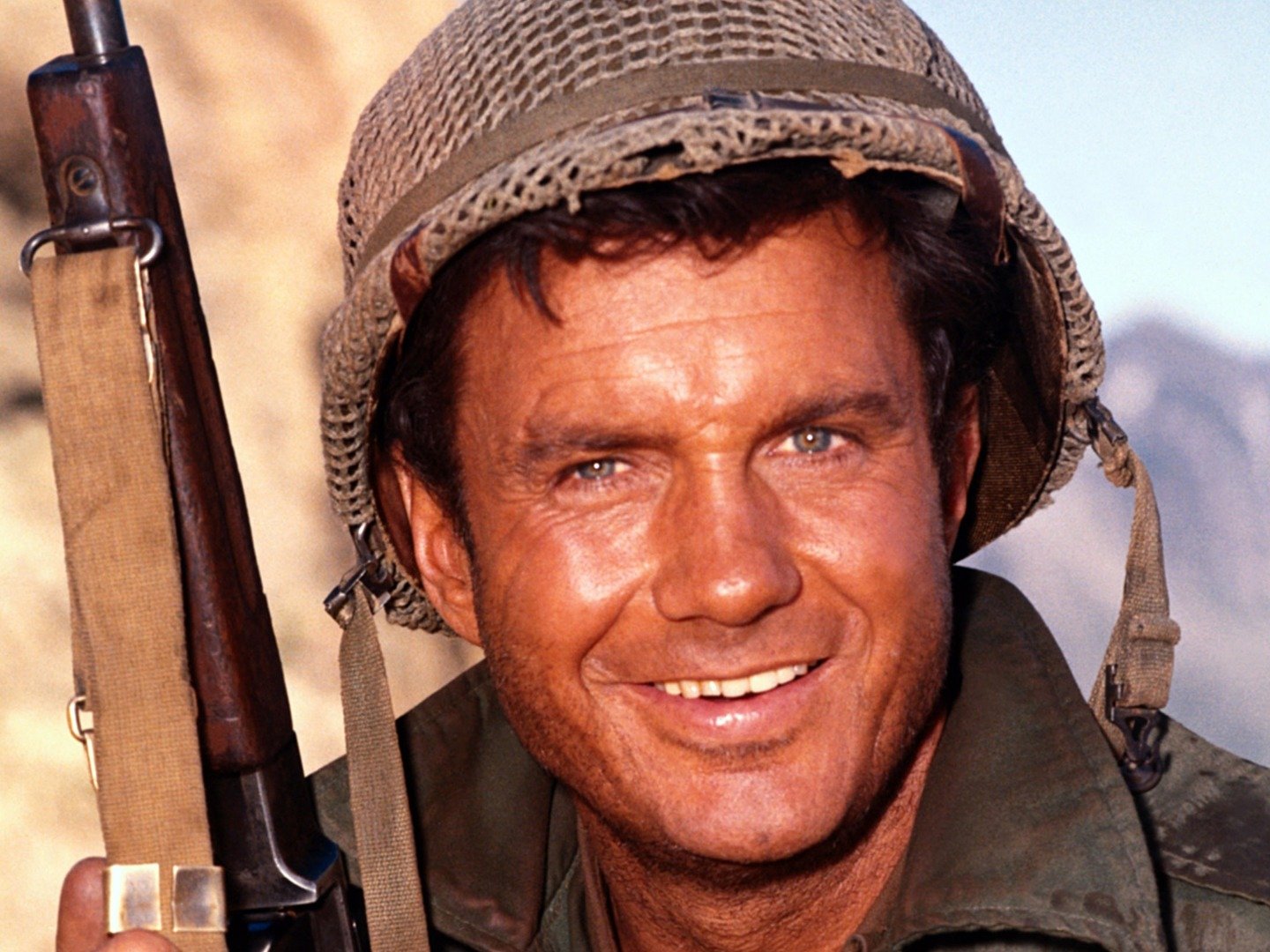 REVIEWED ON 5/18/2018 GRADE: C