DESPERATION ROAD
(director: Nadine Crocker; screenwriter: novel & screenplay by Michael Farris Smith; cinematographer: Sy Turnbull; editor: Jing Han; music: Haim Mazar; cast: Garrett Hedlund (Russell Grimes), Willa Fitzgerald (Maben), Ryan Hurst (Larry), Michael Aaron Milligan (Walt), Mel Gibson (Mitchell), Jon Voight (Larry), Woody McClain (Boyd), Valerie Jane Parker (Waitress), Shiloh Fernandez (Clint, Policeman), Paulina Galvez (Consuela), Katy Bodenhamer (Lacey), Pyper Braun (Annalee), Kat Foster (Dana), Kyle Rankin (Jason), Ella Thomas (Sarah); Runtime: 112; MPAA Rating: R; producers: Cassian Elwes, Walter Josten, Paul Robarts, Nadine Crocker, Michael Farris Smith; Lionsgate; 2023)
"Its negatives are that there's a contrived happy ending, the story is disjointed and the main characters are not fully examined."
Reviewed by Dennis Schwartz

Director Nadine Crocker ("Continue") adapts to the screen the depressing novel by Michael Farris Smith, who writes the screenplay. It's a gripping atmospheric Southern noir thriller interested in examining sorrow.


A guilt-ridden Russell Grimes (Garrett Hedlund) is released from prison after serving a long sentence for killing a boy while driving drunk. He returns to his small-town Mississippi hometown to see his estranged dad (Mel Gibson), whose living with his girlfriend Consuela (Paulina Galvez). His dad has his back, as he gives him a rifle to protect himself after learning his son was given a beating at the bus stop by the brothers (Ryan Hurst & Michael Aaron Milligan) of the boy he killed.

On the run is the single parent Maben (Willa Fitzgerald), with her daughter Annalee (Pyper Braun), after killing a dirty cop (Shiloh Fernandez) who sexually abused her at a truck stop hangout for prostitutes. That's where the desperate for money to survive Maben couldn't go through with prostituting herself when confronted by the piggish cop and forced to have sex with him before killing him.

The desperate ex-con, tortured by his failed life, and the woman on the run from the law, cross paths while each is seeking relief from their painful past.

She tries to get over her rotten life with her abusive husband (Kyle Rankin) and he tries to pull himself together so he can function. But there's no peace for either of them. Russell must defend himself when the dead boy's father (Jon Voight) has a rifle and comes after him seeking revenge. While she runs from the law and must take care of her child while living an unstable life.

The themes of guilt, revenge, forgiveness, and redemption are unpacked. Both Russell and Maben have been on a well-traveled road of desperation.

Its negatives are that there's a contrived happy ending, the story is disjointed and the main characters are not fully examined.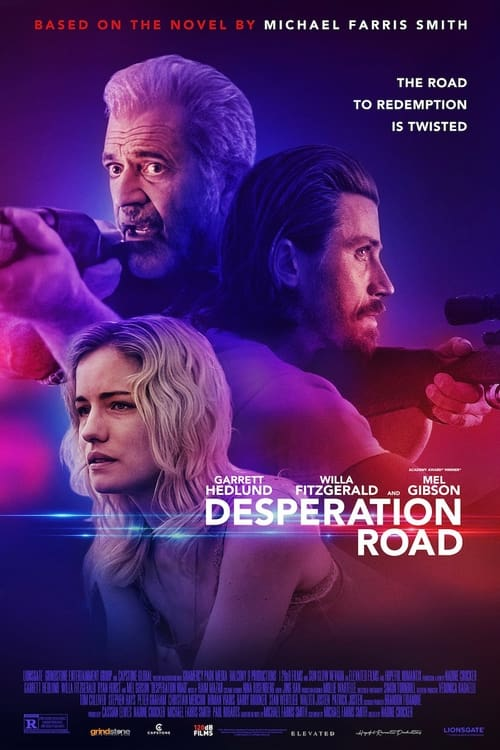 REVIEWED ON 10/13/2023  GRADE: B-