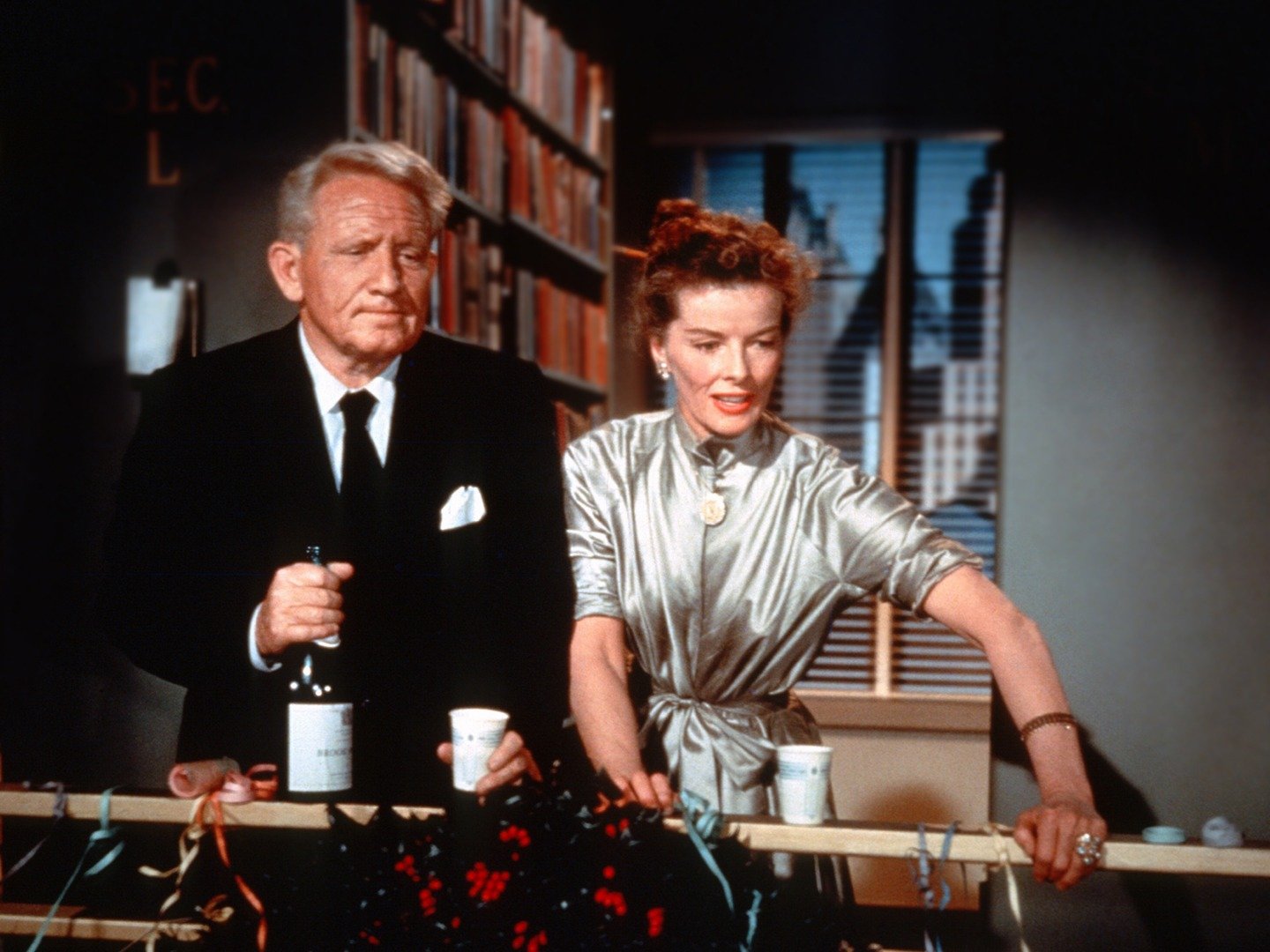 Desk Set
(director: Walter Lang; screenwriters: from the play by William Marchant/Phoebe Ephron/Henry Ephron; cinematographer: Leon Shamroy; editor: Robert Simpson; music: Cyril J. Mockridge; cast: Spencer Tracy (Richard Sumner), Katherine Hepburn (Bunny Watson), Joan Blondell (Peg Costello), Gig Young (Mike Cutler), Dina Merrill (Sylvia Blair), Sue Randall (Ruthie Saylor), Neva Patterson (Miss Warriner), Harry Ellerbe (Smithers), Nicholas Joy (Mr. Azae), Ida Moore (Old Lady); Runtime: 103; MPAA Rating: NR; producer: Henry Ephron; 20th Century Fox Home Entertainment; 1957)
"So refreshingly smart."
Reviewed by Dennis Schwartz
The eight Spencer Tracy-Katharine Hepburn collaboration (their last came 10 years later in Guess Who's Coming to Dinner?) is a pleasing one and the first one in Technicolor and away from MGM. It's adapted by Henry and Phoebe Ephron (parents of screenwriter Nora Ephron) from the 1955 play by William Marchant and is effectively directed by Walter Lang. Shirley Booth had the part in the hit Broadway play that Hepburn plays in the film. Spencer Tracy's role was beefed up from a small supporting part in the play to one of major importance as a co-star. The film, an inconsequential sex comedy, is an early take on computers taking the place of people in the workplace. It might be said that the star performers are better than the material they are given to work with. The heart of the film revolves around the snappy dialogue between the nerdy know-it-all spinster Hepburn and the unnerving geek techie genius bachelor Tracy. Their comic timing and chemistry together is perfect, and is the main reason the film sparkles.
Bunny Watson (Katharine Hepburn) is a bright career-minded woman who heads a staff of three female reference librarians for a TV network (the Federal Broadcasting Network) research department located in Rockefeller Center. Richard Sumner (Spencer Tracy) plays an efficiency expert who calls himself a methods engineer. He invented a giant computer E.M.I.R.A.C., nicknamed Miss Emmy, that he believes will liberate the worker from trivial tasks, and has been secretly hired by the firm's big boss, Mr. Azae, to modernize Bunny's and the payroll's departments. No one is supposed to know what he's doing on orders from the big boss, but the reference ladies, Peg Costello (Joan Blondell), Sylvia Blair (Dina Merrill), and Ruthie Saylor (Sue Randall), catch on in no time flat and are scared stiff they will lose their jobs to the darn machine. Bunny is also trying to rope her chauvinistic ambitious career-minded immediate boss Mike Cutler (Gig Young), someone she has a tepid relationship for the last seven years, into marrying her or at least paying more attention to her and not taking her for granted.
When after the Christmas holidays the huge computer is installed in Bunny's reference office, it takes up most of the office space and malfunctions giving all the workers pink slips and a case of the blahs. But Sumner redeems himself by correcting that mistake and showing he cares more about Bunny than he does about his Miss Emmy, and woos Bunny into accepting his invention as well as himself. It has a contrived happy ending, telling us there's not much to worry about in the new technology age as long as those in charge realize people come first. It also offers a romance that feels more like an afterthought than the real thing, but by the time Sumner and Bunny connect as lovers it doesn't matter because the comedy was so cheerful and the banter between the two was so refreshingly smart that it was easy to forgive this bauble for not being as rich as many of the legendary duo's other films together.
REVIEWED ON 3/9/2005 GRADE: B  https://dennisschwartzreviews.com/