DEEP BLUE SEA
(director: Renny Harlin; screenwriters: Donna Powers, Wayne Powers, Duncan Kennedy; cinematographer: Stephen Windon; editors: Frank J. Urioste, Derek G. Brechin, Dallas S. Puett; music: Trevor Rabin; cast: Thomas Jane (Carter Blake), Saffron Burrows (Dr. Susan McCallister), Samuel L. Jackson (Russell Franklin), Michael Rapaport (Tom Scoggins), Stellan Skarsgard (Jim Whitlock), LL Cool J. (Preacher), Aida Turturro (Brenda), Jacqueline McKenzie (Janice Higgins); Runtime: 105; MPAA Rating: R; producers: Akiva Goldsman, Tony Ludwig, Alan Riche; Vudu; 1999)
"Now considered a favorite cult film."
Reviewed by Dennis Schwartz

Renny Harlin ("12 Rounds"/"Cleaner") lamely directs this technically sound but flawed shark attack B-film from a screenplay co-written by Donna Powers, Wayne Powers and Duncan Kennedy (the characters are undeveloped, the actors seem water-logged and the dialogue would be laughable if it were funny). It's set in the middle of an ocean in a floating research laboratory. Because it's the weekend, only a skeleton crew are on duty. They are the brilliant but unethical scientists Dr. Susan McCallister (Saffron Burrows) and Jim Whitlock (Stellan Skarsgard)–they cut corners in their questionable experiments to take note of how sharks are resistant to diseases. Also aboard is a marine biologist named Jan (Jacqueline McKenzie).

The engineer is Tom (Michael Rapaport). Brenda (Aida Turturro) handles the radio communication. The chef, around for comic relief, is Preacher (LL Cool J., the rapper). The troubled man who handles the sharks is Carter Blake (Thomas Jane). And, there's the benevolent businessman who funds these science projects, Russell Franklin (Samuel J. Jackson).

Jim and Susan are working at trying to develop a cure for Alzheimer's, as they use the sharks to extract protein from its cortex as a possible answer. They are genetically engineering the sharks to enlarge their brain. The result is a smarter, bigger, faster and meaner mutant shark, struggling to break free from captivity by destroying the lab.

Before you can shout out the sharks are on the loose, three super-sized sharks (CGI created) get free and one of them devours the Samuel J. Jackson character. Which is the shocking scene most viewers will remember about the pic.


I found it a silly but efficiently made film, with a likeable cast of bad actors and a lightweight story that is highly entertaining even if being such a bad one. Despite a spate of early bad reviews upon its release, over the years it has recovered from those poor reviews and is now considered a favorite cult film.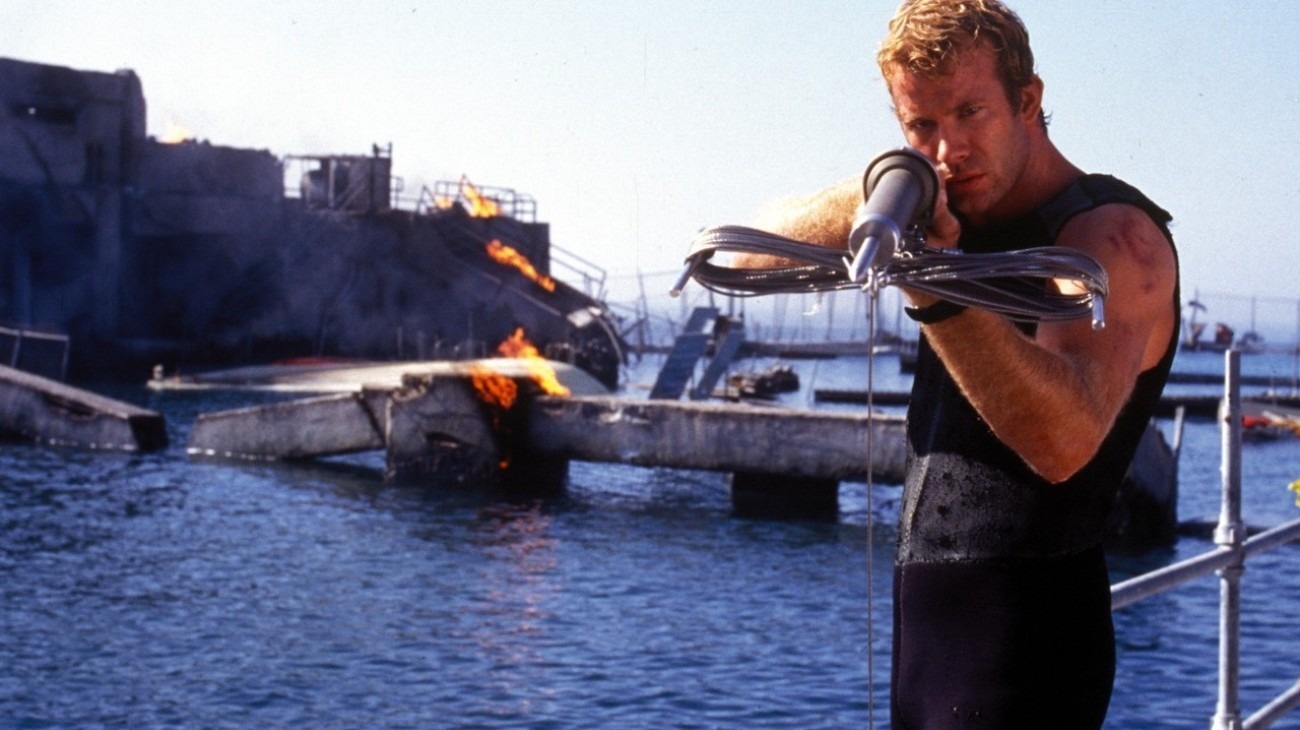 REVIEWED ON 8/4/2023  GRADE: B–