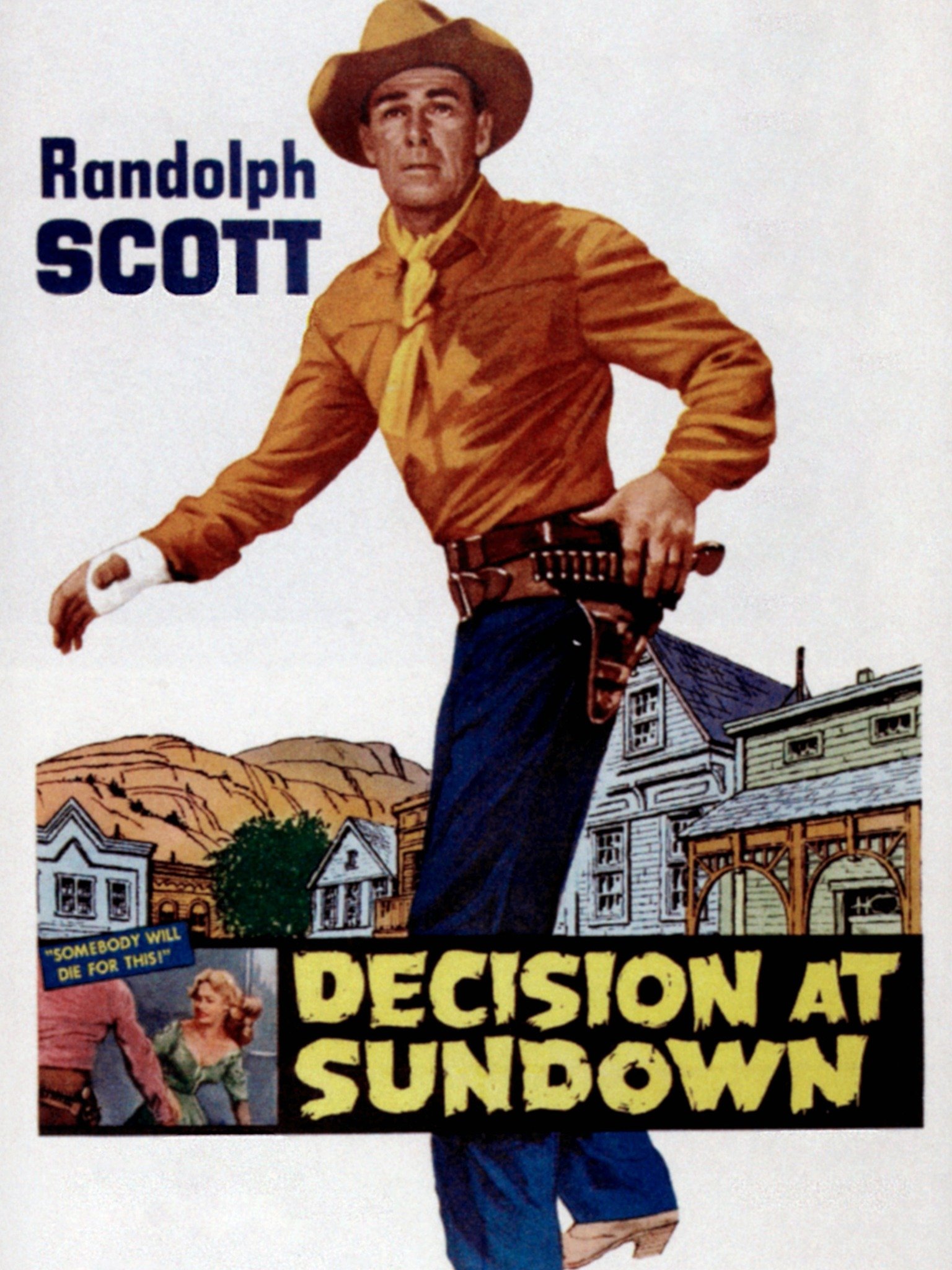 DECISION AT SUNDOWN
(director: Budd Boetticher; screenwriters: Charles B. Lang/story by Vernon L. Fluharty; cinematographer: Burnett Guffey; editor: Al Clark; music: Heinz Roemheld; cast: Randolph Scott (Bart Allison), John Carroll (Tate Kimbrough), Karen Steele (Lucy Summerton), Valerie French (Ruby James), Noah Beery, Jr. (Sam), John Archer (Dr. John Storrow), Andrew Duggan (Sheriff Swede Hansen), James Westerfield (Otis), John Litel (Charles Summerton), Ray Teal (Morley Chase), Vaughan Taylor (Barber), Richard Deacon (Zaron), H.M. Wynant (Spanish); Runtime: 77; MPAA Rating: NR; producer: Harry Joe Brown; Columbia; 1957)
"Solid Randolph Scott and Budd Boetticher revenge Western."
Reviewed by Dennis Schwartz
Solid Randolph Scott and Budd Boetticher revenge Western, that has some of the usual Boetticher comical touches but remains more grim in tone than his other Westerns. It's adapted by writer Charles B. Lang from a story by Vernon L. Fluharty.
After a long ride on stagecoach, Texan Bart Allison (Randolph Scott) meets his best friend Sam (Noah Beery, Jr.) outside of Sundown, Arizona, and the two ride into town to learn there's a wedding about to take place. For the last three years Bart has been hunting down Tate Kimbrough (John Carroll) and plans to kill him for seducing his wife Mary, and causing her suicide back in his hometown of Saving Pass.
Tate is about to marry in church the pretty blonde Lucy Summerton (Karen Steele), but the wedding is halted when Bart stops the wedding by offering his objection to the marriage and then threatening to kill Tate before sundown. Bart tells the churchgoers to ask Tate about Mary. Tate arrived in Sundown two years ago and took it over, running the crooked sheriff Swede (Andrew Duggan) and getting the once respectable locals to turn a blind eye as he conducted his crooked business deals. His crooked deals helped make Lucy's father even wealthier, which is why he's encouraging his daughter to marry him. Ruby James (Valerie French) is Tate's long-suffering girl friend, who loves him so much she even stands by him while he's to marry another.
A shootout develops with Sam and Bart trapped in the livery stable by the sheriff and his men, but Kimbrough's hired hands don't have enough nerve to go in and take out the strangers. Things change when Sam tells Bart that his wife wasn't like he thought she was and was responsible for the affair. Bart can't deal with the truth, and burns with a need for revenge. The townsfolk, impressed by Dr. Storrow's (John Archer) lecture to them about what they have become, get to do some serious soul-searching and now realize they have lost their self-respect by doing nothing to stop Tate from taking over their once lovely town and spoiling it. They now find the strength inside them to help Bart make it an even fight with Tate and his men.
This psychological Western is never more than routine, but Scott's obsessive twisty performance keeps it hopping. He becomes more irrational than the man he's after. The surprise ending settles things in an unexpected way that few Westerns have tried. I can't say that I'm sure it works, but it does provide some fuel for thought.
REVIEWED ON 1/27/2004 GRADE: B-