DAVID CROSBY: REMEMBER MY NAME
(director: A.J. Eaton; cinematographers: Edd Lukas, Ian Coad; editors: Elisa Bonora, Veronica Pinkham; music: Marcus Eaton, Bill Laurance; cast: David Crosby, Jan Dance, Graham Nash, Neil Young; Runtime: 95; MPAA Rating: R; producers: Cameron Crowe, Michele Farinola, Greg Mariotti; Sony Pictures Classics; 2019)
"A great candid documentary on the hippie rock & roll icon David Crosby."
Reviewed by Dennis Schwartz
Newcomer director A.J. Eaton gives us a great candid documentary on the hippie rock & roll icon David Crosby. The now 77-year-old grey-haired singer looks back at his life and expresses his regrets, fears and valued beliefs. Crosby was a founding member of both the Byrds (from 1964-1973, with reunions in 1989-1991, and 2000) and Crosby, Stills and Nash (1968–1970, 1973–2015), as well as being a successful solo artist. He also had some rough times as a heroin and cocaine junkie who in the mid-'80s did five months of Texas prison time on drugs and weapons charges. We get a good look at his SOB side, where he had a bad rep among his peers as a wise-ass who pissed off nearly everyone he ever worked with–none of his former band members speak to him, even to this day. If you want examples of bellicose behavior, the film gives you many. It includes the Joni Mitchell song of why she broke up with him.

Instead of defending himself, the bad-ass rocker owns it, yearning mostly for forgiveness from all those he hurt along the way.

The genius performer is somehow also a survivor of illness–like being a diabetic with eight stents in his heart. He also survives from a liver transplant.

His songs during the 1960s and 1970s had a great impact on those revolutionary times for the country's youth, and the music still resonates today.

Through laying on us a bunch of provocative Crosby stories, archival clips and photos of him through the years (no talking heads), with nostalgia we listen again to the timeless sounds of "Helplessly Hoping," "Suite: Judy Blue Eyes," "Carry On" and "Déjà Vu."

The presence of his loyal wife, Jan Dance, Crosby's wife of 32 years, who stood by him through all his infidelities and reckless life decisions, makes the flawed character look a little better.

What this exceptional film does best is allow us to see this talented rockers greatness as an artist and in a paintully honest way lets us also see him as a shit. It's one of the better rock biopics.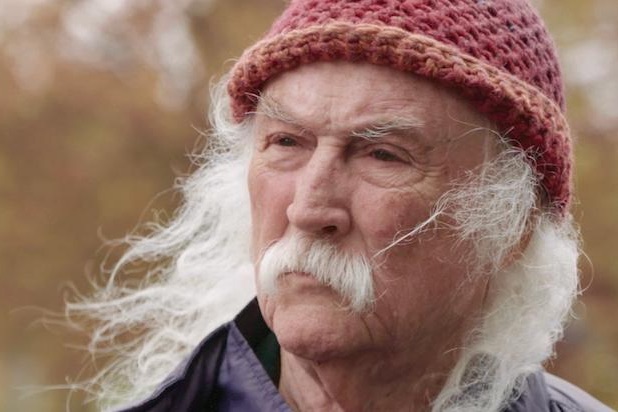 REVIEWED ON 7/23/2019       GRADE: A https://dennisschwartzreviews.com/