DAUGHTER OF THE DRAGON
(director/writer: Lloyd Corrigan; screenwriters: Sidney Buchman/Monte Katterjohn/novel "Daughter of Fu Manchu" by Sax Rohmer; cinematographer: Victor Milner; music: Rudolph J. Kopp/John Leipold; cast: Anna May Wong (Princess Ling Moy), Warner Oland (Fu Manchu), Sessue Hawakaya (Ah Kee), Bramwell Fletcher (Ronnie Petrie), Harold Minjir (Rogers), Frances Dade (Joan Marshall), Lawrence Grant (Sir Basil Courtney), Holmes Herbert (Sir John Petrie), Nella Walker (Lady Petrie), Nicholas Soussanin (Morloff), E. Alyn Warren (Lu Chung), Harrington Reynolds (Hobbs), Oie Chan (The Amah); Runtime: 72; MPAA Rating: NR; producer; Robert Harris:  Paramount; 1931-B/W)
"It's fortunate to have as its star the magnificent Anna May Wong."
Reviewed by Dennis Schwartz

This Fu Manchu tale is a deeply flawed but lively version of the Sax Rohmer novel "Daughter of Fu Manchu." It's clumsily directed but nevertheless adequately enough, with super visuals by the DP Victor Milner. It's adapted to the screen by the American director Lloyd Corrigan ("The Beloved Bachelor"/"The Broken Wing") and his co-writers Sidney Buchman and Monte Katterjohn. It's fortunate to have as its star the magnificent Anna May Wong, the Chinese-American who was born in 1905, in Los Angeles, to a traditional laundry owning family of 7 brothers and sisters. She left for Hollywood and stardom during the silents in the 1920s to become a star and in the pre-code days of the early 1930s became a mega-star. The most popular Asian actress at the time in both Europe and America, had the beauty, grace and acting ability to even make a stereotypical role for Asians seem OK (even if her roles should have been better). The actors here are mostly whites playing Asians, but there are a few Asians playing Asians–which was rare for the early racist period in Hollywood.

The London residing Oriental beauty Princess Ling Moy (Anna May Wong), a nightclub dancer, doesn't realize that she lives next door to a father she has never seen, the evil madman master criminal Dr Fu Manchu (Warner Oland, Swedish actor), who supposedly was killed twenty years ago after he killed the wealthy father of Sir John Petrie (Holmes Herbert) over a vow he took during the Boxer Rebellion to eliminate all heirs of the Petrie family so the clan will die out. The vow was made after Fu Manchu falsely blamed General Petrie for killing his wife and son during the rebellion.

But Fu Manchu's body was never found, and he now shows us he's very much alive and consumed with hatred and vengeance to wipe out all the Petrie heirs. Feeling too weak to do the hit while on his death bed, after a gunshot wound, he summons his daughter to honor her family and kill the last remaining son of the Petrie family, Ronnie (Bramwell Fletcher). Though engaged to Joan Marshall (Frances Dade), Ronnie falls in love with the beautiful Princess and they show affection for each other.

Ah Kee (Sessue Hawakaya, Japanese actor, in his first talkie pic) plays the Chinese detective who works off the record for a prejudiced Scotland Yard (won't hire Asians). He gets his assignments from the open-minded chief, Sir Basil (Lawrence Grant), serving as an expert on Fu Manchu and protector of the Petrie family from the "Dragon" curse. The detective suspects Fu Manchu is still alive when he believes he spots him roaming around Petrie's neighborhood. But when Ah Kee arrives at the Petrie mansion, he must watch Sir John killed after his tobacco is poisoned. However, Fu Manchu before he can escape from the Petrie house, is shot by the detective. To escape from Petrie's house the wounded Fu Manchu first hides in a space behind a hidden panel that he finds with the help of Morloff (Nicholas Soussanin), the next door neighbor secretly hosting and supporting Fu Manchu.

At last Fu Manchu has introduced himself to his crafty daughter and finds she's willing to kill the last heir Ronnie. When her dad dies, the daughter is supervised by Fu Manchu's henchman (E. Alyn Warren), who precisely follows the boss's orders issued from beyond the grave. He knows that only a member of his family can carry out the vengeance for it to be valid. Even though Ling loves Ronnie and couldn't in her first two attempts assassinate him, she tries hard to do it the third time but is thwarted again..

The last act is filled with twists and turns as the curse of the Dragon is finally broken with Ling Moy's death.

Though the thriller is clunky in its execution and has some silly acting moments, it's highly entertaining. Furthermore, I would see the legendary Anna May in anything and probably enjoy it, as she always seems to rise above the B-films she's in.

The film's best quote, giving it a little Charlie Chan flavor, is when Fu Manchu says: "A stupid son is better than a crafty daughter."

Anna May was the star and earned $6,000 for four weeks' work; Oland had a small part where he was killed off early and put little time in the film, nevertheless he earned around twice as much as she did (which can be attributed to white actors usually getting paid more than Asians in Hollywood, even if in lesser roles).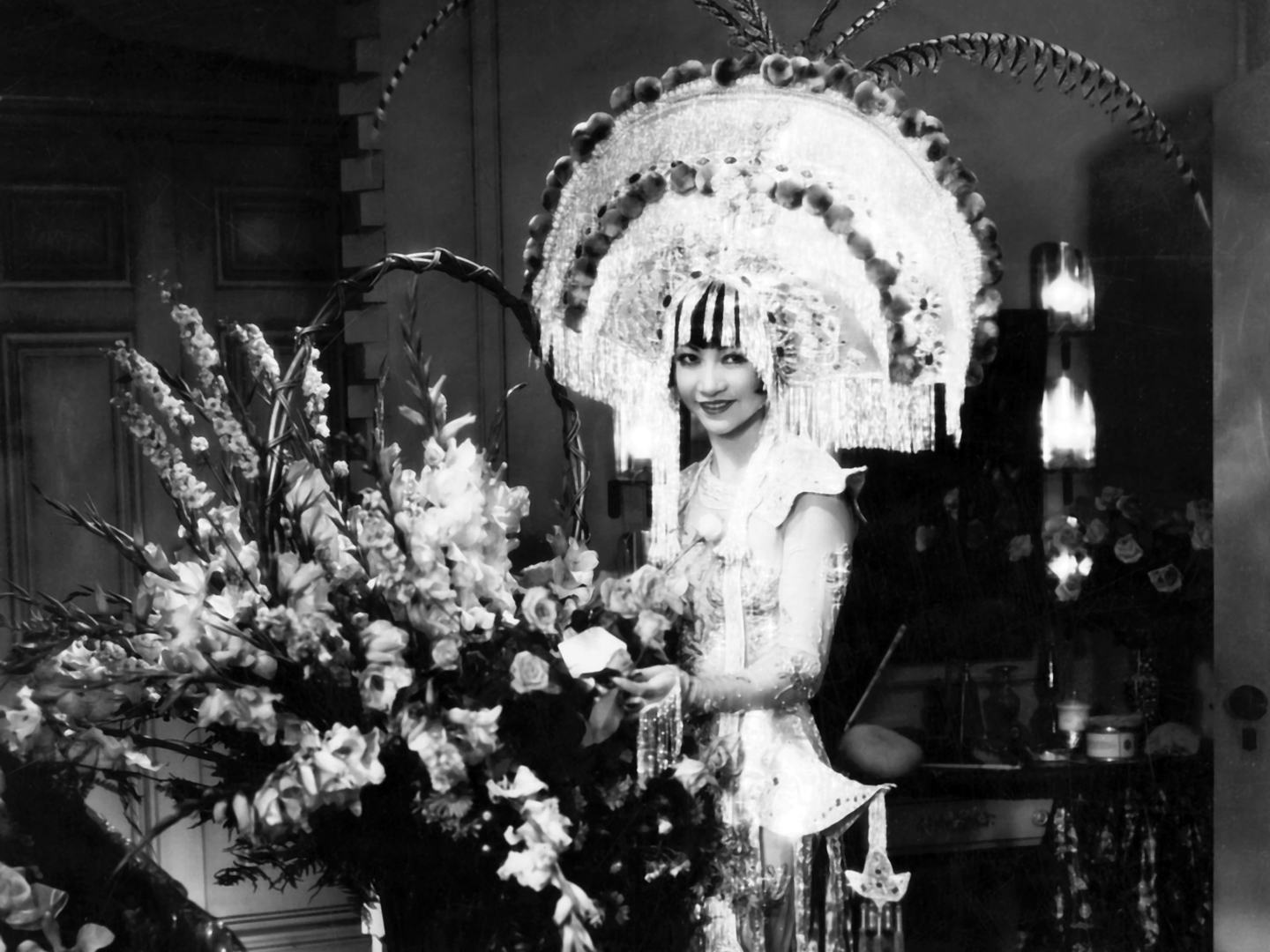 REVIEWED ON 5/29/2022  GRADE: B-