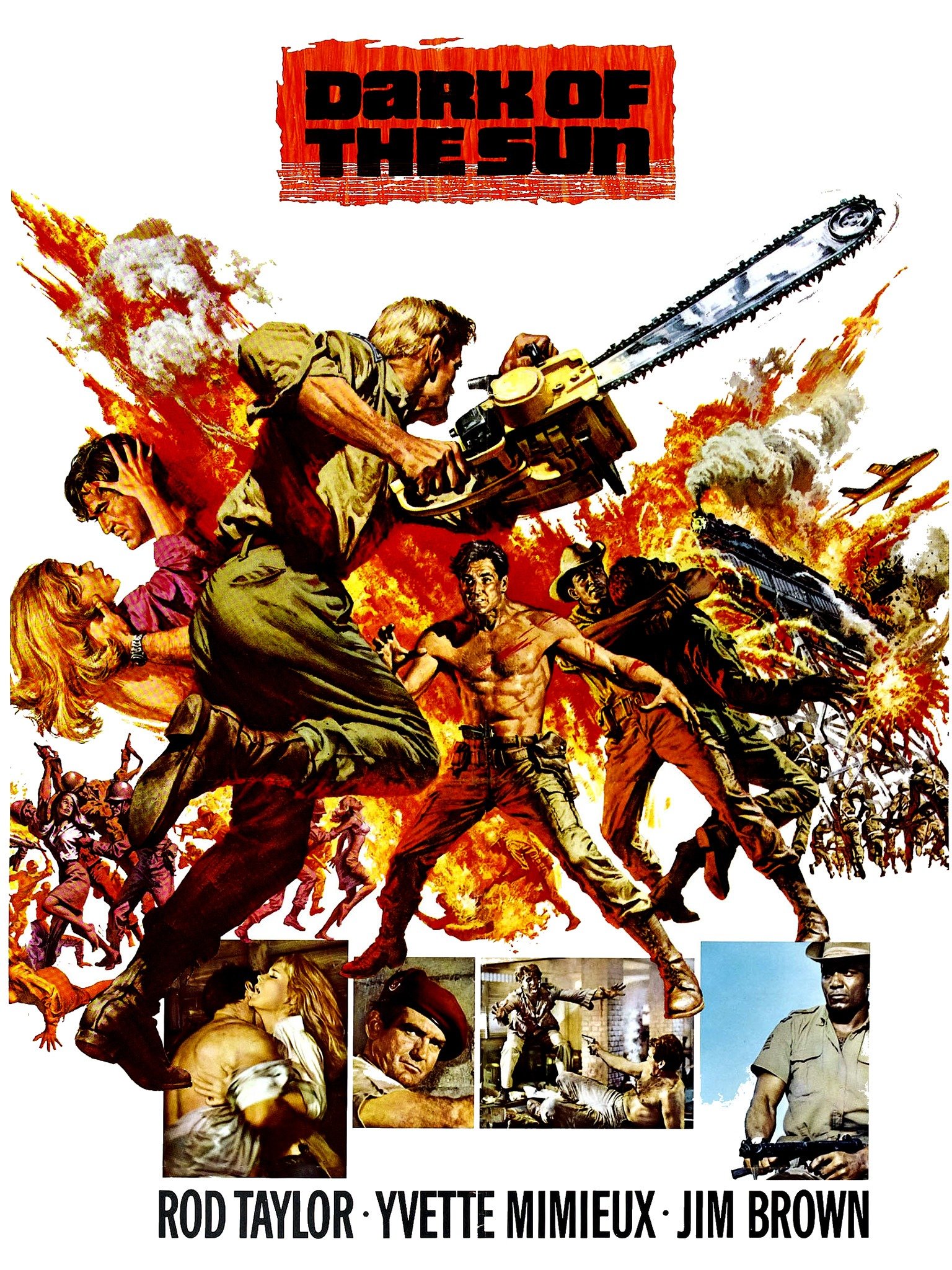 DARK OF THE SUN (aka: The Mercenaries)
(director: Jack Cardiff; screenwriters: Quentin Werty/Adrian Spies/from the novel "Last Train to Katanga" by Wilbur A. Smith/Ranald MacDougall; cinematographer: Edward Scaife; editor: Ernest Walter; music: Jacques Loussier; cast: Rod Taylor (Captain Curry), Yvette Mimieux (Claire), Peter Carsten (Captain Henlein), Jim Brown (Sergeant Ruffo), Kenneth More (Doctor Wreid), André Morell (Bussier), President Mwamini Ubi (Calvin Lockhart), Guy Deghy (Delage), Bloke Modisane (Corporal Kataki), Danny Daniels (General Moses), John Serret (Father Dominic); Runtime: 100; MPAA Rating: PG; producer: George Englund; MGM; 1968-UK)
"A mindless action flick with plenty of blood spilled."
Reviewed by Dennis Schwartz
A preposterous adventure flick that never adds up. It's crudely directed by Jack Cardiff ("Sons and Lovers") from the novel "Last Train to Katanga" by Wilbur A. Smith. Quentin Werty and Adrian Spies turn in the flat screenplay. Almost the entire film was shot on location in Africa. It's based on a real event that occurred in the late 1950s in the Belgian Congo. The American Captain Curry (Rod Taylor) is a hard-nosed veteran soldier-of-fortune and his friend Sergeant Ruffo (Jim Brown) is a native of the Congo, educated in the USA, who returns to help his country with the growing pains of a new nation–he gives a risible speech calling this his Bunker Hill. The soldiers are hired for $50,000 (with Ruffo refusing his share) by President Mwamini Ubi (Calvin Lockhart) to help a diamond mining company headed by the overweight Delage (Guy Deghy). Their mission is to bring back $50 million in diamonds and rescue a number of white folks trapped in rebel-held territory by the ruthless military leader of the rebel Simbas–General Moses (Danny Daniels). Ubi will then be bankrolled by the whites to buy guns to support his war-torn regime and help it stay in power to keep the dream of the Congo as a republic alive.
The politics is told ever so slightly, as instead this becomes a mindless action flick with plenty of blood spilled. Curry has a time limit of three days to bring back the diamonds and the people, as he's given a train with a letter of passage through UN held-territory (they're the neutral peacekeepers) and takes along 40 of the best Congo troops of the Striker Blue Force who are led by an ex-Nazi, Captain Henlein (Peter Carsten), an unreformed fanatic still wearing a swastika but even though demented he's perceived as a good soldier (go figure!). The secret mission is called a mercy mission. On the way they rescue French refugee Claire (Yvette Mimieux) whose hubby was butchered by the rebels. Forced to wait for three-hours as the vault holding the diamonds is opened, it gives drunkard Brit Dr. Wreid (Kenneth More) a chance to redeem himself as he acts courageously sacrificing his own life by refusing to leave on the train with the others in order to save a native woman in labor in the missionary.
"Dark" gave no insights into the political unrest in the Congo and the characterizations were ludicrous. Hero Taylor is brash, cold and unlikable; Brown is saintly to the point of being unbelievable; Carsten's Nazi depiction is off-the-wall without being funny or campy; while Mimieux has nothing to do but show she's a white woman with blonde hair. It concludes with a bizarre plot devise aimed at making a moral point that frankly escapes me and is too fantastic to believe, anyhow. In England it goes by the title The Mercenaries.
REVIEWED ON 1/12/2006 GRADE: C