DANCE FIRST
(director: James Marsh; screenwriter: Neil Forsyth; cinematographer: Antonio Paladino; editor: David Charap; music: Sarah Bridge; cast: Gabriel Byrne (old Samuel Beckett), Fionn O'Shea (young Samuel Beckett), Sandrine Bonnaire (Suzanne), Aidan Gillen (James Joyce), Maxine Peake (Barbara), Bronagh Gallagher (Nora), Robert Aramayo (Alfred Peron), Léonie Lojkine (younger Suzanne), Gráinne Good (Lucia Joyce), Lisa Dwyer Hogg (Beckett's mom, May Beckett), Barry O'Connor (William Beckett), Caleb Johnston-Miller. (Beckett at 10); Runtime: 100; MPAA Rating: NR; producers: Michael Livingstone, Tom Thostrup;  Film Constellation; 2023- in B/W-U.K.-Hungary-Belgium-in French with English subtitles)
"A sketchy Samuel Beckett experimental biopic."
Reviewed by Dennis Schwartz

A sketchy Samuel Beckett experimental biopic, directed by the Brit filmmaker James Marsh ("Man on Wire"/"King of Thieves") and written by the Scottish TV writer Neil Forsyth, in a staid minimalist style.

The title is derived from the Irish literary great's advice to a student that took place in his best known stage play, in 1953, Waiting for Godot.: "Dance first, think later."

Though finely acted, capturing the author's dry wit, it nevertheless lacks the required emotions to make the biopic come to life and be engaging.

Its gimmick has Beckett (played by Gabriel Byrne) in conversations with his alter-ego (in other words himself), as during the 1969 Nobel Prize ceremony the two Becketts begin to converse with each other and reflect on his life of love (self-regard) and guilt (self-loathing).

Beckett is played in his later years by Gabriel Byrne, while Fionn O'Shea plays him as a teen and through the war years, when he fought for the French Resistance. There's a brief appearance by Caleb Johnston-Miller as his youngest incarnation.

Beckett has changed from a shy teen to a guilt-ridden adult.

When he receives the Nobel Literature prize he tells his wife Suzanne (Sandrine Bonnaire) he would like to give it back (money and all) to ease his shame and guilt.

We look back at Beckett's life as a man filled with both self-love and self-hatred, who went from a Parisian bon vivant, to a cheater in married life, to a recluse.

We're shown how as a child Beckett despised his narcissistic mother (Lisa Dwyer Hogg) and cared for his loving father (Barry O'Connor), whose instruction to "Fight, fight, fight" become his life's mantra.


The bleak film trods on without momentum, as its "otherworldly" conversations between the two Becketts have sucked the life out of the moribund film. It strikes out trying to hit the Beckett story on the barrel of the bat, and irritated me because it never had a real feel on what the great Irish playwright was all about. As for the most part, it missed in trying to get his absurdist view on life.

It played at the San Sebastian Film Festival.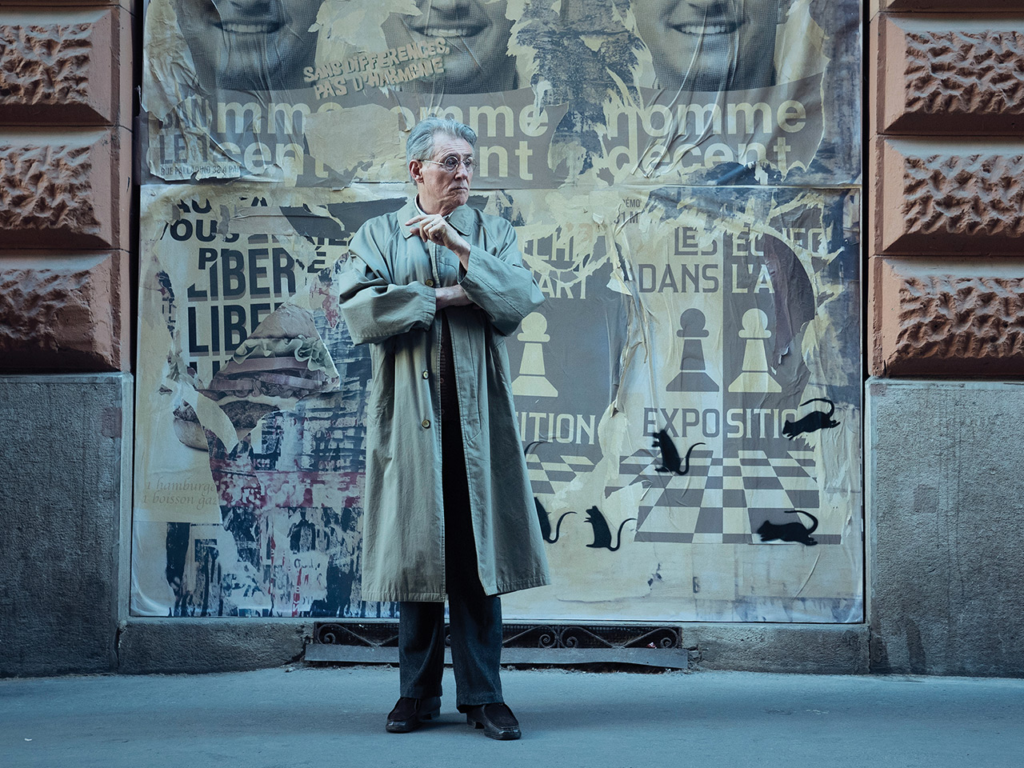 REVIEWED ON 11/9/2023  GRADE: C+