DALILAND
(director: Mary Harron; screenwriter: John C Walsh; cinematographer: Marcel Zyskind; editor: Alex Mackie; music: Edmund Butt; cast: Ben Kingsley (Salvador Dalí), Barbara Sukowa (Gala), Christopher Briney (James), Rupert Graves (Captain Moore), Alexander Beyer (Christoffe), Andreja Pejic (Amanda Lear), Mark McKenna (Alex Cooper), Zachary Nachbar-Seckel (Jeff Fenholt), Avital Lvova (Young Gala), Suki Waterhouse (Ginesta), Ezra Miller(Young Dali); Runtime: 104; MPAA Rating: NR; producers: Edward Pressman, David O. Sacks, Daniel Brunt, Chris Curling, Sam Pressman; Zephyr Films; 2022)
"I think it would mostly be appreciated by Dali's fans."
Reviewed by Dennis Schwartz
Canadian maverick filmmaker Mary Harron ("The Moth Diaries"/"American Psycho") directs this formulaic biopic on the iconic aging surrealist artist Dali. It's cleverly written by John C. Walsh. Daliland gets right the costumes, music and the philosophy behind Dali's art and his madness. But flubs up by looking at the weird painter through the eyes of James (Christopher Briney), who is too boring to be a leading man. He's a young art curator called in to help in 1973 the overwhelmed artist (Ben Kingsley),in his last ten years, to get his collection in order for his big show in NYC (it thereby takes in the 1970s art underground scene in NYC. Dali dubs his assistant James to be his San Sebastian. 
Aside from Kingsley's expected accomplished performance as Dali, I was wowed by Barbara Sukowa (known for her prior great work in the Rainer Werner Fassbinder films) brilliantly playing Dali's wife Gala.
The part that fizzled out was the one in flashback that had the troubled actor Ezra Miller (recently charged in Vermont with burglary) as the young Dali.
I think it would mostly be appreciated by Dali's fans.
It played at the Toronto International Film Festival (Gala).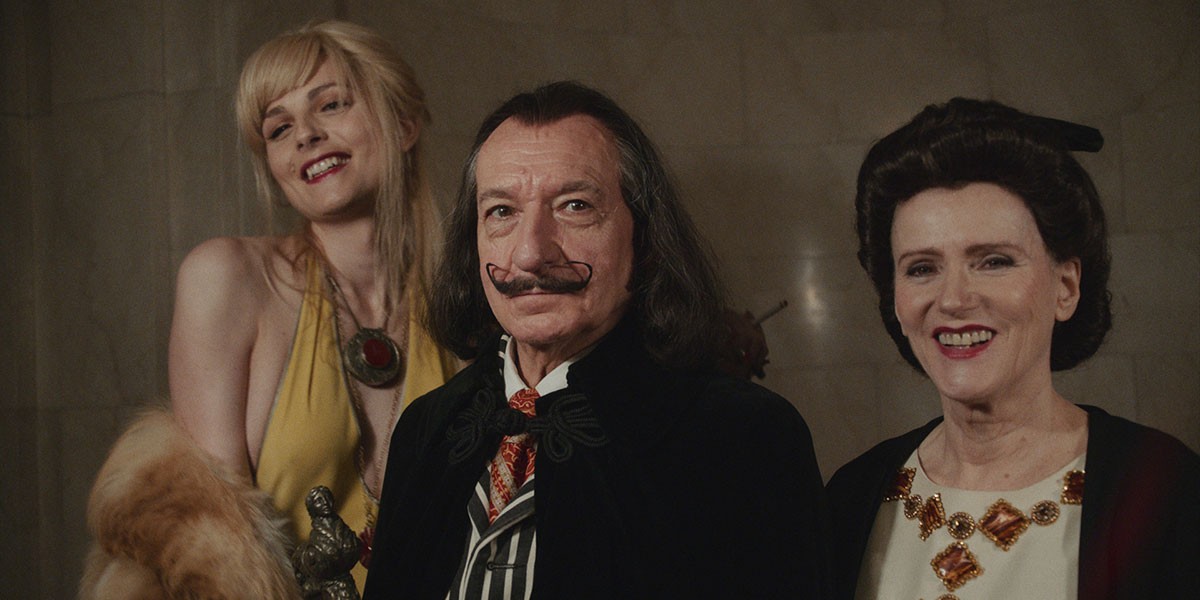 REVIEWED ON 10/9/2022 GRADE: B