CROWS ARE WHITE
director/writer: Ahsen Nadeem; screenwriters: Matt H. Mayes, Dawn Blackman; cinematographer: Matthew Nauser; editors: Kimberley Hassett, Weston Currie; music:Logan Nelson; Runtime: 97; MPAA Rating: NR; producers; Riel Roch Decter, Sebastian Pardo, Ahsen Nadeem, Jill Ahrens, Ryan Ahrens, Ben Renzo: Memory; 2022-in English and Japanese, with English subtitles when necessary)
"Though conventionally shot, its unusual subject matter is startling."
Reviewed by Dennis Schwartz

The first-time Los Angeles-based Muslim filmmaker Ahsen Nadeem makes friends with an unorthodox outcast young Buddhist monk, Ryushin, and looks to him for answers about his life– problems over his faith, possible marriage to a white girlfriend he keeps hidden for six years from his disapproving strict Muslim parents, and with matters over his upbringing with a Pakistani family (they immigrated from Saudi Arabia to Ireland during the Gulf War). The film was shot in three continents for over five years and with a few months spent at the remote Japanese monastery of the Tendai monks.

Though the Japanese monastery monks of a secret sect of Buddhists allow Nadeem and his small production team access to film in Mt. Hiei in Kyoto, they are not enthusiastic over his presence. The filmmaker at first wishes to study how the Japanese achieve enlightenment through their studies, but the only monk who will help is one into ice cream and heavy metal over meditation.

The film opens with a voiceover by Nadeem that says "I'll be honest with you, I'm a fantastic liar. But I'm trying something new here — I'm going to try to tell the truth."

More than Nadeem's story about him not being true to himself and lying, I found the monks had a more compelling and controversial story to tell. The monks tell how they reach a higher plane through feats of physical endurance (one monk on a vow of silence walks many miles until his feet are bruised, bloodied, and battered). This is disturbing, especially if they give up or fail to finish, they are instructed to commit suicide (Yikes!).

When the monks were asked questions that they didn't like, they refused to answer them. Questions if they have any regrets of joining such a fanatical religious group, or if they've ever been in love, seemed to be bothersome.

Nadeem's experience at the monastery is saved when he forms an unlikely friendship with the rebellious monk Ryushin, and they even attend a Slayer concert together.

Though conventionally shot, its unusual subject matter is startling. The question is if after his monastery stay can he get up the courage to honestly confront his parents about who he has become.

The film's theme might be "You can achieve anything if you're willing to die for it."

It played at the SXSW Film Festival.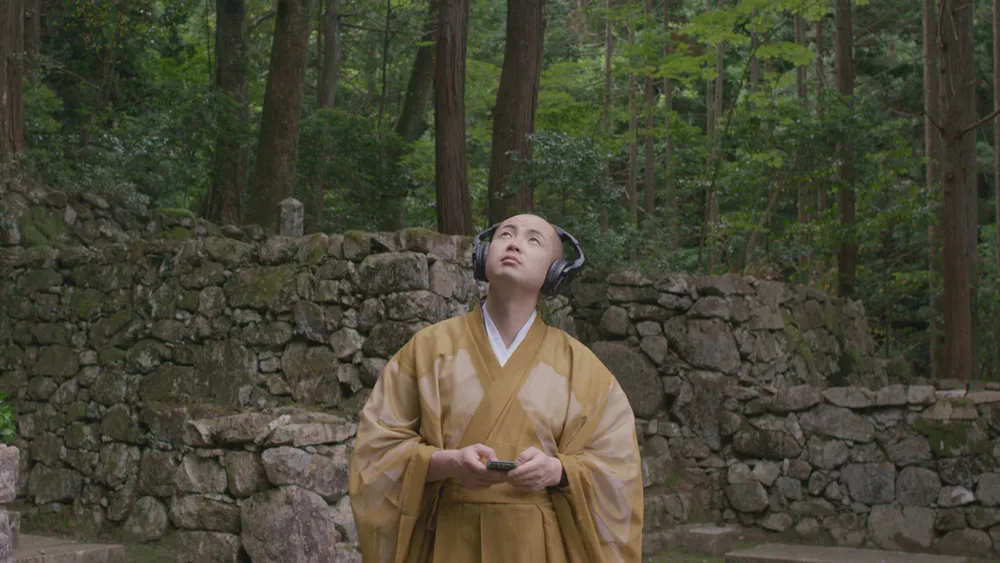 REVIEWED ON 5/24/2022 GRADE: B