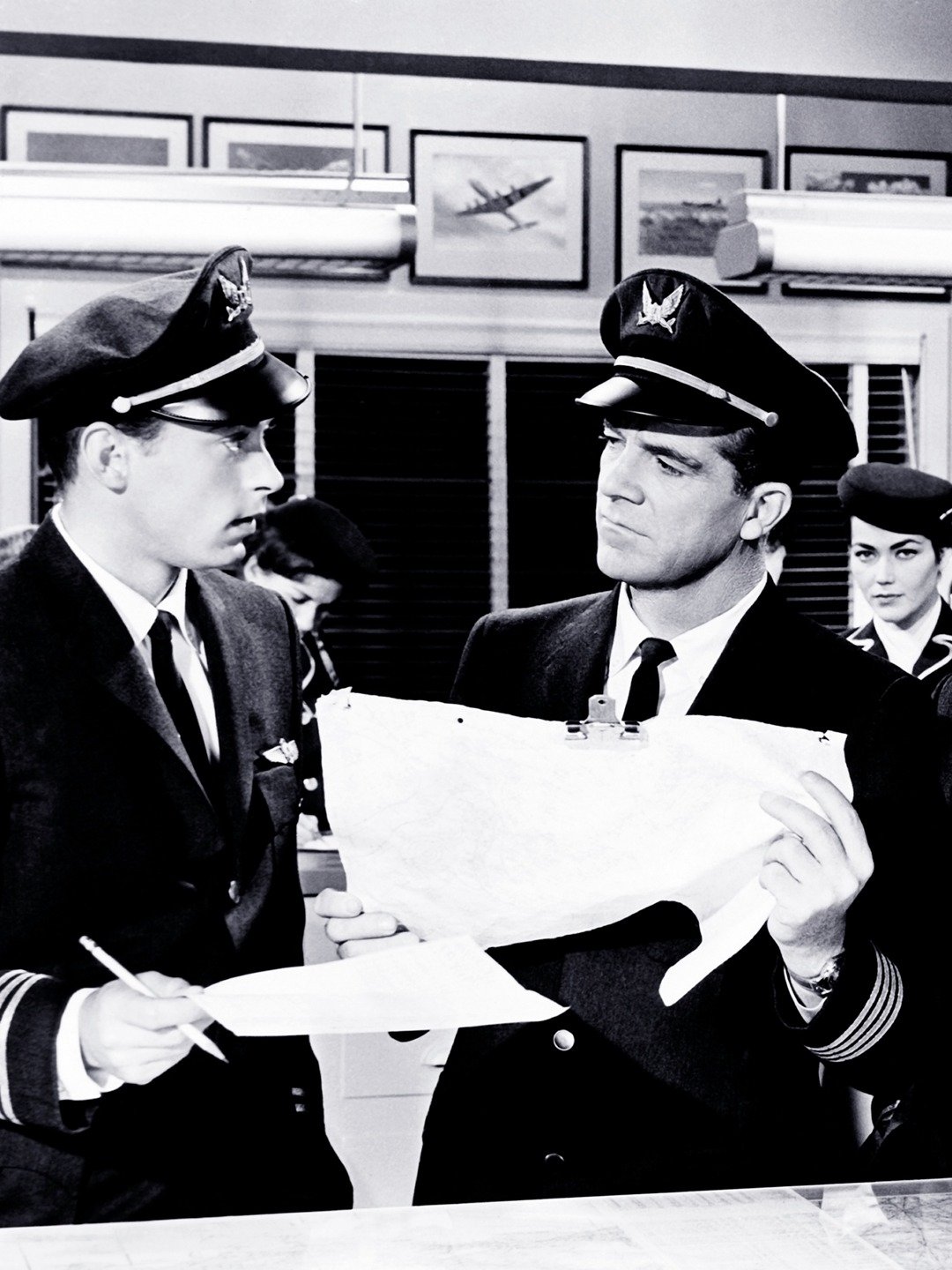 THE CROWDED SKY
(director/writer: Joseph Pevney; screenwriter: Charley Schnee/based on the novel by Hank Searls; cinematographer: Harold Stradling; editor: Tom McAdoo; music: Leonard Rosenman; cast: Dana Andrews (Dick Barnett), Rhonda Fleming (Cheryl 'Charro' Heath), Efrem Zimbalist, Jr. (Dale Heath), John Kerr (Mike Rule), Anne Francis (Kitty Foster), Keenan Wynn (Nick Hyland), Troy Donahue (McVey), Joe Mantell (Louis Capelli), Patsy Kelly (Gertrude Ross), Donald May (Norm Coster), Louis Quinn (Sidney Schreiber), Edward Kemmer (Caesar), Tom Gilson (Robert 'Rob' Fermi), Hollis Irving (Beatrice Wiley), Paul Genge (Samuel N. Poole), Jean Willes (Gloria Panawek), Frieda Inescort (Mrs. Mitchell), Nan Leslie (Bev, wife of Dana), Ken Currie (Dick Jr.), Karen Green (Efrem's daughter, Anne), Ed Prentiss (J.B.), Warren Parker (Dr. Ed Benedict); Runtime: 120; MPAA Rating: NR; producer: Michael Garrison; WB; 1960)

"Diverting soap opera air disaster movie."
Reviewed by Dennis Schwartz
Diverting soap opera air disaster movie competently helmed by Joseph Pevney("3 Ring Circus"/"Away All Boats"/"Torpedo Run"), but superficial. It's based on the novel by Hank Searls. Charley Schnee writes the script. It's about an impending mid air collision between a Navy jet piloted by Dale Heath (Efrem Zimbalist, Jr.) going east and a commercial airliner piloted by Dick Barnett (Dana Andrews) heading west. The crew and passengers all unload during the flight their excess emotional baggage. Meanwhile there are critical situations such as developing severe weather conditions and the jet's radio malfunctions preventing contact with air traffic control.
During their flights we learn the jet pilot Dale's foxy wife (Rhonda Fleming) wants a divorce because she's lonely and that the widowed ace commercial flyer is detested by his unruly obnoxious young adult son (Ken Currie) for being so perfect. Flashbacks cover each situation. We also learn that the young enlisted Navy man McVey (Troy Donahue) rides with Dale to go home on leave to Washington D.C. and lets on his beauty queen girlfriend dumped him. Meanwhile Dick flies with a first pilot (John Kerr) who hates his guts because he ruined his chances to be a captain by claiming he lacked the focus to be a pilot because he also worked as a commercial artist. Also with the crew are the marriage-minded stewardess (Ann Francis) who ios in love with the first pilot and the genial flight engineer (Joe Mantell). Passengers of note are Keenan Wynn, a slick womanizer and TV writer residing in Beverley Hills.
There are too many stock characters to keep track of all of them and, anyway, most of their stories weren't that interesting.
REVIEWED ON 5/10/2015 GRADE: B-  https://dennisschwartzreviews.com/