COPSHOP
(director/writer:Joe Carnahan; screenwriter:Kurt McLeod/story by Mark Williams; cinematographer: Juanmi Azpiroz; editor: Kevin Hale; music: Clinton Shorter; cast: Gerald Butler(Bob Viddick), Frank Grillo (Teddy Murretto.), Toby Huss (Anthony Lamb), Ryan O' Nan (Huber), Alexis Louder (Harper), Tait Fletcher (Wedding Guest); Runtime: 108; MPAA Rating: R; producers; Joe Carnahan, Tai Duncan, Eric Gold, Warren Goz, Frank Grillo, Alan Siegel, Mark Williams: Open Road Films; 2021)
"A time-waster cop exploitation action B-film, that's mildly diverting."
Reviewed by Dennis Schwartz

A time-waster cop exploitation action B-film, that's mildly diverting. It's directed with plenty of energy and gratuitous violence by Joe Carnahan ("Narc"/"The Grey") and written by Kurt McLeod from a story by Mark Williams, as it aims to be a Tarantino-like pulp fiction piece with smart-ass dialogue. It's inspired by 70s action cop films and has a soundtrack from that era that includes Curtis Mayfield's Freddie's Dead from Superfly. What the claustrophobic thriller lacks is good pacing (killed by being set in one location & having the co-stars pace around the cells for too long until the action begins), not having much character development (as it is with most action pics) and having big plot holes.

The setting is Gun Creek, Nev., the home of some incompetent law enforcement officers who work in an ultra-modern police station.

A scummy sociopath con artist, Teddy Murretto (Frank Grillo), who once worked for the mob, is on the run from his would-be scowling assassin, Bob Viddick (Gerard Butler), and to avoid him is arrested in the casino after accosting the Black rookie officer Valerie (Alexis Louder) and is sent to jail. Soon after Bob, posing as a hobo, gets the cell next to Teddy's when arrested for drunk driving.

To break up the monotony of jail life, a psychotic, middle-aged psychopathic serial killer (Toby Huss) suddenly turns up with balloons to wreck the place, while Valerie has to use her wits as she gets caught in the crossfire between the cops and the wacko killer.

It all leads to a ludicrous over-the-top finale, one that has bullets flying all over the joint.

Alexis Louder has the honor of being the best actor to watch here.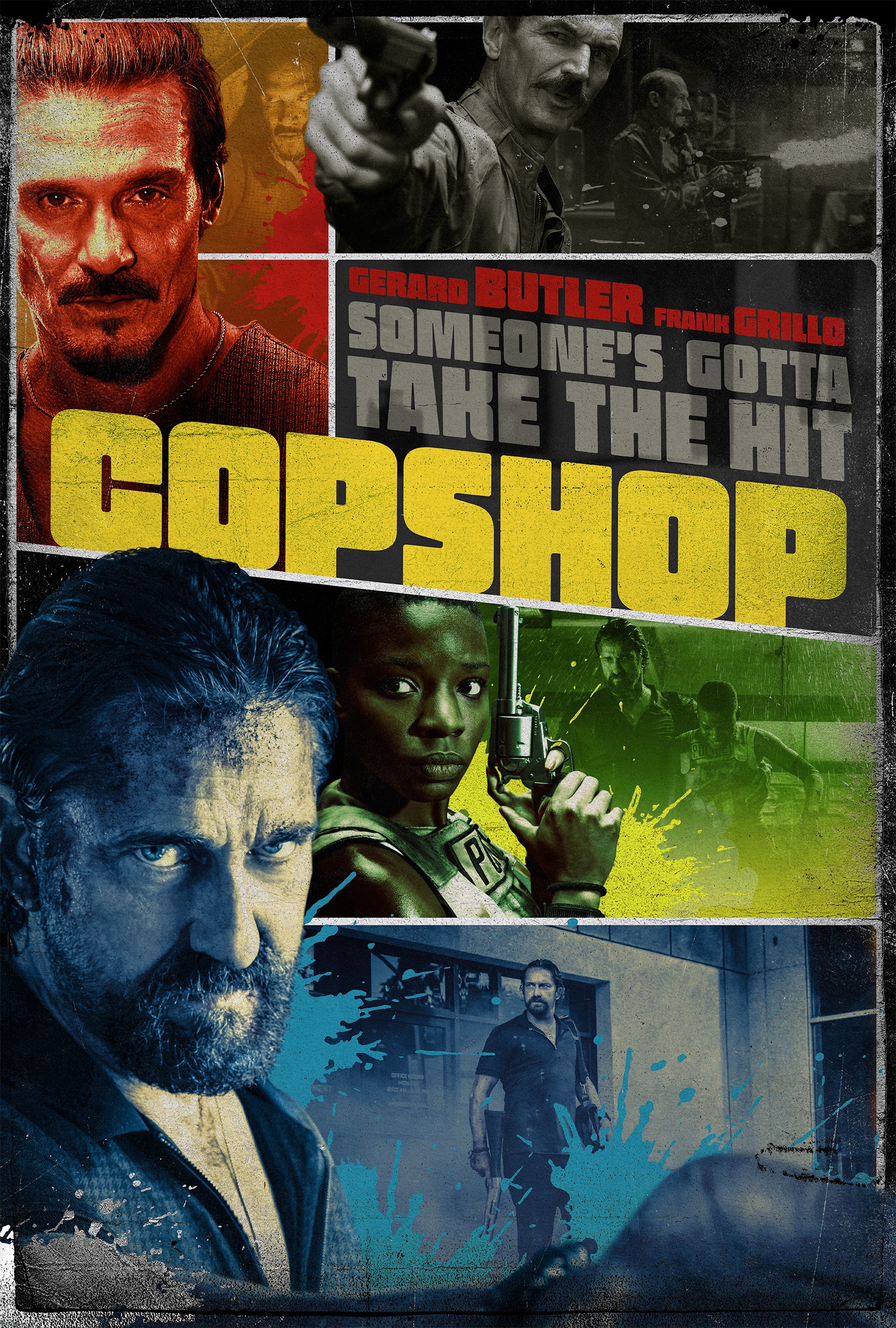 REVIEWED ON 9/15/2021 GRADE: C+