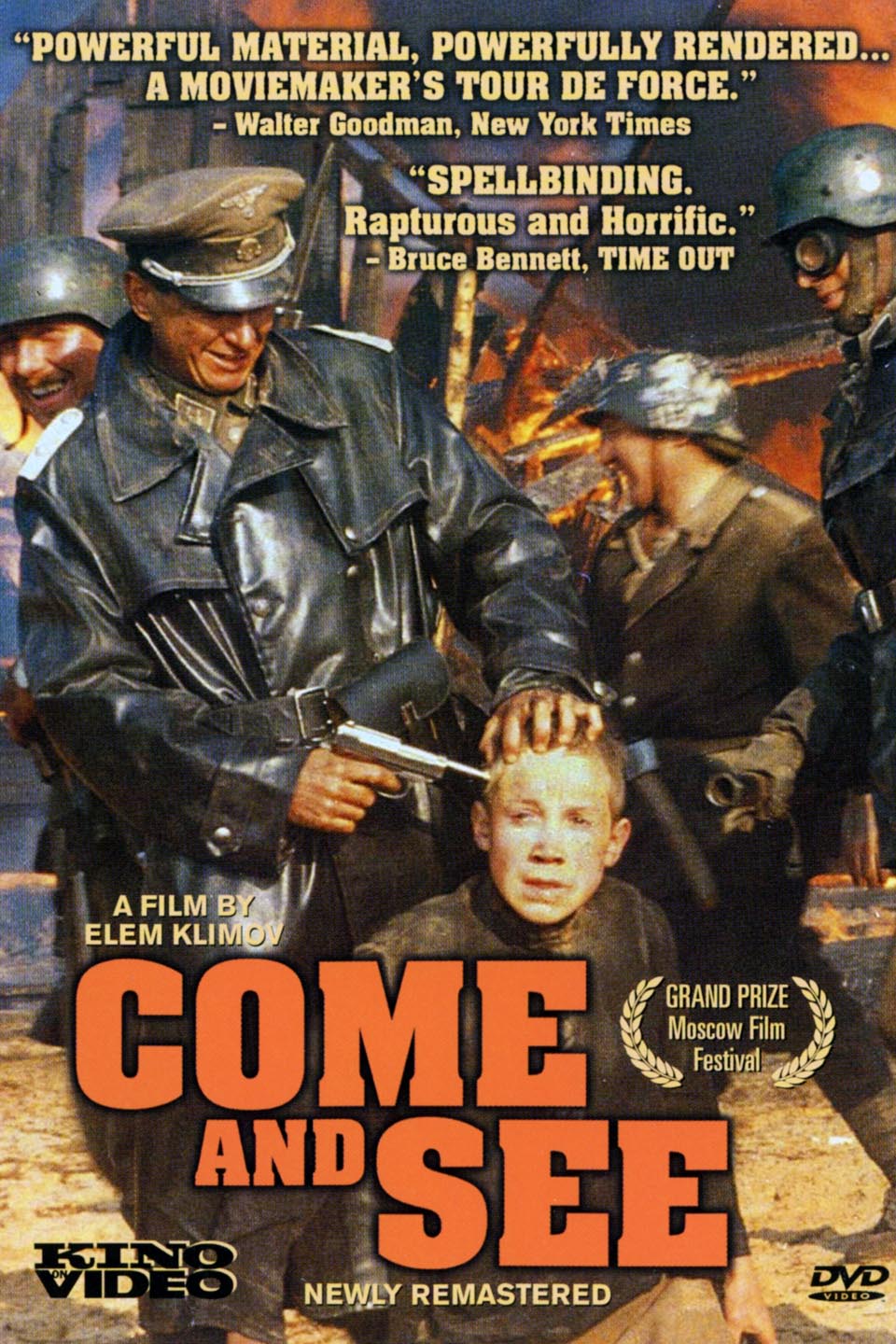 COME AND SEE (IDI I SMOTRI)

(director/writer: Elem Klimov; screenwriter: Ales Adamovich/based on "The Story of Khatyn" and other war stories by Mr. Adamovich; cinematographer: Aleksei Rodionov; editor: V. Velova; music: Oleg Yanchenko; cast: Alexi Kravchenko (Florya Gaishun), Olga Mironova (Glasha), Liubomiras Laucevicius (Kosach); Runtime: 142; MPAA Rating: NR; Kino Video; 1985-USSR-Russian with English subtitles)
"An unforgettable nightmarish vision of excessive violence and cruelty."
Reviewed by Dennis Schwartz
This is Russian director Elem Klimov's ("Rasputin"/"The Groom"/"Look, the Sky!") last and best film. It's the dreamlike film he always wanted to make about an incident that he thought a great deal about and with that left behind his film career, saying he accomplished all he ever wanted with this film. It seamlessly blends together art and commercial filmmaking techniques to tell in a lyrical voice the true story of an atrocious incident in 1943 in Byelorussia (now Belarus), near the Polish border, by Nazi paratrooper invaders against a peasant community. It's a glasnost movie that was made in order to commemorate the 40th anniversary of the Soviet victory in the Great Patriotic War and was awarded first prize at the 1985 Moscow Film Festival. It ranks high in consideration as one of the best war dramas ever, an unforgettable nightmarish vision of excessive violence and cruelty. The film stands as an historical document of the horrors of war and paints an ugly picture of war that reduces for many their humanity as they get swept up in the herd instinct to do brutal acts in the name of a cause one would most likely never do during peacetime. It's a sharply observed coming-of-age story that has an innocent 12-year-old named Florya Gaishun (Alexi Kravchenko) experience war and quickly lose his foolish heroic notions of war as he discovers the horrors it inflicts and his face ages over the course of the story (reportedly induced in part by hypnotic suggestion).
Florya leaves his hysterical peasant mother and younger twin sisters to join the partisans in the woods, even as she begs him to stay. The partisans leave him behind as they go searching for Nazis. German bombs fall, causing Florya to become deaf. Along with the beguiling peasant partisan teenage girl, Glasha (Olga Mironova), also left behind, they witness the paratroopers making their jumps and the two innocents return to his mother's empty cabin. Thinking maybe mom's still alive Florya takes Glasha through the swamps to an island and learns from a group of peasant survivors his mom was killed. The boy appears to have gone mad, and is sent out on an expedition to forage for food in the foggy farm landscape and scorched forests.
The boy gets trapped in the Nazi occupation of a peasant village and witnesses the SS mass execution of all the villagers by locking them in a barn and setting it ablaze while the drunken soldiers are firing inside with their machine guns. This instigates spontaneous self-congratulatory applause among the soldiers, as they proudly recognize their own barbarism.
It's a powerful and haunting film of how costly war is for humanity, where in the epilogue we learn that this incident is only one of 628 Byelorussian villages massacred and burned during the war.
REVIEWED ON 9/15/2010 GRADE: A
Dennis Schwartz: "Ozus' World Movie Reviews"
© ALL RIGHTS RESERVED DENNIS SCHWARTZ