CASH ON DEMAND
(director: Quentin Lawrence; screenwriter: teleplay The Gold Inside by Jacques Gillies/David T. Chandler/Lewis Greifer; cinematographer: Arthur Grant; editor: James Needs; music: Wilfred Josephs; cast: Peter Cushing (Fordyce), Andre Morell (Colonel Gore Hepburn), Richard Vernon (Pearson), Norman Bird (Sanderson),, Barry Lowe (Peter Harvill), Edith Sharpe (Miss Pringle), Lois Daine (Sally), Kevin Stoney (Detective Inspector Mason), Charles Morgan (Det. Collins), Vera Cook (Mrs. Fordyce); Runtime: 84; MPAA Rating: NR; producer: Michael Carreras; Columbia Pictures; 1962-UK-B/W)
"An excellent blend of a bank heist film, a keenly observed workplace study and a Christmas story."
Reviewed by Dennis Schwartz
An excellent blend of a bank heist film, a keenly observed workplace study and a Christmas story. It's a rarely made non-violent drama budgeted for merely $100,000 by a diversifying Hammer Films (known as the house that drips red blood). Director Quentin Lawrence ("Playback"/"Trollenberg Terror, The"), once a scientist working on the Manhattan Project, who turns later to TV directing. He does a fine job letting the two great actors Peter Cushing and Andre Morell play off each other and put on an acting clinic. The uncomplicated black and white film is based on the straightforward teleplay of the 1960 Brit TV episode called The Gold Inside by Jacques Gillies. Writers David T. Chandler and Lewis Greifer wisely keep it claustrophobic (in a single set) like the teleplay and thereby allow for the tension to grow inside the bank while the robbery is clocked in real time.

Out in the provinces, in an agricultural community, exists the small Haversham bank, with branches in London. On a snowy December the 23rd a charming but ruthless criminal poses as Colonel Gore Hepburn (Andre Morell), a top insurance investigator paying an unannounced visit to inspect the bank. Working with a gang that remain unseen, his accomplice holds the wife and young son of the despotic and unlikable bank manager Fordyce (Peter Cushing) hostage as part of a cold-blooded plan to rob the vault of 96 thousand pounds and escape without interference from the bank manager. 

In the opening scenes we view how badly the stern manager treats his obedient and hard-working chief clerk Pearson (Richard Vernon), threatening to dismiss him and not give him a recommendation for a transfer over petty issues. The manager also distances himself from his small staff, never showing any affection or concern about their welfare.

The robbery unfolds with the frightened manager willing to comply with the needling Colonel's demands for the full hour it will take to get the money out of the vault and transferred in the robber's luggage to his car, as the manager shows only human feelings for his family. But like in Charles Dickens' Scrooge, the cold-hearted boss learns humility after a strange turn of events that forces him to depend on his underling Pearson for saving his family's lives.

This was one of Cushing's rare non-horror roles.

The film is a gem that has gone under the radar and deserves some love and a wider audience.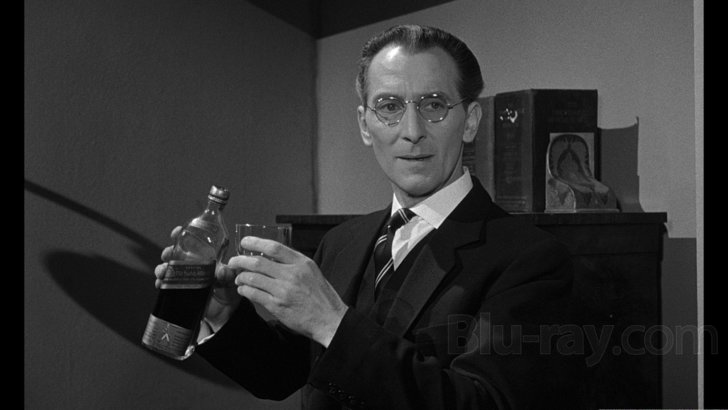 REVIEWED ON 12/25/2019 GRADE: A- https://dennisschwartzreviews.com/