OLGA
(director/writer: Elie Grappe; screenwriter: Raphaëlle Desplechin; cinematographer: Lucie Baudinaud; editor: Suzana Pedro; music: Pierre Desprats; cast: Anastasiia Budiashkina (Olga), Sabrina Rubtsova (Sasha), Caterina Barloggio (Steffi), Aleksandr Mavrits (Vassily), Théa Brogli (Zoé), Jérôme Martin (Adeien), Philippe Schuler (Erich Fromm),  Lou Steffen (Andrea), Alicia Onomor (Juliette), Tanya Mikhina (Ilona Budishkina); Runtime: 85; MPAA Rating: NR; producers; Jean-Marc Fröhle, Tom Dercourt: Point Prod/Cinema Defacto; 2021-France/Switzerland/Ukraine- in Ukrainian, Italian, French, German, English, with English subtitles)
"A finely made current events and sports drama about a fictional 15-year-old Ukrainian gymnast named Olga."
Reviewed by Dennis Schwartz

A finely made current events and sports drama about a fictional 15-year-old Ukrainian gymnast named Olga (Anastasiia Budiashkina), whose deceased father, someone she hardly knew,  was Swiss and while exiled in Switzerland for safety reasons is trying to make the Swiss national gymnastic squad to compete in the European games and further down the road be part of the Swiss Olympic team. Olga has been sent to live in safety in Switzerland by her investigative journalist mother because of the uprising in Kyiv, in 2013, known as the Maidan Revolution (or Euromaidan), that took place in the town square, against the country's corrupt pro-Russian president and for her country's chance to join the European Union.Things escalate when the vile now Ukrainian ex President Yanukovych, on orders from Putin, invades and annexes Crimea in 2014.

The arrival of Olga on the team stirs up the Swiss team captain Steffi (Caterina Barloggio) and her Swiss teammates who resent her being on the team.

While talking on Skype with her back home mom (Tanya Mikhina) and her closest friend and former teammate (Sabrina Rubtsova), she considers giving up her Ukrainian citizenship for a Swiss one (which she would need to be on the team). The teen is frightened by the violence in her country and that her mother is in danger as a front line journalist. The young gymnast furiously trains for the upcoming competition in Stuttgart, while her home country goes up in flames.

French director Elie Grappe, in her feature film debut,  co-writes it with Raphaëlle Desplechin as an observant coming-of-age drama. The drama aptly captures the tension of the times and the personal struggles of the driven teen athlete.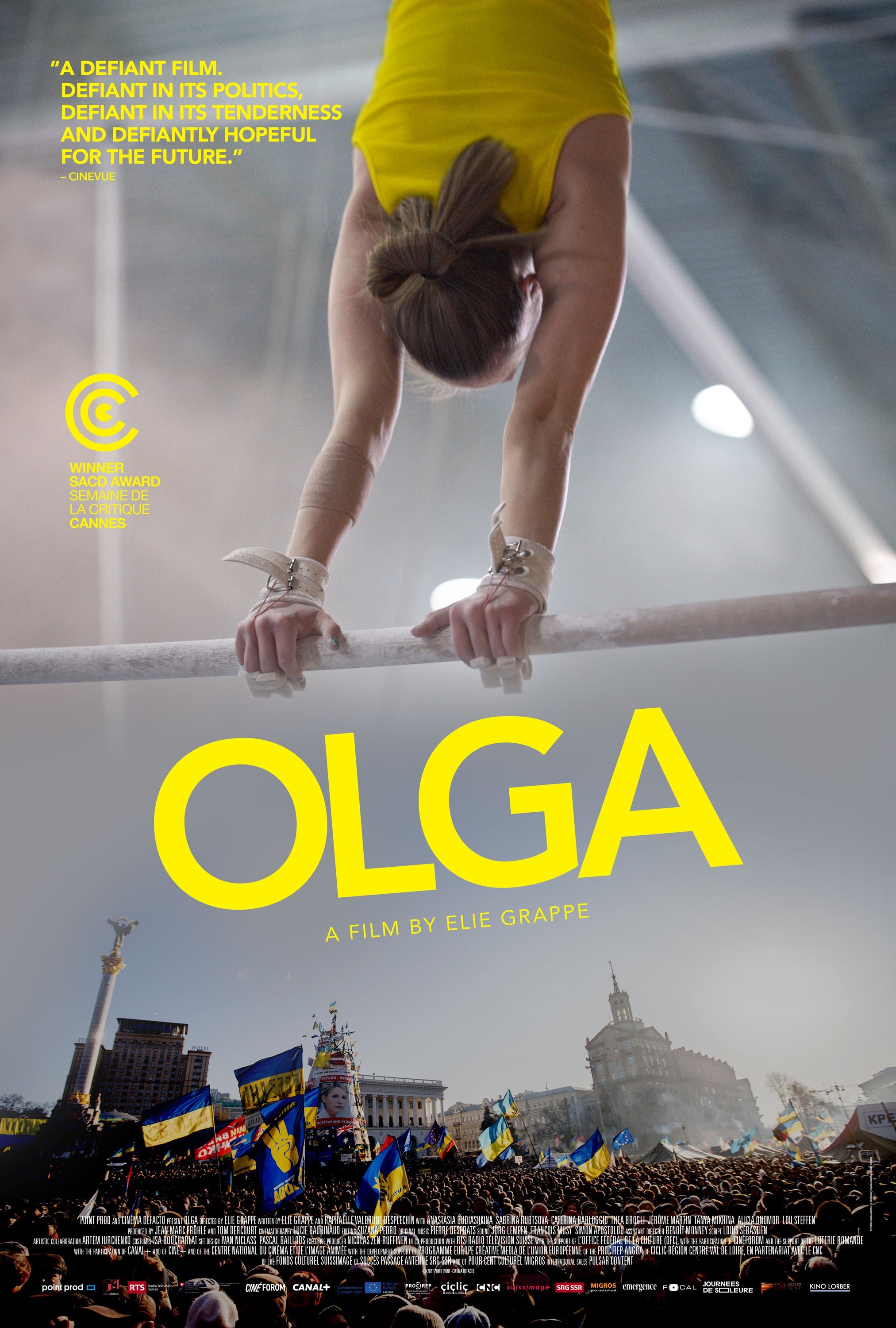 REVIEWED ON 6/5/2022 GRADE: B