CANDYMAN
(director/writer: Nia DaCosta; screenwriters: Jordan Peele/Win Rosenfeld/Clive Barker & Bernard Rose characters; cinematographer: John Guleserian; editor: Catrin Hedström; music: Robert Aiki Aubrey Lowe; cast:Yahya Abdul-Mateen II(Anthony McCoy), Teyonah Parris (Brianna Cartwright), Nathan Stewart – Jarrett (Troy Cartwright), Brian King (Clive), Rebecca Spence (Finley Stephens), Colman Domingo (William Burke), Kyle Kaminsky (Grady Greenberg), Tony Todd (Daniel Robitaille / Candyman),  Carl Clemons-Hopkins (Jameson), Vanessa Estelle Williams (Anne Marie McCoy); Runtime: 91; MPAA Rating: R; producers; Ian Cooper, Jordan Peele, Win Rosenfeld: Universal; 2021)
"Its satire and scorn of society registers as genuine, as it plays out as a relevant slasher film enhanced by its edginess and pessimism over race relations."
Reviewed by Dennis Schwartz

This is the Black co-writer and director Nia DaCosta's ("Little Woods") slick sequel to English filmmaker Bernard Rose's Chicago-based sensational supernatural killer film, the Candyman of 1992 (adapted from a Clive Barker short story), which ignores the two sequels that followed. The other writers are Jordan Peele and Win Rosenfeld. It carries on as a macabre response against racism in this troubling time of the Black Lives Matter movement, during a time of increased street violence and hatred. And in a country deeply divided over political issues.

It returns to the Chicago neighborhood of Cabrini-Green, the project setting of the original film, now torn down to make room for gentrification. It continues with Candyman's fate as the urban legend's fame as a bogeyman has only grown with time.

The hipster young aspiring egotistical artist Anthony McCoy (Yahya Abdul-Mateen II) lives in a mod dwelling (surrounded by rows of torn down older buildings from the projects) in the old Cabrini-Green neighborhood, where he was raised, and his main squeeze is the snappy curator and gallery art show manager Brianna Cartwright (Teyonah Parris). She works for the creepy hipster gallery owner Clive (Brian King).

Brianna's brother Troy (Nathan Stewart – Jarrett) goes onto the couple about the Candyman legend in the ghetto, which inspires Anthony's artistic visions. He thereby creates a piece he calls Say My Name. It's a painting behind a mirror before which gallery visitors are invited to repeat the Candyman invocation five times (as the legend goes, if you evoke his name five times he appears for real and kills you).   

There's a Candyman-like tragedy at the gallery when the legend's name is evoked, followed by some convincing slasher killings: a bizarre death scene of four preppie girls given the business after evoking the legend's name five times as a joke when facing the bathroom mirror in their high school and of the nasty art critic (Rebecca Spence) getting her comeuppance in a shot artfully viewed from a distance.

In this startling film's better moments, it frames the Candyman as an historical figure who returns the hate given to those who were previously wronged. Its satire of gentrification and scorn of society's racism registers as genuine, as it plays out as a relevant slasher film enhanced by its edginess and pessimism over race relations.

The horror film's final seven minutes leave a bitter commentary on the issues of police bias in America, as it unleashes its haunting picture of police violence upon Black citizens as happening too frequently to be dismissed as not something racist eating away at the Black man's soul.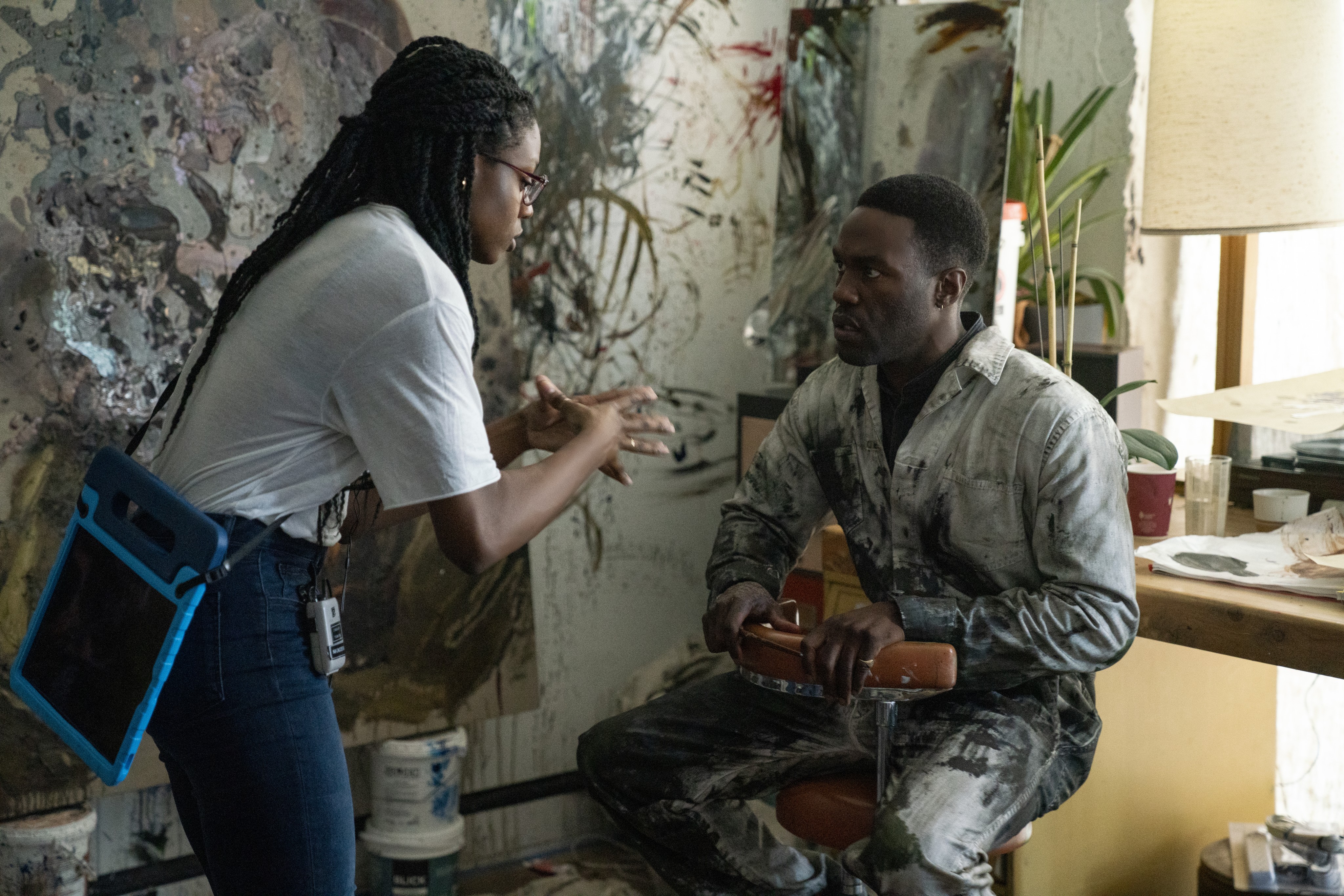 REVIEWED ON 8/28/2021 GRADE: B