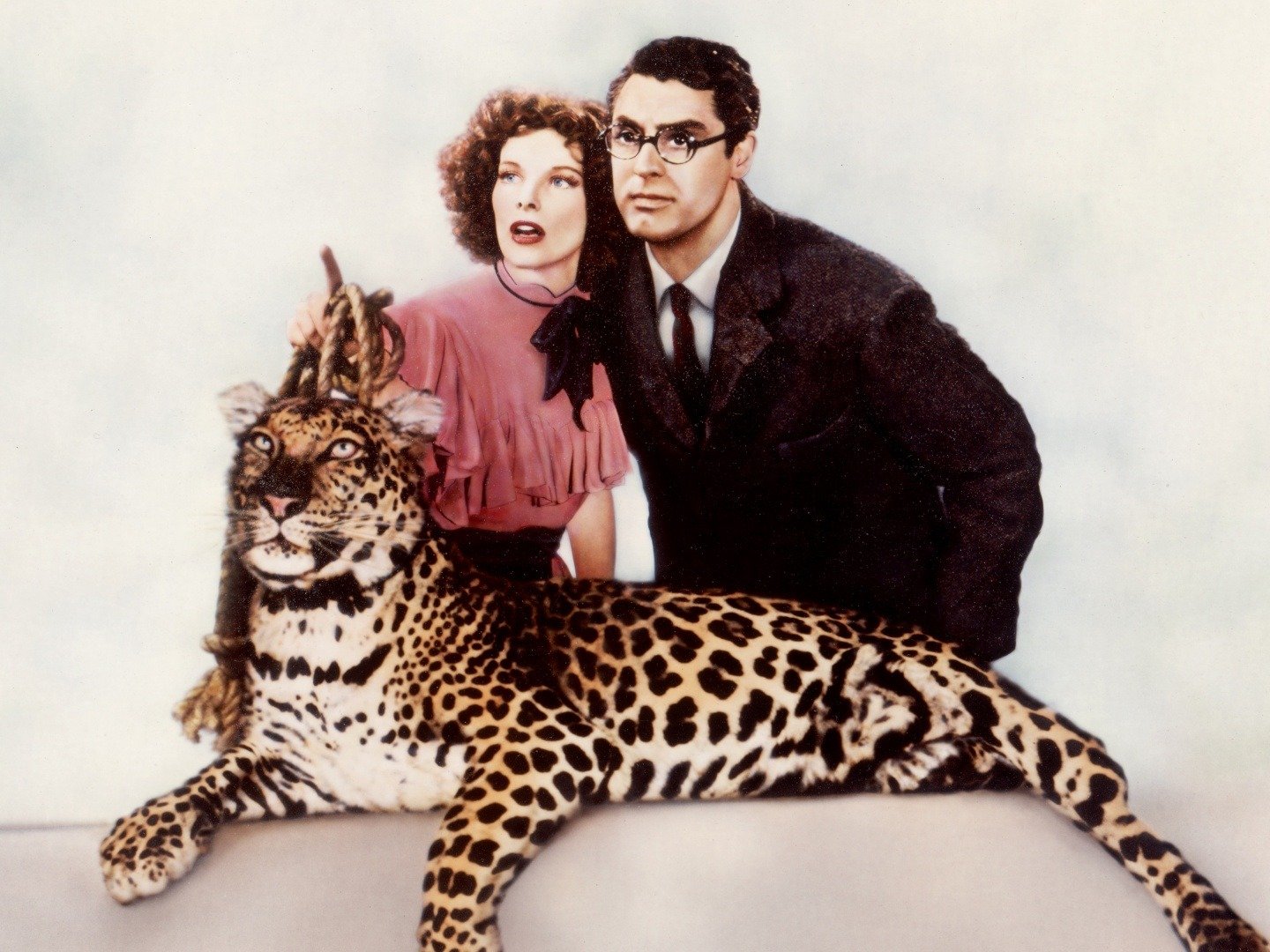 BRINGING UP BABY
(director: Howard Hawks; screenwriters: Dudley Nichols/Hagar Wilde/story by Hagar Wilde; cinematographer: Russell Metty; editor: George Hively; music: Roy Webb; cast: Katharine Hepburn (Susan Vance), Cary Grant (Dr. David Huxley), Charlie Ruggles (Maj. Horace Applegate), Walter Catlett (Constable Slocum), Barry Fitzgerald (Mr. Gogarty), May Robson (Aunt Elizabeth Random), Fritz Feld (Dr. Lehman), Leona Robers (Mrs. Gogarty), George Irving (Lawyer Peabody), Virginia Walker (Alice Swallow); Runtime: 103; MPAA Rating: NR; producer: Howard Hawks; RKO Pictures; 1938)
"One of Hollywood's greatest comedies."
Reviewed by Dennis Schwartz
A quintessential screwball comedy from Howard Hawks ("Red River"). The film bombed at the box office on its theater release, but has been redeemed when revived years later and is now considered by most as one of Hollywood's greatest comedies. It's filled with non-stop energy, cleverly arranged silly banter, a bevy of sight gags and harum-scarum elements of farce. It take the ordered life of a rational but nervous intellectual and throws him into the chaotic life of a daffy socialite. It results in the liberation of the uptight professor as he surprisingly falls wildly in love with his opposite even though it might wreck his career, test his sanity, question his sexual identity, and alter his marriage plans. Along the way Hawks pokes fun at the establishment's institutions such as science, psychiatry, the law, and the upper-class. The wonderful zany screenplay is by Dudley Nichols and Hagar Wilde; it was taken from a Collier's Magazine story penned by Wilde.
Dr. David Huxley (Cary Grant) is a nerdy paleontologist for the Stuyvesant Museum of Natural History who is engaged to his stuffy assistant Alice Swallow (Virginia Walker). After working for four years to discover a dinosaur bone to complete his reconstruction of a brontosaurus skeleton, he meets with success and is just as elated by receiving the bone as he is in his impending marriage to Alice tomorrow. The museum sends David out to the golf course to meet corporation lawyer Peabody (George Irving), who represents wealthy socialite Elizabeth Random (May Robson). The socialite is being asked to donate a $1 million grant for his museum to finish an exhibit on dinosaurs. While golfing he runs into Susan Vance (Hepburn), Random's niece, who does everything she can to mess up David's golf game plans as she maneuvers to get him to come with her by hitting his golf ball in a direction away from his playing companion and driving his car into a tree. After David slips and tears his clothes, Susan outfits him with a lady's purse and alters his coat to make him appear like an old lady. She then drives him to Peabody's house to close his donation deal, which he couldn't on the golf course. But Susan hits the lawyer with a pebble, making their quick departure imperative.
Susan informs David of her pet leopard named Baby and asks for his help getting the cat into the car. Somehow David is on board, with Baby in the back seat, when Susan hits a poultry truck. After another mishap in a Connecticut town, they arrive at her Aunt Random's house. Auntie's Scotch terrier named George (Asta, from The Thin Man series) takes the valuable bone and buries it somewhere on the vast grounds. The frantic David goads George into digging up the bone, but with little success. A pompous big-game hunter named Major Applegate (Charles Ruggles) calls on auntie, and Susan introduces him to David as Mr. Bone and refers to him also as a big-game hunter. The gardener, with the thick Irish brogue, Gogarty (Barry Fitzgerald), inadvertently lets Baby loose and when he sees a leopard wonders if he's losing his mind or if he drank too much.
David's misadventure continues as a wild leopard escapes from a passing circus vehicle and gets confused with the tame one; Constable Slocum (Walter Catlett) arrests David and Susan after thinking they're crazy talking about leopards; soon Peabody and an angered Alive arrive (David missed their wedding date) and find Susan escaped jail to retrieve the leopard while her auntie got arrested for making a fuss. At the end of the day Susan returns with the circus leopard on the end of her rope while the circus people have the tame leopard. Back at the museum, Alice breaks off the wedding while Susan brings back the fossil and an offer of a million dollar donation for the museum. David gasps that he's thrilled to have spent the happiest day of his life and tells Susan that he loves her.
I wouldn't read too much into it except that insanity rules; but it sure was fun. It was more or less remade by Peter Bogdanovich in his What's Up, Doc? of 1972.
REVIEWED ON 1/22/2006 GRADE: A+