BRIGHTWOOD
(director/writer: Dane Elcar; cinematographer: Dane Elcar; editor: Dane Elcar; music: Jason Cook; cast: Dana Berger (Jen), Max Woertendyke (Dan); Runtime: 84; MPAA Rating: NR; producer: Max Woertendyke; Amazon Links; 2022)
"Thriller about feeling trapped in a marriage."
Reviewed by Dennis Schwartz
 
Dane Elcar's two-hander time loop feature film debut is based on her short film The Pond (2018). It's a slow-burn thriller about feeling trapped in a marriage, that moves along slowly until its satisfying but head-scratching climax.

It's a well-written and well-acted American sci-fi/horror mystery film about a bickering married couple of nine years who have stopped loving each other.

On their morning jog at a local park, on a beautiful autumn day, the wife runs in front and berates hubby for his drunken boorish behavior at last night's party. While jogging around a pond they realize there's no exit, as they are trapped in a time loop (supposedly landing in a twilight zone).

The middle-aged couple, Jen (Dana Berger) and Dan (Max Woertendyke), after verbally abusing each other for most of the film, are confronted by a dangerous looking silent man in a hoodie, and to survive must figure out a way of working together.

It might be a slight film, but in the end it's gripping.

It played at the Cine-Excess Festival in the UK.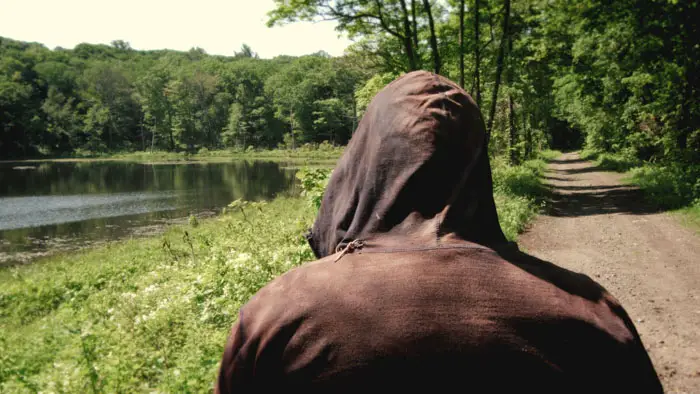 REVIEWED ON 8/18/2023  GRADE: B