BOTTOMS
(director/writer: Emma Seligman; screenwriter: Rachel Sennott; cinematographer: Maria Rusche; editor: Hanna Park; music: Charli XCX/Leo Birenberg; cast:  Rachel Sennott (PJ), Ayo Edebiri (Josie), Ruby Cruz (Hazel), Havana Rose Liu (Isabel), Kaia Gerber (Brittany), Nicholas Galitzine (Jeff), Miles Fowler (Tim), Marshawn Lynch (Mr. G); Runtime: 92; MPAA Rating: R; producers: Elizabeth Banks, Max Handelman, Alison Small. Executive producers: Ted Deiker, Emma Seligman, Rachel Sennott; MGM/Orion Pictures; 2023)
"Destined for cult status."
Reviewed by Dennis Schwartz

Emma Seligman ("Shiva Baby") directs this very funny but raunchy over-the-top high-school queer comedy. The film's star Rachel Sennott co-writes it with Seligman.

Longtime best friends, PJ (Rachel Sennott) and Josie (Ayo Edebiri), are seniors at Rock Ridge High. The lesbian classmates consider themselves losers. That spurs them on to start an all-girls fight club so they can meet the cheerleaders they pine for. Hazel (Ruby Cruz) is recruited to organize the club and the cool history teacher Mr, G (Marshawn Lynch, former NFL player) is the faculty advisor to the club.

We also meet the two popular girl cheerleaders at school, Brittany (Kaia Gerber) and Isabel (Havan Rose Liu), with Ayo lusting after Isabel while PJ has a secret crush on Brittany.

The fluff piece never gives any weight to its characters, is filled with plot-holes and most of its jokes are cringe-worthy. But sometimes stupid films are as digestible as is this one. It offers a queer slant to familiar straight high-school sex comedies about students wanting to get laid.

The film is destined for cult status.

It played at SXSW.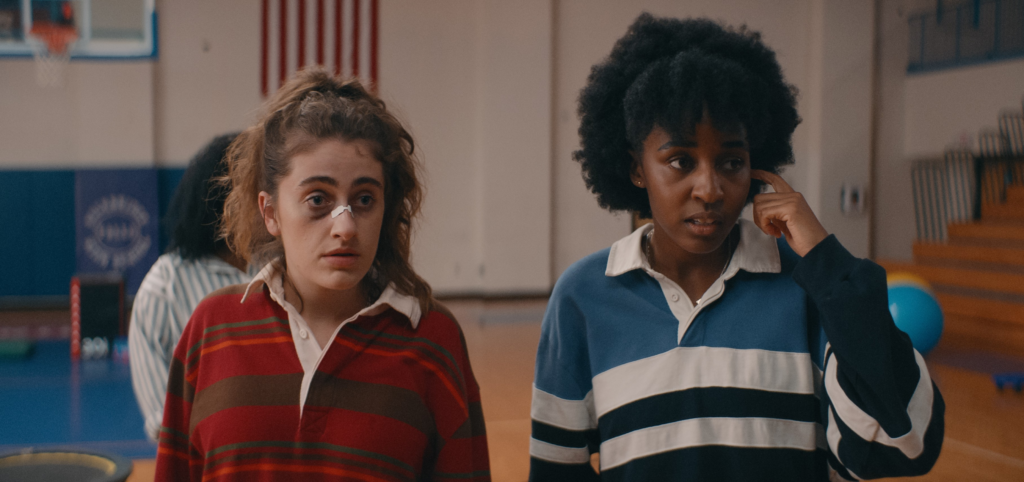 REVIEWED ON 4/4/2023  GRADE: B