BOOKCLUB: THE NEXT CHAPTER
(director/writer: Bill Holderman; screenwriter: Erin Simms; cinematographer: Andrew Dunn; editor: Doc Crotzer; music: Tom Howe; cast: Diane Keaton (Diane), Jane Fonda (Vivian), Candice Bergen (Sharon), Mary Steenburgen (Carol), Craig T. Nelson (Bruce), Giancarlo Giannini (Police Chief), Andy Garcia (Mitchell), Don Johnson (Arthur), Hugh Quarshie (Ousmane), Vincent Riotta (Chef Gianni); Runtime: 107; MPAA Rating: NR; producers: Bill Holderman, Erin Simms; Focus Features; 2023)
"Feel-good exercise in mush."
Reviewed by Dennis Schwartz

The sequel to the original Bill Holderman 2018 "Book Club" deserves better for its celebrated actresses than this feel-good exercise in mush. It's again directed by Holderman and written by Erin Simms, but this time fails to amuse as before even as it reunites the 4 women stars-Diane (Diane Keaton), Vivian (Jane Fonda), Sharon (Candice Bergen) and Carol (Mary Steenburgen). They play the  longtime friends who celebrate the end of the pandemic and their club surviving with a fun trip together to Tuscany.

Since the original, the chic hotelier Vivian has become engaged to Arthur (Don Johnson). The restaurant chef Carol has shut her restaurant as her husband Bruce (Craig T. Nelson) suffered a heart attack. The widow Diane now lives with the airline pilot Mitchell (Andy Garcia). While the retired federal judge Sharon is still playing the field for romance.

On their vacation the ladies experience lost luggage, a flat tire and spend a night in jail.

For excitement, the ladies hit the restaurants of Rome and Venice to splurge on wine and pasta.

Their comedy is strained, the dialogue is clunky and the story is nothing more than trivialized sentimentality in the form of a travelouge.

But the photography is lush, the famous actresses are all likable and with lesser actresses the film would have been a disaster.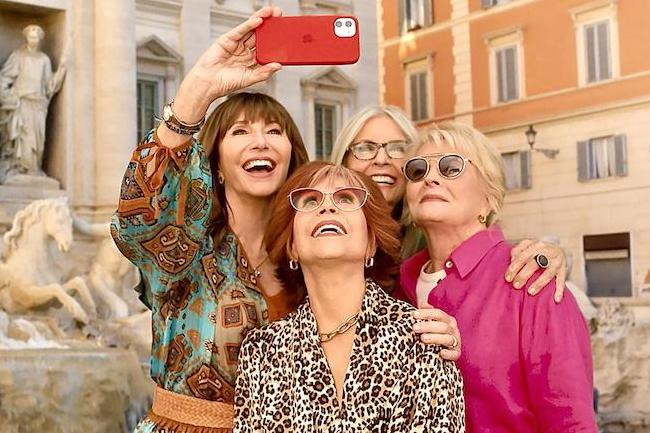 REVIEWED ON 8/13/2023  GRADE: C+