BIG TIME
(director/writer: Chris Blum; screenwriters: Kathleen Brennan/Tom Waits; cinematographer: Daniel Hainey; editor: Glenn Scantlebury; music: Tom Waits; cast:  Tom Waits, Michael Blair, Willie Schwarz, Greg Cohen, Ralph Carney, Marc Ribot; Runtime: 87; MPAA Rating: PG; producer: Luc Roeg; Island Visual Arts; 1988)
"I'm a big time fan of Waits."
Reviewed by Dennis Schwartz

Chris Blum is a local filmmaker from the left coast. He films this experimental concert film by the eclectic Tom Waits, whose songs come from the albums Swordfishtrombones, Rain Dogs and Frank's Wild Years. It was filmed at the Warfield in San Francisco and the Wiltern Theater in Los Angeles in November 1987. All songs were written by Waits, while the script was written by Waits and his wife Kathleen Brennan.

Each of the songs have a unique set, created by Waits and his wife. Waits performs them in various disguises (using the  pencil-moustached movie theater ticket-seller as the narrator who dreams up the plot) and the raspy voiced singer performs with his musicians Michael Blair, Willie Schwarz, Greg Cohen, Ralph Carney and Marc Ribot.

The songs all have an original Waits sound, which requires an acquired taste to dig either the humor or songs or his weird monologues. I'm a big time fan of Waits and loved the film.

The 20 songs include:
Frank's Wild Years"
"Shore Leave"
"Way Down in the Hole"
"Hang On St. Christopher"
"Telephone Call From Istanbul"
"Cold, Cold Ground"
"Straight to the Top (Vegas)"
"Strange Weather"
"Gun Street Girl"
"9th and Hennepin"
"Clap Hands"
"Time"
"Rain Dogs"
"Train Song"
"Sixteen Shells From a Thirty-Ought Six"
"I'll Take New York"
"More Than Rain"
"Johnsburg, Illinois"
"Innocent When You Dream (Barroom)"
"Big Black Mariah".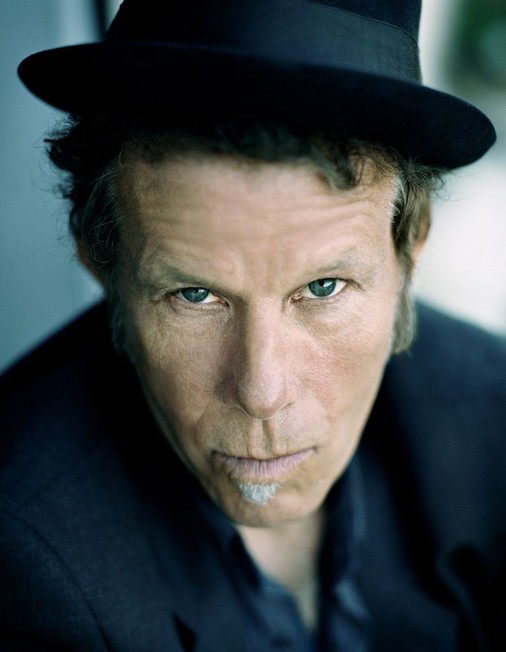 REVIEWED ON 10/4/2020  GRADE: A