BATMAN, THE
(director/writer: Matt Reeves; screenwriters: Matt Reeves, Peter Craig, based on characters from DC, created by Bob Kane with Bill Finger; cinematographer: Greig Fraser; editors: William Hoy, Tyler Nelson; music:Michael Giacchi; cast:Zoë Kravitz (Selina Kyle), Robert Pattinson (Batman/Bruce Wayne), Paul Dano (Edward Nashton), Barry Keoghan (Unseen Arkham Prisone), Amber Sienna (), Colin Farrell (Oz, The Penguin), Peter Sarsgaard (District Attorney Gil Colson), Jayme Lawson (Bella Reál), Alex Ferns (Commissioner Pete Savage), Jeffrey Wright (Lt. Gordon), John Turturro (Carmine Falcone), Andy Serkis (Alfred), Conn O'Neill (Chief Mackenzie Bock ), Peter McDonald (Kenzie), Gil Perez Abraham (Officer Martinez), Rupert Penry-Jones (Mayor Don Mitchell), Hana Hrzic (Annika), Luke Roberts (Batman's father), Stella Stocker Batman's mother; Runtime: 178; MPAA Rating: PG-13; producers; Dylan Clark, Matt Reeves: Warner Bros. Pictures; 2022)
"Embraces its dark side."
Reviewed by Dennis Schwartz

The Batman of Matt Reeves ("War For The Planet of the Apes"/"Let Me In") is told with a sense of brooding by the conflicted hero and in a pulp fiction detective style, as it delivers an overstuffed vision of Batman (Robert Pattinson) that embraces its dark side with style and depth instead of with wall-to-wall action (the main action comes in the film's last 20 minutes, leaving long pauses of tedium). Co-writers Reeves and Peter Craig bring new changes to the old story line that shifts direction from being camp or comical (in other words, the film is not that entertaining. Also its photography is dark, making it difficult to make out what's going on. It's an extremely violent comic book detective story, one that's downbeat.  It features the regular-guy son of deceased billionaire parents, Bruce Wayne, spending his nights as a crime fighter because he cares about doing good for his city but still is not able to adjust to the murder of his parents.

Batman has few friends on the police force despite his past heroics in Gotham, as they consider him a meddler and a vigilante. But he has one defender who trusts him and works with him, the diligent Lt. James Gordon (Jeffrey Wright), the next police commissioner.

At this time Gotham is on the hunt for the psychopathic serial killer called The Riddler (Paul Dano), whose beef is with the corrupt police department and its involvement with organized crime, such as with The Penguin (Colin Farrell) and the local mob don Carmine Falcone (John Turturro). As a consequence, The Riddler is knocking off the city leaders he believes are corrupt such as the mayor (Rupert Penry-Jones), some members of the city council and the district attorney (Peter Sarsgaard).

When Batman thoroughly investigates the crime scenes of those deaths, he afterwards claims he's ready to save the doomed city. Backing up Batman is the loyal family butler Alfred (Andy Serkis) and the anti-hero Catwoman, a cat burglar, Selena Kyle (Zoë Kravitz), who suspects Falcone has something to do with her missing friend and targets him as a bad guy.

The storytelling works well as noir after it recovers from a slow start. The fight scenes are choreographed to look real, it wisely allows Batman to be vulnerable and to face the kind of crime that is actually taking place in American big cities today and ripping it apart.

The set designs were incredibly good. The Batcave, Riddler's nest and Gotham have a terrific look. Pattinson kills his part as Batman, while Dano is winsome as the comical villain.

 The film views Batman as a story with a comic book flavor, and leaves you feeling they got the visceral feel of the comic book genre just right (it works up to a point if that's what you're looking for from the film. But at a 178 minutes, it tests your capacity to take in such a lengthy and dreary film, and might not be the Batman many would care to see).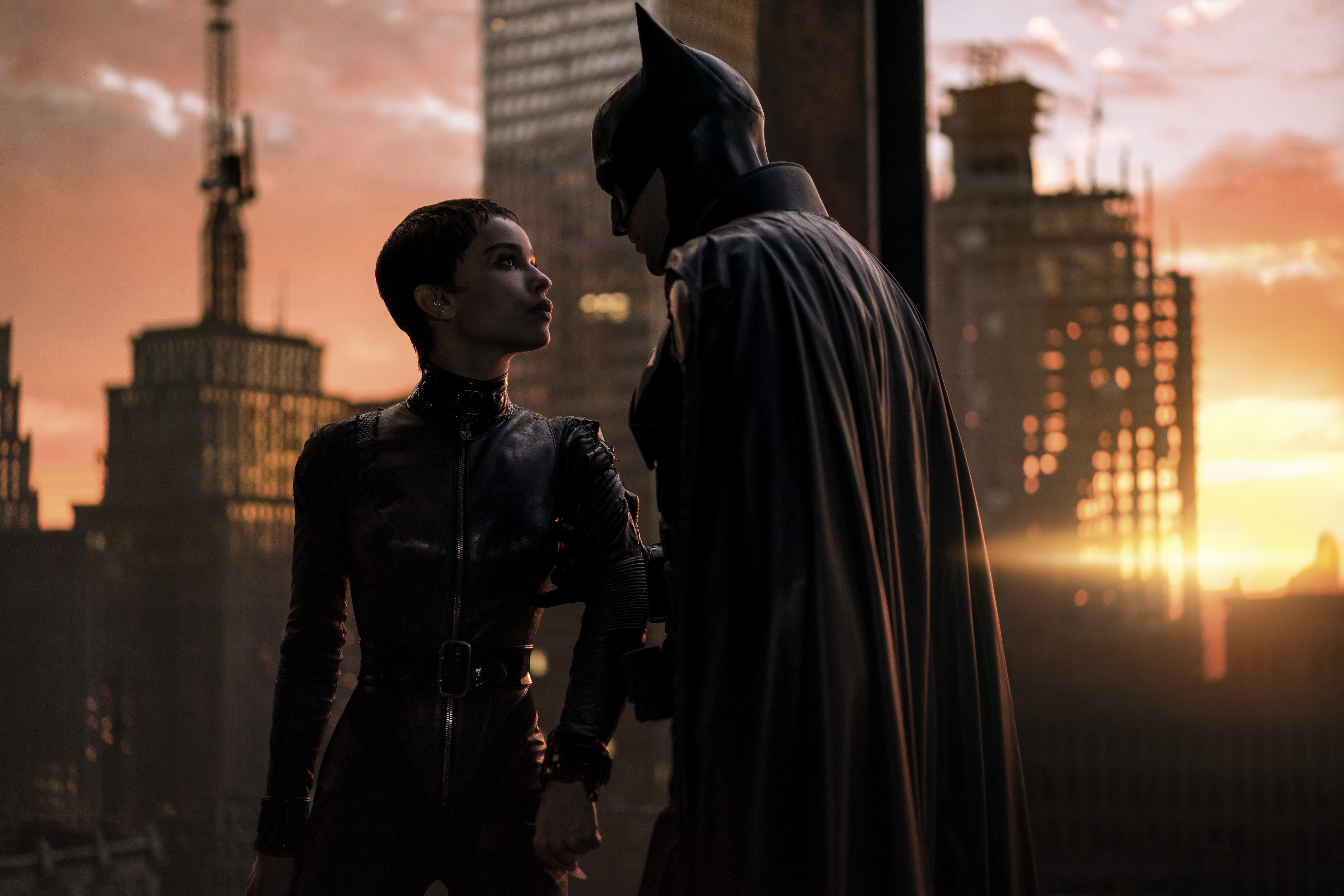 REVIEWED ON 3/5/2022 GRADE: B-